Under the guise of the permit system: Israel separates women living in Gaza from their families in the West Bank. The story of Nivin and Sami Gharqud
Nivin (38) and Sami (42) Gharqud got married 17 years ago. The couple, both originally from the Gaza Strip, have five children. Shortly after the marriage, Sami relocated to Qalqiliyah in the West Bank in order to make the commute to work in Israel easier. Every few months, he would return to Gaza. The couple repeatedly attempted to obtain a permit from Israel for Nivin, too, so the family could live together in Qalqiliyah, but were consistently denied. Sami now lives in Qalqiliyah with four of their children, and Nivin stayed in Gaza with their six-year-old son Amir, born during Operation Protective Edge. Sami has never met his son.
Nivin described the attempts to live together as a family:
Nivin Gharqud with her son Amir. Photo by Olfat al-Kurd, B'Tselem

My husband worked as a clothing and perfume merchant and got a merchant's permit from Israel even before we got married. He moved to Qalqiliyah so he could work in Israel, and changed his address.
 
In 2013, I submitted a request to the Ministry of Civilian Affairs in Gaza to visit my husband in the West Bank. It was approved and I went to see him with my two youngest at the time, Muhammad and 'Imad. My two older children, Malak and Ahmad, didn't get a permit, so I left them with my parents in Gaza. The meeting with my husband was very emotional after the kids and I hadn't seen him for several years. I stayed in Qalqiliyah for about six months, during which I became pregnant. Then I went back to Gaza, because I couldn't leave the little ones with my parents any longer. Our son Amir was born after I got back,.  
In 2014, Sami was arrested for illegally staying in Israel and sentenced to 18 months in prison. During his imprisonment, Israel allowed Nivin to visit him once. In 2017, after much deliberation, the couple decided to relocate their four older children to Qalqiliyah so they could live with their father.
 
In her testimony, Nivin described the difficulty of being separated from her children, and her attempts to be as involved as possible in their lives:
Our family's heart is split in two: the children and their father are in the West Bank and Amir and I are in Gaza. My children are very attached to me. I talk to them every day on the phone and online, especially with my eldest – my daughter Malak, who's now 17. Even though she's still a kid, she's the one in charge of her brothers now. I regularly guide her on how to care for them and teach her to cook them dishes they ask for. Sometimes, at night, my son Muhammad (9) feels lonely and asks to sleep in Malak's bed. He asks her to tell him about me. I also call my children's school and ask their teachers about them.  
 
Sometimes, my husband is away from home for over a week because of his job. At those times, I'm anxious and find it hard to sleep, eat, or enjoy anything because my children are far away and alone. I constantly think about them. Sometimes, when I'm up at night, I stay on the phone with Malak until morning so she won't feel alone.

About a year ago, Malak called to tell me that Muhammad had been burned in the face and chest by boiling water. I started screaming and crying. I was hysterical and called my husband's neighbors in Qalqiliyah to help Malak, because she didn't know what to do.
 
On holidays, like Ramadan, everyone around me is happy and celebrating but I just want to cry and keep to myself. I feel terrible. I'm exhausted from missing them all the time. Whenever I talk to them and hear their voices, it just makes me sadder. You can't solve problems and meet every demand over the phone. There's no substitute for a mother's presence in her children's lives.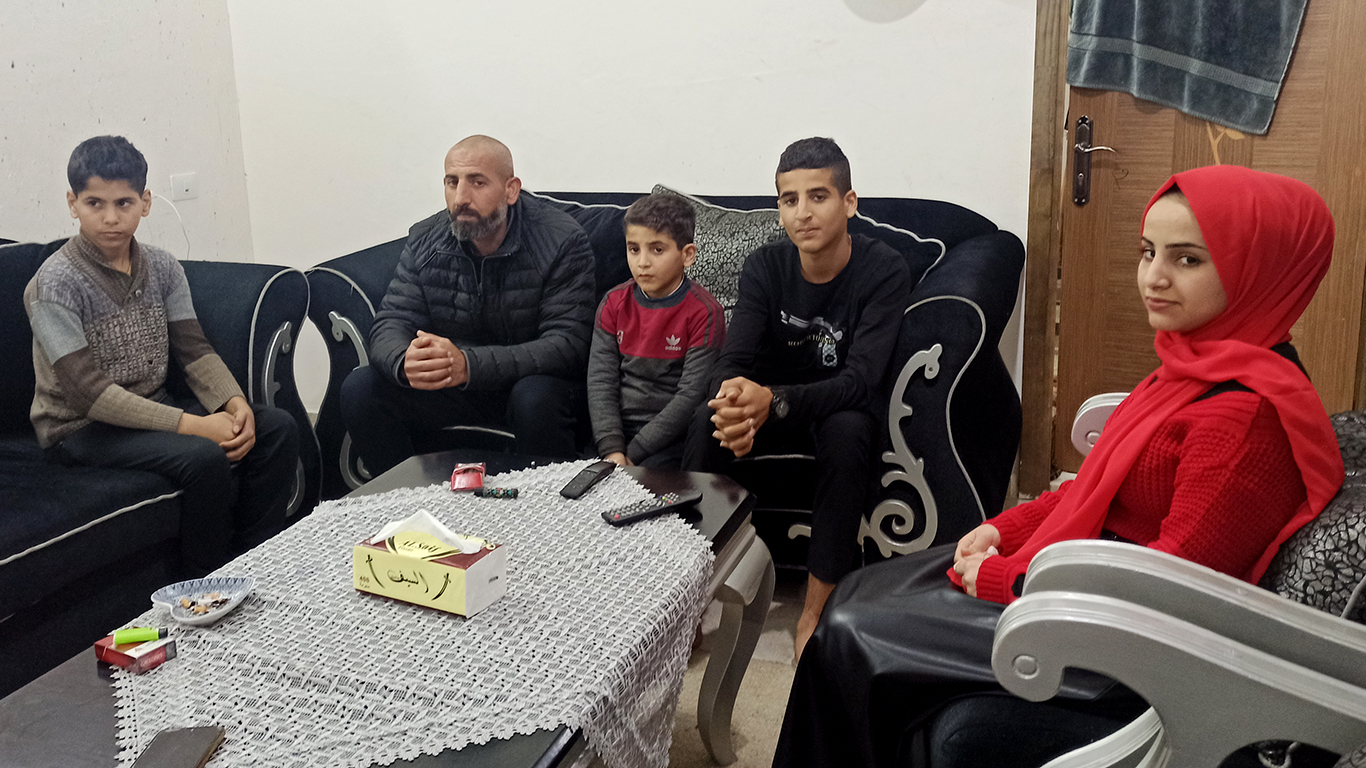 Sami spoke about the difficulties on his part:
I wasn't present at any of my children's births. My son Amir was born in 2014. I've never met him. Amir was born in August, during the war in Gaza. It was a very hard time in my life. God knows how I survived those days. I was very worried about my wife, who'd just given birth, about the baby, and about the other kids, who were all young. It was a very tough time.
 
I'm away from home several nights in a row because of my job, and I have to leave the kids without their mother or father. My daughter Malak was forced to grow up too fast and take on the responsibility of caring for her siblings and being like a mother to them. She cooks their food and helps them with their homework. It's a bit easier now because Malak and Ahmad are older and more reliable. But in the early years when they first moved here, it wasn't easy, especially for the kids.