Israeli plain-clothes police attack Hebron resident traveling with his mother, damage his car and beat him
On Tuesday, 12 October 2021, at around 1:00 P.M., Hebron residents Marwan a-Zir (al-Husseini), 38, and his mother Ra'eesah, 65, were on their way back from visiting relatives in the village of al-'Eizariyah. When driving by the village of a-Za'ayem, they neared a police checkpoint and slowed to a halt. According to B'Tselem's investigation and video footage of the incident, plain-clothes police officers charged the car, smashed the windows and forcibly removed the mother and son. They beat Marwan a-Zir, handcuffed him and put him in a car. They put Ra'eesah a-Zir in another car, and the two were taken to the Ma'ale Adumim police station.
At the station, female officers strip-searched Ra'eesah and ordered her to sit on a chair and talk to no one. Other officers sat Marwan further down the hall. He sat on the floor for some eight hours, writhing in pain and vomiting. No one attended to him and his requests for an ambulance were flatly ignored. Neither mother nor son were questioned.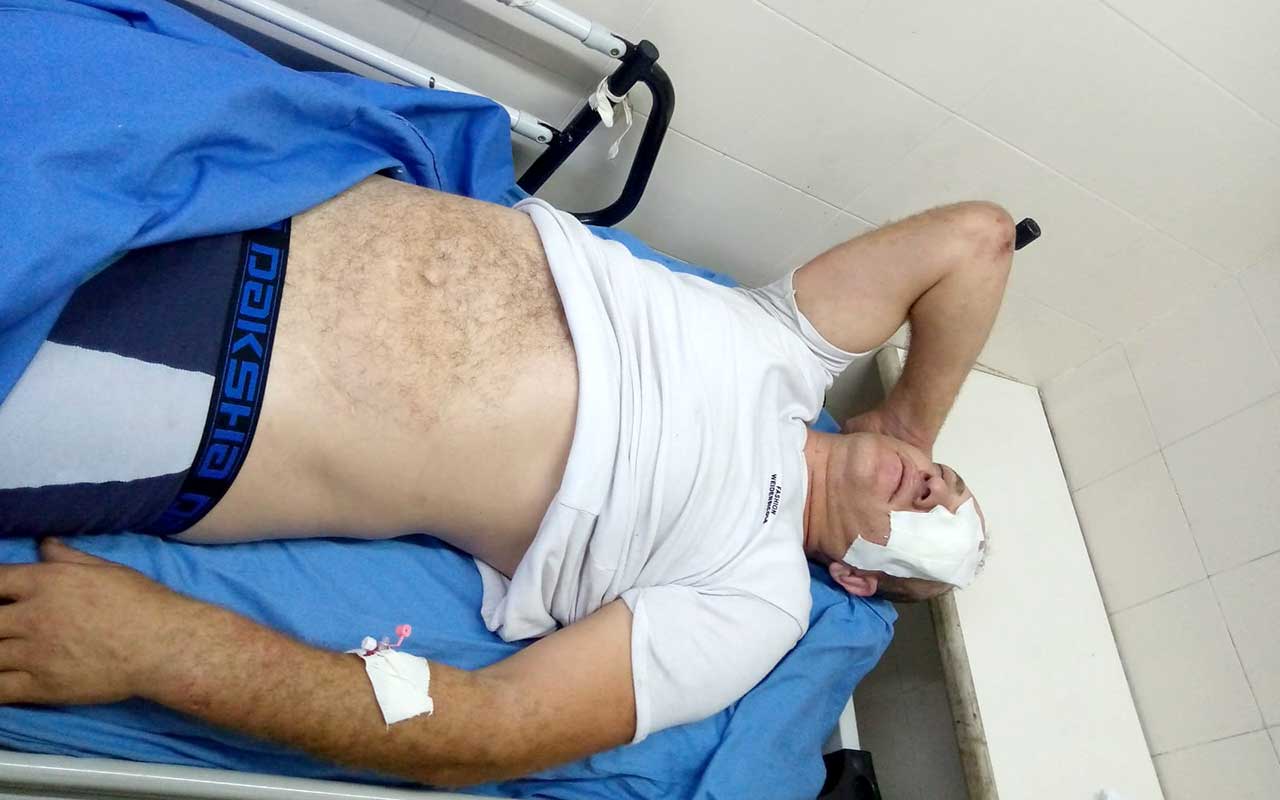 At around 11:00 P.M., the two were ordered to leave the station and take Marwan's car, whose interior the officers had taken apart, with them. Marwan and Ra'eesah were picked up by relatives, who drove them to hospital.
Below are testimonies Marwan and Ra'eesah a-Zir gave B'Tselem field researcher Musa Abu Hashhash.
In his testimony, Marwan a-Zir (al-Husseini) described what happened that day:
On Tuesday, 12 October 2021, at around 1:00 P.M., I was on the way to al-'Eizariyah with my mother, Ra'eesah. We were planning to drop a friend of mine off in the area and visit relatives in the village. I often turn Facebook Live on while I'm driving. On the way back, we passed through the a-Za'ayem checkpoint. At around 5:00 P.M. we were about 40 meters from the roundabout between al-'Eizariyah and the settlement of Ma'ale Adumim. I noticed two police cars parked by the side of the road and put a mask on right away, so I wouldn't get a ticket. There were two or three cars ahead of me, and we were all driving slowly.

When there was only one car left in front of me, I suddenly saw people running towards my car. They were in civilian clothes and had handguns. I realized they were going to attack me. They surrounded the car from either side and from the front. One of them hit the windshield with a bar. Another smashed the window next to me, opened the door and pulled me out. Three or four of them jumped me, punching and kicking me. One of them put my hands in metal handcuffs, and then they dragged me behind the car.

I think I blacked out for a few moments from the beating and the shock, and I fell down. When I came to, they were still beating me. I remember two or three female officers, too, who were beating me with an electric baton. I fell down again. I was shocked. I didn't understand what was going on and why there was all this violence.

The people who attacked me pushed me into a car. Someone got in next to me, and they drove to the Ma'ale Adumim police station, which is about 100 meters from the roundabout. At the station, they took me out into the yard and again started beating me. I fell down again, and I think I blacked out again for a few moments. As soon as I came to, I asked after my mother, because I didn't know what had happened to her after they'd beaten me. One of the guys who brought me to the police station shouted at me and told me to shut up. Then, an Israeli ambulance arrived. One of the paramedics checked my blood pressure and went away.
Ra'eesah a-Zir (al-Husseini) said in her testimony:
Suddenly I saw people running and swarming the car. I was terrified. One of them smashed the windshield and the window on the driver's side, and then they dragged Marwan out very violently and beat him. I tried to get out of the car, but was so shocked and scared that I couldn't unbuckle my seatbelt. One of the female officers dragged me out of the car and I fell down. They lifted me back up and took my handbag from me.

I stood there, crying and trembling and screaming, because I was afraid for my son. I saw them beat him and drag him along the road, behind the car. They put Marwan in their car and immediately drive off. Then, I was put in a different car and taken to the police station in the settlement of Ma'ale Adumim. They put me in a room in the station, and three female officers searched me while I was completely naked. I cried the entire time, asking about my son and what had happened to him.

After the strip search, I got dressed and they told me to sit on a chair. Through the doorway, I could see Marwan sitting in the hallway, leaning against a chair. I heard him groaning in pain, and I heard an officer warn him not to talk to me. One of the female officers warned me not to talk to him, either. I heard him ask, again and again, to be taken to hospital. He vomited a few times, and I felt terribly helpless. I couldn't do anything to help him.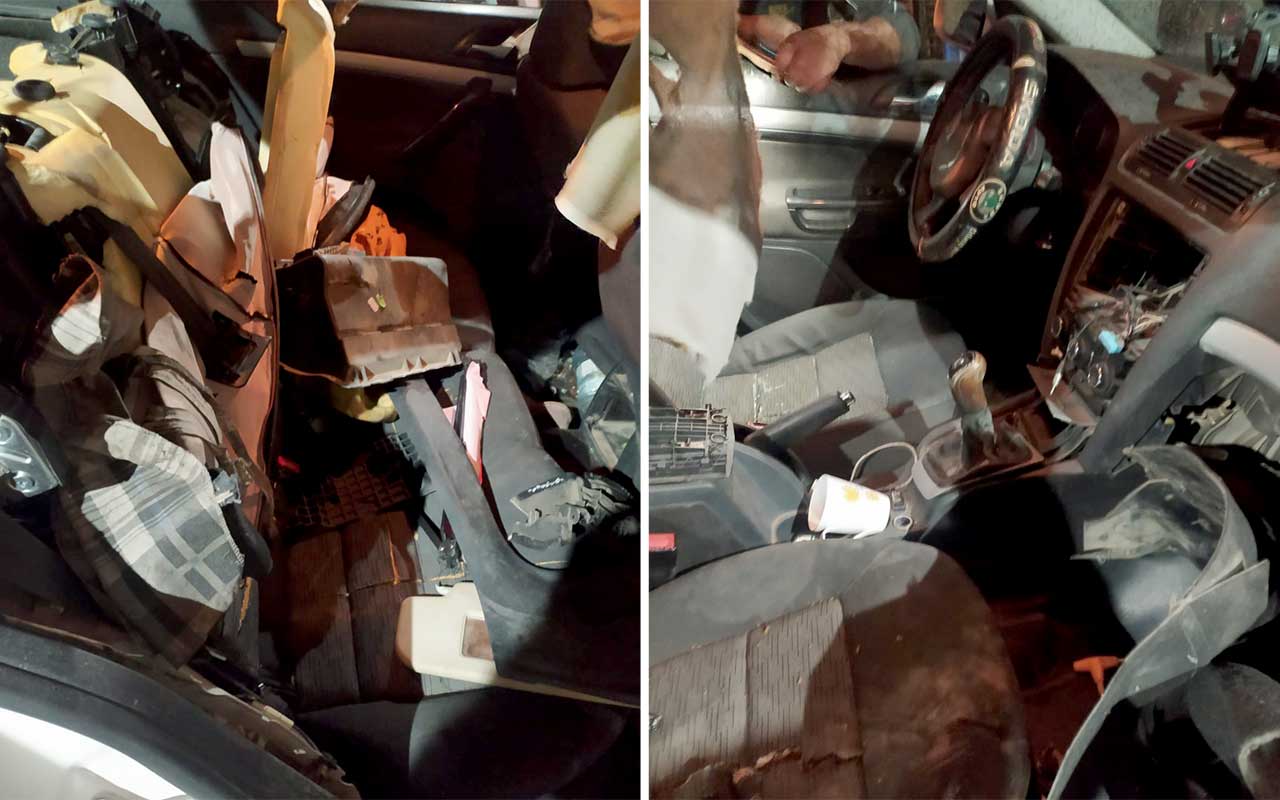 In his testimony, Marwan a-Zir (al-Husseini) described what happened after he arrived at the police station:
I was put in an elevator that went up to the one of the top floors in the station. An officer brought me a chair and told me to sit on it, but I couldn't because my whole body hurt. I sat on the floor and leaned against the chair. One of the officers came, and I asked him about my mother. He told me not to worry and pointed at the room across from me. I saw her sitting on a chair there. The officer said I wasn't allowed to say a single word to her.

While I was sitting on the floor, I vomited twice. The officer threatened me that if I went on vomiting, he'd make me clean the entire hallway. I told him I needed an ambulance to take me to hospital, but he said that if they took me by ambulance, I'd have to pay 7,500 NIS (~2,355 USD). I told him I was willing to pay 10,000 (~3,140), but he ignored me. I stayed there. I was in severe pain and asked, again and again, to be taken to hospital, but no one paid any attention to me.

I saw my mother sitting on the chair, in pain. She was shaking and crying. I lay on the floor for a long time, writhing in pain, but no one came over to talk to me. In the end, an officer came over and asked why I hadn't stopped for the officers. I told him the car had been standing still when the officers attacked me. Then, another officer came and asked me: "Where's the weapon?" I said: "I'm here, at the police station, and you have my car. You can find the weapon, if I have one."

No one interrogated me. It wasn't until around 10:00 P.M. that one of the officers talked to me and asked if I had a relative who lived near Ma'ale Adumim. My phone rang. It was my brother Talji, who was in Jericho at the time. I spoke with him and asked him to come to the police station. After about half an hour, I was taken down to the yard. I saw my car there. They'd taken the entire interior apart and removed the seats. Then the officers put the seats back in. One of them told me to get in the car and leave the station quickly. I told him I wouldn't drive a ruined car. I asked him: "As a police officer, how can you ask me to drive a car in such a condition? Especially in my state, when I need to get to hospital?" But he insisted I get the car out of the police station.

I barely managed to drive a few meters, and then a relative of mine who has a Jerusalem ID card came. She took over and drove the car out of the station. I saw my brothers – Bader, Ibrahim and Talji – and my cousin Rasmi waiting for me outside. My brother took my mother and me to the 'Aliyah Government Hospital in Hebron. I was examined and x-rayed. On Wednesday, I had a surgical procedure to examine my testicles and yesterday evening, Sunday, 17 October 2021, I was discharged. It's still hard to move, and I'm suffering from exhaustion and pain in various parts of my body. During the attack, while I was being dragged along the road, my left arm got scraped, and I also have a wound in my left hand from the pressure of the handcuffs. I'll have to go back to hospital for more tests this week.

My mother was also examined at the hospital. I didn't see her until I was discharged. She has diabetes and high blood pressure, and has also undergone heart surgery four times.

I've also been told my car was towed to a shop in Hebron and the repairs will cost thousands of shekels.
Location:
More on the A Routine Founded on Violence