Soldiers raid crowded entertainment area in Sabastiya and fire "rubber" bullets and tear gas indiscriminately, costing Burqah resident his eye
The town of Sabastiya, which lies northwest of the city of Nablus, is home to some 3,000 people. In its western part is an archeological site that serves, along with a plaza and surrounding businesses, as a popular entertainment spot for area residents and a source of livelihood for residents of Sabastiya.
B'Tselem's investigation found that throughout October 2020, the Israeli military harassed the town's residents in various ways. For three nights in one week, soldiers entered the town and hurled dozens of stun grenades and tear gas canisters. On one of these nights, when the site was packed with visitors, soldiers fired rubber-coated metal bullets, hitting Adham a-Sha'er, a young man sitting in a café, in the head. A-Sha'er lost his eye as a result.
In addition, for two weeks, the military intermittently blocked the entrances to the town in the morning and afternoon hours, when residents commute to and from work. Soldiers searched cars and prevented non-residents from entering the town. In the two weeks that followed, the military employed these practices less frequently.
According to the military's statement, as reported in the media, the reason for this conduct is complaints by residents of the nearby settlement Shavei Shomron that "villagers were blinding them with laser beams." In footage filmed by the Sabastiya council head during the raid on the town on 1 October 2020, he and other residents are heard asking the soldiers to stop hurling stun grenades and tear gas fire. In response, one of the soldiers, who identifies himself as an officer, threatens that if they did not stop pointing the lasers, he will come back every night.
The military's conduct constitutes prohibited collective punishment of the town's inhabitants. Blocking the entrances to Sabastiya intermittently for a month or so forced residents to live in uncertainty regarding their daily routine. Denying visitors access took a toll on family ties and local livelihoods, among other things. The night raids, in which soldiers hurled stun grenades and fired "rubber" bullets at people, culminated in the grave yet predictable outcome of a-Sha'er's injury. The intentional harassment of Sabastiya's residents is part of the occupation routine, which subjects Palestinians to violence, uncertainty and fear.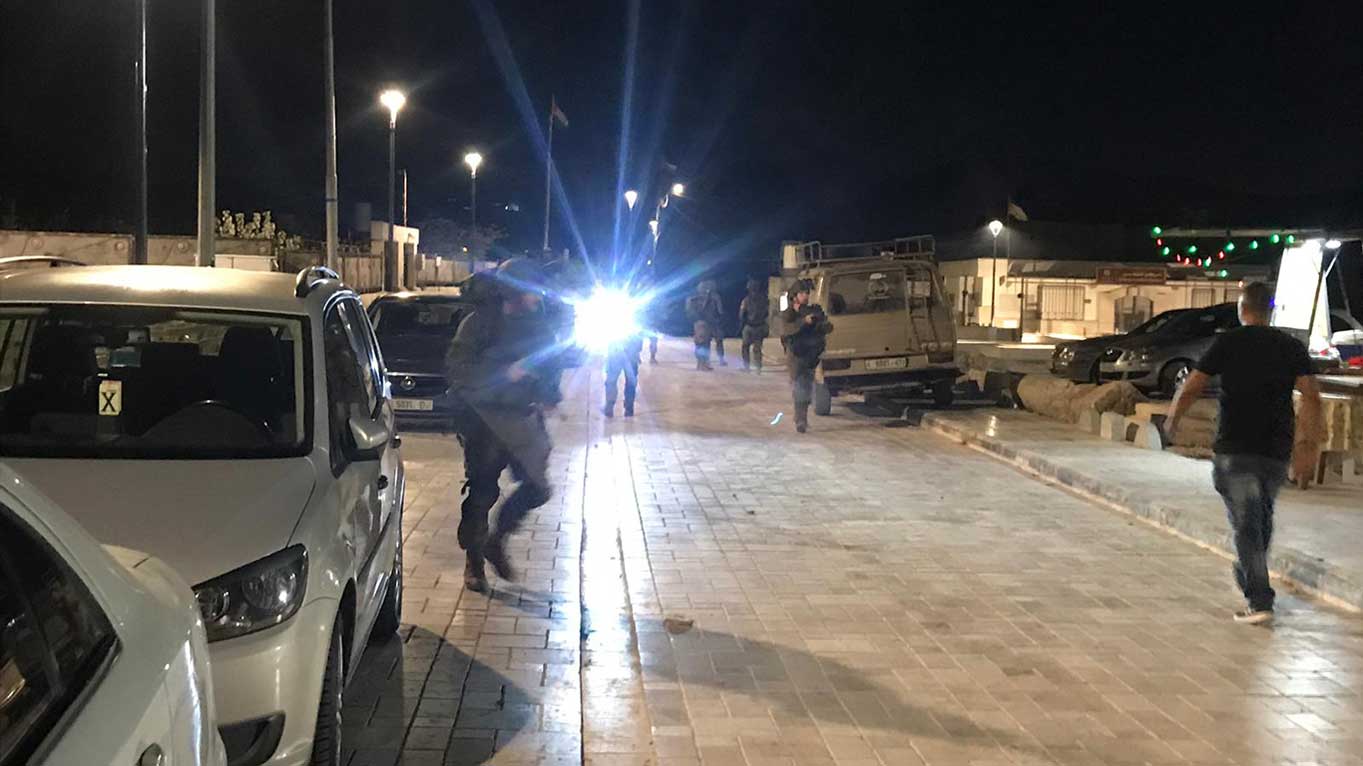 Below are the findings of our investigation into the incident in which a-Sha'er lost his eye, as well as testimonies collected from witnesses by B'Tselem field researcher Salma a-Deb'i:
On Thursday, 1 October 2020, at around 9:30 P.M., several friends from the village of Burqah, which lies northwest of Nablus, arrived at the Bab a-Saha café at the town's archeological site. The friends, including 29-year-old accountant Adham a-Sha'er, sat down in the café's courtyard, which faces a plaza where residents of Sabastiya and the surrounding villages gather. The plaza also serves as a parking lot.
A short while later, 20 to 30 soldiers raided the plaza. They fired tear gas canisters and hurled stun grenades at residents, including entire families with women and children. In response, Palestinian youths started throwing stones at the soldiers from about 50 meters away.
Shortly afterwards, the soldiers advanced towards the center of the plaza, several dozen meters away from the café, and started firing rubber-coated metal bullets at the café's courtyard. A-Sha'er, who got up to leave when the shooting began, was hit by a bullet in the left eye and passed out. Another patron was injured lightly in the back. A-Sha'er's friends took him to a car that belongs to one of them and hurried to the town's exit. There, they noticed several military jeeps blocking the entrance to the town on the other side of the street. They asked the soldiers for help, but the latter refused to give a-Sha'er first aid. The friends drove on to the Beit Iba area, where they met an ambulance called after a-Sha'er's injury. A-Sha'er was rushed to Rafidia Hospital in Nablus and underwent surgery, but the doctors could not save his eye. About half an hour after a-Sha'er was shot, the soldiers left the area.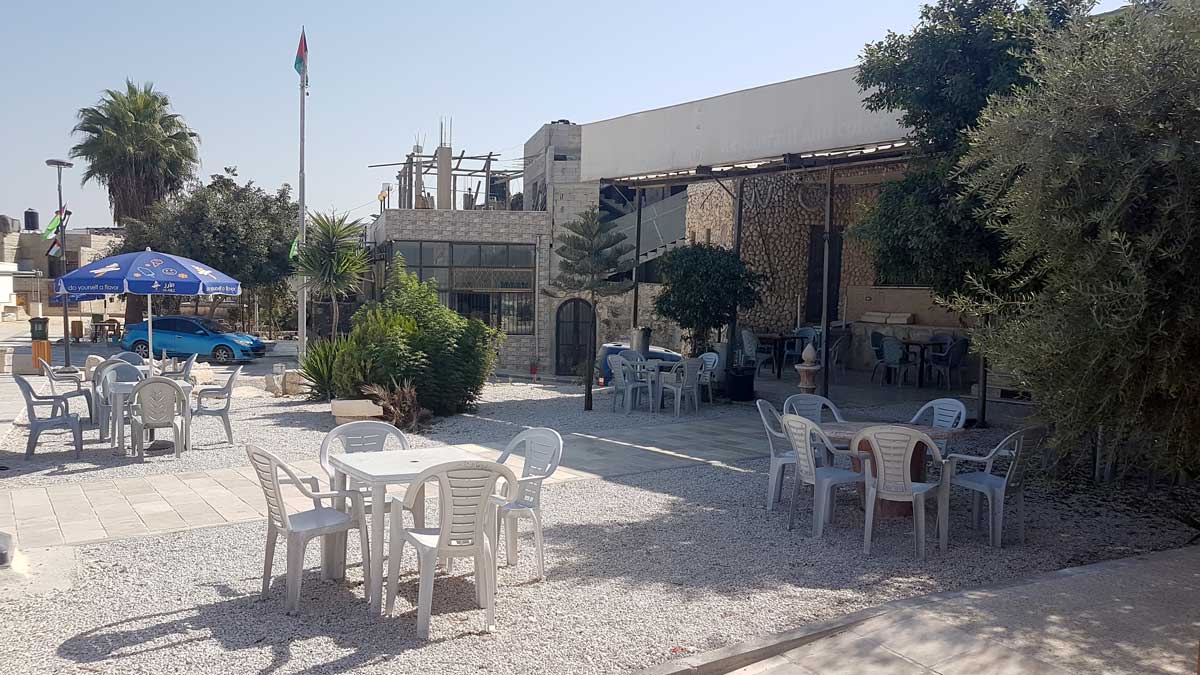 In a testimony he gave on 8 October 2020, Adham a-Sha'er described the incident:
Adham a-Sha'er after his injury. Photo by Salma a-Deb'i, B'Tselem, 8 Oct. 2020

We were sitting in the courtyard of the café, playing cards and hanging out, when suddenly we heard a commotion outside. I heard people saying the military was there and heard massive tear gas and stun grenade fire. Since we were sitting in the café and weren't endangering anyone, we weren't worried. We were sure the soldiers wouldn't hurt us. I've often heard about the military raiding this site, but it never happened when I was there.

I saw stones thrown towards the soldiers. There were about 20 to 30 soldiers there, throwing stun grenades and shooting. I don't know if they were using "rubber" bullets or live ones. There were a lot of families nearby, including women and children, and many parked cars. At this time of year, lots of people from outside of Sabastiya come to spend the evening there, especially on Thursday nights.

After the shooting, which lasted about half an hour, we decided to leave but we were afraid to go to our car, because the soldiers were standing near it. We were afraid they'd think we were going to harm them and respond by attacking, arresting or shooting us. We stayed in the café, but then we saw the soldiers turn towards us and shoot "rubber" bullets at us. I barely managed to get up to go inside when I felt a sharp pain. I put my hand on my left eye and realized immediately that I'd lost it. I started bleeding and passed out.

I woke up in an ambulance. They took me to Rafidia Hospital in Nablus, where I had a CT scan. My eye couldn't be saved even though the bullet didn't penetrate it. They transferred me to a-Najah Hospital, which has a special ophthalmology department. The doctors decided to remove my eye. On Friday morning, I underwent surgery, and again on Monday. At the beginning of the year I'm supposed to be fitted with a glass eye.
A-Sha'er went back to his job about two weeks after the injury. In a testimony he gave on 31 October 2020, he described how he feels now:
I feel better. The pain is subsiding. The doctors are waiting for the wound to heal, and then I can undergo surgery for a glass eye transplant at the beginning of the year. I'm back at work and will continue with life as usual. It's my fate.
In a testimony he gave on 20 October 2020, Riad a-Sha'er (49), a father of six from Sabastiya who owns the Bab a-Saha café where Adham was sitting, described what happened after the tear gas fire began:
Riyad a-Sha'er at the entrance of his café. Photo by Salma a-Deb'i, B'Tselem, 20 Oct. 2020

The customers in the courtyard tried to escape the tear gas by going into the café, but there wasn't enough room for everyone inside, so I asked them to stay in their seats and not attract the soldiers' attention. I had one customer with six kids, including two sets of twins. One of them was barely two years old. When they heard the stun grenades and the tear gas and "rubber" bullet fire, they started crying and their mother was terrified. I asked the guys in the café to help her out, and they helped her carry the kids to the car before the situation escalated. There was another family from Tulkarm, women and children, who also managed to leave.

A short while later, when the soldiers were at the center of the plaza several dozen meters from the café, Adham a-Sha'er got up from a table to go inside and fell down. He'd made it a meter from the table before he fell down, right in front of me. I heard him scream. His head was bleeding and I thought he was dead. Some guys went over and carried him to a private car. A "rubber" bullet hit another customer in the back. I know he was treated at home with cold water compresses.

After the shooting at the café, panic broke out and people started shoving each other. About 7 or 8 hookahs and five plastic chairs got broken. The glass door shattered because of the "rubber" bullet fire. I didn't know what to do. People couldn't get to their cars safely, so I asked everyone to stay in their seats so they wouldn't get hit.

Since Adham was injured, I've had half my usual amount of customers. In general, fewer visitors come to town because they're afraid there will be raids by soldiers and they'll get hurt. Lots of customers have told me the café is no longer safe. The military's presence at the entrance to the town also makes life hard. They search cars and check IDs and won't let people who don't live in Sabastiya come in. My café and other places in Sabastiya rely on tourism. Without outside visitors, our businesses will suffer a lot.
Muhammad 'Azem (45), a married father of four and head of the Sabastiya town council, was spending the evening at the plaza with his family, along with his mother and his brother's family who had come from Ramallah for the weekend. The extended family was near the ancient columns at the western end of the plaza when the troops entered. In a testimony he gave on 20 October 2020, he described what happened that day and the week after:
Muhammad 'Azem, head of the Sabastiya town council. Photo by Salma a-Deb'i, B'Tselem, 20 Oct. 2020

Suddenly, a group of about 20-25 soldiers raided the plaza. They came from the western side of town, where there's no lighting at night. They immediately started shooting "rubber" bullets and tear gas canisters at everyone. The soldiers were about 10 to 15 meters away from us and advanced quickly in our direction.

I asked my brother Rami (34) to get our mother, who is 72, and our wives and children out of there. Everyone was terrified. There was a huge commotion because everyone was trying to get away with their families, for fear of getting hurt. I went to speak with the soldiers, because what they were doing was simply unbelievable. Nothing had happened to justify that. They didn't warn us, they just showed up and started shooting. I spoke to the soldiers in English and asked them to stop shooting because there were women and children there. One answered in Hebrew, and later I understood that he'd said he would come back every night. I filmed them with my phone, but they kept on throwing stun grenades at me. I made it clear that I'm head of the town council, but they didn't care. Residents who speak Hebrew talked to them and tried to calm things down, but they didn't want to listen to anybody.

Several teenagers started throwing stones at the soldiers, who kept on shooting tear gas and "rubber" bullets at people who were trying to get out of there. It was a big mess. Women and children were screaming. I don't even have the words to describe it. The soldiers also fired live bullets in the air several times.

It went on like that for about half an hour, from the time Adham a-Sha'er was injured and rushed to Nablus. Then the soldiers left. About five parked cars were heavily damaged by the stones, the stun grenades and the "rubber" bullets. Most of them belong to people from out of town.
Location:
More on the A Routine Founded on Violence