Israeli settlers stone homes in Burin, escorted by soldiers who fire tear gas at residents; child faints from inhalation
On Friday, 9 October 2020, at around 6:00 P.M., about 20 settlers arrived at the northeastern neighborhood of Burin, a village in Nablus District. They spread out in the area and some of them started throwing stones at the home of the 'Eid family, where Ibrahim (50) and Ghadah (46) live with their nine children ranging in age from 7 to 19. Five soldiers escorting the settlers hurled stun grenades and fired tear gas canisters at neighbors who came to the family's defense.
In a testimony he gave B'Tselem field researcher Salma a-Deb'i on 20 October 2020, 'Ali 'Eid (18) described the incident:
'Ali 'Eid. Photo courtesy of witness

I was reading a book in my room when I heard noises outside, behind the house. I went down to the first floor and turned on the screen that's connected to the security cameras we installed on the roof. Meanwhile, I heard stones landing in our yard. I saw about three settlers throwing stones at our house.

I called out to my mother and sisters and we started closing the windows, because we were afraid the stones and tear gas would get in. I went up to the second floor and before I managed to close the windows, a stone ripped through one of the window screens and landed inside. Luckily, I wasn't hit.

A hole in the window screen from a stone thrown by settlers. Photo by Salma a-Deb'i, B'Tselem, 10 Oct. 2020

I went back down to the first floor and watched what was happening outside on the security cameras. Stones were raining down on our yard. Slowly, more and more settlers arrived, most of them wearing masks. There were several soldiers with them. The soldiers tried a little to push them away, but they also threw stun grenades and fired tear gas canisters at neighbors who gathered around our house to protect us.

On the cameras, I saw my father coming home with my two brothers, 'Osama (19) and Muhammad (7). He drove into our garage and parked there. The soldiers threw more and more stun grenades at our house, and even though we closed all the windows, the gas still got in. I went and got onions and alcohol to make it easier for us all to breathe.
Ibrahim 'Eid left his sons in the garage, where he assumed they would be protected from the attack. Yet tear gas started seeping in and they found it hard to breathe. 'Osama phoned his mother for help.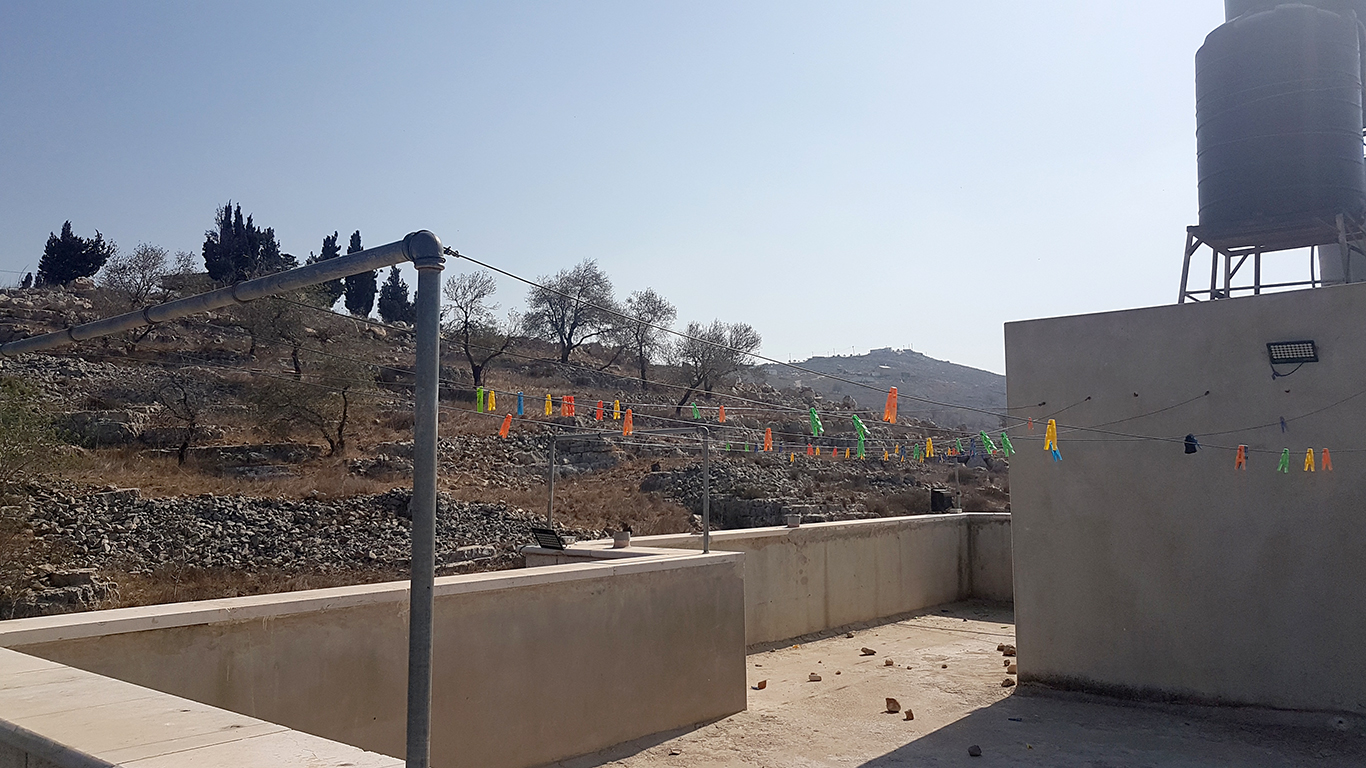 In a testimony he gave on 20 October 2020, 'Osama 'Eid said:
Osama 'Eid. Photo courtesy of witness

I was out with my father and younger brother Muhammad (7) when people from the village called and told us our home was under attack. We jumped in the car and went home. When we got there, we saw about ten settlers attacking the house with stones. They were throwing stones at the entrance. My father drove into the garage and asked us to stay there so we wouldn't get hurt. He wanted to go inside and check on my mother and other brothers.

The garage has no windows or light, so I turned on the flashlight on my father's cellphone, which he left in the car. Muhammad and I heard stun grenades hit the garage walls and land nearby. The gas slowly started seeping in, and it became hard to breathe. Muhammad started crying and said, "I don't want to die."

Stones in the Eid' family's yard. Photo by Salma a-Deb'i, B'Tselem, 10 Oct. 2020

I called my mom and told her we might die from the tear gas, because the garage door doesn't open from the inside. I asked her to send help. Meanwhile, Muhammad passed out. I didn't know what to do. I took a tool that was lying there and tried to make a hole in the wall to let some air in, but it didn't work. I felt that I was dying. I've never felt that way before, like I really couldn't breathe. About five minutes later, some guys from the village opened the door, let us out and took us to the village fire station, where we were given oxygen.

It was the most violent attack I've been through since we moved to this house seven years ago.
About 15 minutes later, the settlers moved a few dozen meters away from the 'Eid family's home. When they finally left the village, at around 9:00 P.M., they left behind a yard full of stones and a broken projector on the 'Eids' roof.
The next day, Saturday, at around 5:30 P.M., about 20 settlers arrived at the eastern part of the village. This time, they stoned the Ziben family's home, which lies about 800 meters from the 'Eid home. Four of them tried to break in, but about 20 village residents arrived and the settlers drew back some 50 meters, towards a neighborhing house under construction that also belongs to the 'Eid family. At the same time, a military jeep arrived. Several soldiers got out and started firing tear gas canisters at the residents. The soldiers allowed the settlers to damage the house under construction and break four of its windows without intervening.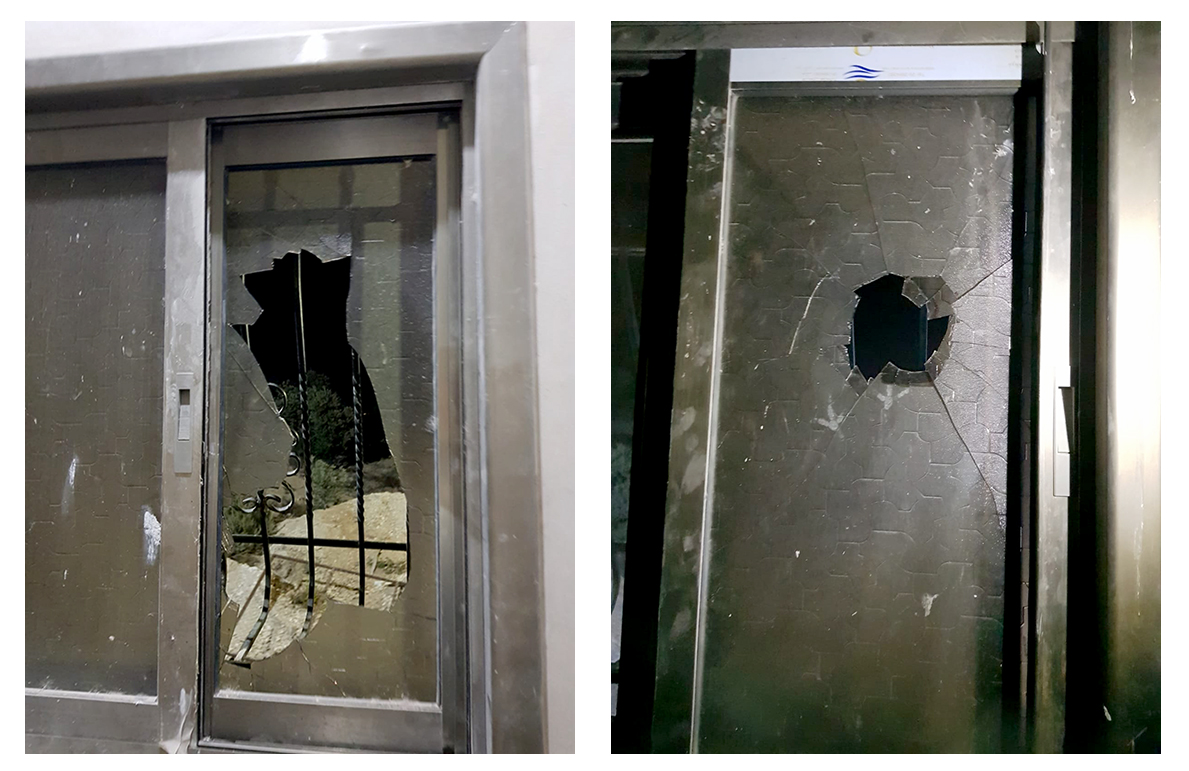 In a testimony he gave B'Tselem field researcher Salma a-Deb'i on 17 October 2020, Bashir Ziben (64), a father of three, described what happened that day:
At around 5:30 P.M., I was on the way to my restaurant in the village center when my son Ahmad (38) called and told me settlers were attacking our house. I rushed back home and saw about ten settlers, most of them wearing masks, throwing stones at our house.

I parked in the garage so they wouldn't damage the car. I saw Ahmad running around, yelling that four settlers were trying to get into the house. I saw them by the front gate. Ahmad was holding a stick, and then about ten village residents came to help us. The settlers got spooked and moved away.

They headed towards Ibrahim 'Eid's house, which is under construction, and started throwing stones at it. Then a jeep drove up from the direction of the Givat Ronen settlement and stopped about 300 meters away from the residents. Six soldiers got out and started firing stun grenades and tear gas canisters at them. The air filled with gas.

I was outside at that point, and I felt I was suffocating. Everything was burning: my eyes, my face, my nose, my throat. I called for an ambulance but then I went inside and started feeling better, so I canceled it. I was worried about my wife and little grandchildren, who'd closed the windows when the attack began.

About 40 minutes later, the settlers left and the residents went home, and things calmed down.

Thanks to the iron mesh screens we installed on the windows because the settlers attack us so often, our house wasn't damaged. But they did break four windows in the other house.
Both incidents, like many that occur daily throughout the West Bank, are part of an established, intolerable reality that has long since become routine for Palestinians. It is a reality of violence, danger and fear, in which settlers and soldiers join forces to attack Palestinians and their property. The settlers and soldiers are not alone: they are backed by the Israeli law enforcement system, which ensures they will not be held accountable and allows such attacks to continue virtually unimpeded, in order to help the state further its unlawful goals.
Location:
Related Media:
More on State-Backed Settler Violence