Coronavirus under occupation: Israel continues arrests and raids in West Bank homes
The entire world has ground to a halt, but the Israeli military is carrying on its violent routine of occupation throughout the West Bank. From 1 March 2020 to 3 April 2020, Israeli security forces raided 100 homes in the West Bank and arrested 217 Palestinians, 16 of them minors. Forty percent of the individuals detained, and 60% of the minors, were arrested between 12 March and 3 April 2020 – after Israel and the Palestinian Authority had tightened restrictions on movement in the West Bank.
B'Tselem field researchers documented night raids on 12 homes, eight of which belong to members of an extended family. In every case, soldiers forced their way in, waking the entire family. In some instances, the soldiers trapped all the members of the family in a single room while they turned the rest of the house upside down. Some of the raids lasted about three hours.
Armed soldiers invading your home, an inherently violent affair – and in the middle of the night, to boot – is always terrifying. The "usual" terror is now compounded by the specific fear of contracting coronavirus from strangers who break into your home and stay there for some time. The fear does not abate once the soldiers leave. Every family whose home was raided continues to worry both for those who remain and for those arrested and taken away. The military's practice never to inform people where their loved ones are being held or when they will be released ramps up the anxiety.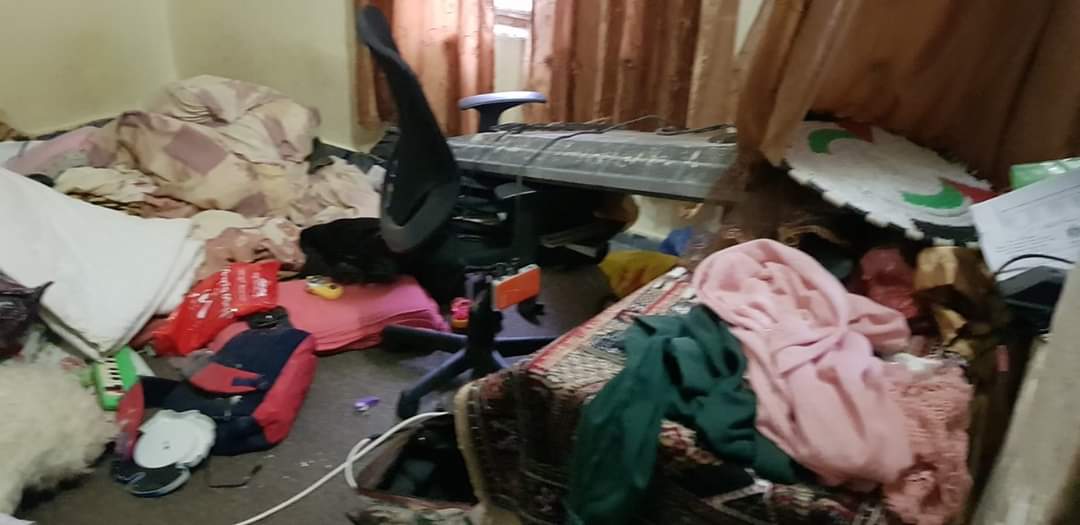 Following are several cases documented by B'Tselem field researchers. As the West Bank is under closure, the testimonies were given by phone.
18 March 2020: The a-Sheikh family, Ramallah
On Wednesday, 18 March 2020, at around 4:00 A.M., soldiers in protective suits broke into the home of the a-Sheikh family in Ramallah. The mother and her three children, the youngest of whom is 9, were home. Three soldiers entered the house and about 15 others surrounded it. The three soldiers went from the mother's bedroom to the two children's bedrooms waking everyone up, and then closed the doors and did not let them leave their rooms. They entered the TV room, where the eldest son, 'Imad, 24, was sleeping, covered his face with a mask, ordered him to put on gloves and tied his hands behind his back. About 15 minutes later they left, taking him with them. During the raid, they stopped 'Imad's sister Rula, 23, from documenting their actions and confiscated her cellphone and her 9-year-old brother's cellphone, returning neither.
The soldiers did not tell the mother where they were taking 'Imad. The family was notified the next day by the Palestinian Prisoners Club that he had been taken to the Kishon (Jalameh) detention facility and remanded in custody for a week. Later, the organization told the family that 'Imad had been accused of stone-throwing and transferred from Kishon to a prison in the south of Israel, where he was put in isolation, after a person who had been held with him and released was diagnosed with COVID-19.
'Imad is scheduled for a remand hearing on 6 April 2020 .
Rula a-Sheikh described the night of the arrest in a testimony she gave B'Tselem field researcher Iyad Hadad on 21 March 2020:
My younger brother and I were sleeping in our rooms, my mother was in her room and 'Imad in the TV room. I woke up with a fright when I heard footsteps and noise in the house. I saw soldiers had blown up the front door and come in. During the raid I was really scared, especially because my father wasn't home that night. The soldiers looked frightening with their protective clothes and masks. They looked like astronauts or aliens. They came in without permission, didn't show us any warrant and had no respect for our privacy inside our own home. We were all in pajamas, in bed.

The soldiers looked stressed. It was obvious they didn't want to touch any things or any of us. They went from room to room checking from a distance who was inside. I tried to leave my room but one of them pushed me violently back inside. They took 'Imad from the TV room. It was like a kidnapping. They left after about 15 minutes. They didn't even search the house.

They confiscated my cellphone when I tried filming them and didn't give it back. They confiscated my younger brother's phone, too.

We're very worried about 'Imad, especially now with the corona outbreak. We have no idea what's going on inside the prisons. The thought of what might happen there, especially because of the harsh conditions the Israelis keep Palestinian detainees in, is very scary. From what we hear, there are no medical services and not even minimal hygiene. What if, God forbid, the disease spreads throughout the prison? It would be a disaster.
19 March 2020: Three homes in a-Duheisheh Refugee Camp, Bethlehem District
On Thursday, 19 March 2020, at around 5:00 A.M., about 10 soldiers, some in protective suits, entered three homes in the eastern neighborhoods of a-Duheisheh Refugee Camp. They blew up the front doors and arrested three inhabitants: Ramez Milhem, 23, Mustafa al-Hasnat, 21, and Yazan al-Bal'awi, 20. They dressed all three men in protective suits, handcuffed them and led them to military jeeps that were parked nearby. The raid last about 20 minutes.
A few days later, the Red Cross informed the families that the men had been taken to the Kishon (Jalameh) detention facility, where they were put in isolation for 14 days due to the spread of coronavirus in the country. During the isolation, the detainees were not permitted to speak to their lawyers. Six-month administrative detention orders were issued against all three.
In a testimony he gave to B'Tselem field researcher Musa Abu Hashhash on 21 March 2020, Tamer Milhem described the arrest of his brother Ramez:
I live with my parents, five siblings and two aunts on my father's side.

On 19 March 2020, at around 5:00 A.M., we woke up in a fright from when the front door blew up. It was shattered and fell on the floor. About ten soldiers came into the house. Some of them were wearing protective suits. They asked about my brother Ramez, who is a university student and has been arrested before. The officer told us not to move and a few soldiers in protective suits forced their way into his room. They handed him a white protective suit and told him to put it on.

I saw Ramez come out of the room. One of the soldiers handcuffed and blindfolded him. My father tried to convince them not to arrest him, because of the coronavirus outbreak and the fear he'll get infected, but the soldiers shouted at him to keep quiet. My mother and father tried to grab Ramez and stop the soldiers from taking him out, but then the soldiers threw two stun grenades to scare us. One hit the living room wall and put a hole in it, and the other hit the entrance and broke windows

 

Damage to the living room caused by the stun grenade thrown by the soldiers. Photo courtesy of the family

We watched, from the window, as the soldiers led Ramez away on foot in the direction of the next neighborhood, which is about two kilometers away. We later found out that the soldiers had arrested two more guys from the camp and that everything happened really quickly there, too, within minutes.

A few days later, the Red Cross told us the detainees had been taken to the Etzion detention facility and from there to Jalameh (Kishon) Prison, where they were put in isolation for 14 days.

We haven't been able to talk to my brother or visit him since he was arrested. The lawyer updated us that there was a court hearing and that he was remanded to custody until 2 April 2020.

My mother is very anxious about my brother. She's scared he'll get the coronavirus. We're constantly trying to reassure her, but I'm also very worried – for her and for Ramez.

 

Damage to the entrance caused by the stun grenade thrown by the soldiers. Photo courtesy of the family
Sahar al-Hasnat, 20, recounted the arrest of her brother, Mustafa, in a testimony she gave B'Tselem field researcher Musa Abu Hashhash on 27 March 2020:
I live with my parents and six siblings.

On 19 March 2020, at around 5:00 A.M., we woke up from the sound of our front door being blasted. The door fell down and about ten soldiers came into the house. We complained about their violent entrance, and some of them got angry and pushed my brother Mustafa. Then one of the soldiers blindfolded him, put a white protective suit on him, handcuffed him and led him outside.

The whole thing was very violent and inhuman, even though it lasted just a few minutes. Blowing up the door and assaulting my brother now of all times, when everyone's afraid of the spread of coronavirus, especially in the Bethlehem area.

Since Mustafa's arrest, we've been very worried. We found out he's being held in isolation at the detention facility in Jalameh for 14 days. We have no way of communicating with him and lawyers can't visit him either, or even talk to him on the phone, until the isolation is over. We found out through HaMoked: Center for the Defence of the Individual that the court hearings will be held via video after the isolation period is over. Our fears just keep growing and the days are passing so slowly. It's hardest for my mom. She can't calm down and keeps crying and worrying about Mustafa. We try to reassure her.

I hope my brother and the other detainees come home in good health.
31 March 2020, eight homes of the Murar family in Budrus and Ramallah:
On Tuesday, 31 March 2020, at around 3:00 A.M., Israeli forces raided eight homes belonging to the extended Murar family – one in Ramallah and seven in the village of Budrus in Ramallah District.
The soldiers first entered the home of Mahmoud (45) and Mirvat (40) Murar and their three children, who range in age from 4 to 10, in Ramallah. As soon as they entered, they arrested Mahmoud and left. The soldiers returned about ten minutes later and conducted a violent search of the house.
Shortly after that, dozens of soldiers, some of them female soldiers, with two dogs raided seven homes belonging to Mahmoud's four brothers and three of his nephews in the village of Budrus:
A two-story building in the center of the village where two of the brothers live. Naser (49) and Muna (41) Murar live on the first floor with their five children, ranging in age from four weeks to 20 years old, and Naser's mother, Khadijeh (86). Muhammad (62) and 'Ayidah (55) Murar live on the first floor with their nine children, two of whom are minors.
A three-story building elsewhere in the village, where another brother, Na'im Murar (51), lives on the middle floor with his wife Najah (49) and their five children. The remaining floors are occupied by their married sons – Msallam, Malek and Muhammad – and their families.
The home of another brother, 'Ayed Murar (61), his wife Ne'meh (52) and their six children.
Some of the soldiers wore protective suits, and others wore only masks and gloves. In some of the homes, soldiers forced their way through the front door. The soldiers trapped all the family members in one room, under guard, and tore up the homes. In some cases they damaged the property, including tearing out ceramic tiles from walls and floors. The soldiers remained for about three hours in every home.
Mahmoud Murar was released on 7 April 2020, on a 5,000 NIS (~1,500 USD) bail. He says he was not told why he was arrested.
Below are testimonies given by three occupants of these homes to B'Tselem field researcher Iyad Hadad on 31 March 2020:
Mirvat Murar, Ramallah:
The soldiers came in without permission. They burst through the door and we got a real fright. We didn't understand what was going on at first. They came in with a large dog that sniffed around every room. It was very scary. I wouldn't wish that on anyone. The children were asleep and I was very worried about them. I was also worried about my husband, whom the soldiers wanted to arrest. I currently have limited mobility because my leg is in a cast, and that stressed me out even more. Of course, I was also scared they'd give us the coronavirus.

When the soldiers came in, they immediately threw a protective suit at my husband and ordered him to put it on. Then, they took his ID card and car keys and led him outside. We didn't know where they were taking him. They didn't let me ask them where they were taking him or why. About 20 or 30 minutes later, they left.

I didn't process what was happening, and was in shock. I stayed home with my three little kids and the wrecked door. I called my husband's relatives in the village of Budrus to have one of them come help me, because nowadays, you can't ask anyone for help since everyone is afraid of coronavirus.

About ten minutes later, the soldiers suddenly came back with the dog. They spread out through all the rooms, woke up the children and put us all in the living room. They started searching and digging through everything in the house, including the furniture. I held my kids, who woke up with a fright and were in shock, and tried to calm them. The dog scared the kids even more, even though one of the soldiers was holding it.

About 15 minutes before they left, at around 6:00 A.M., two soldiers forced me to go down to the building's parking lot with them, even though I told them I had a hard time walking with the cast. They threatened me at gunpoint, and I had no choice but to go with them. I took the elevator down and when I got to the parking lot, I saw they'd already searched our car. They had opened all the doors, the hood, the trunk and taken off all the seat covers. They tried to get the car started but couldn't. So they told me to start the car, but I couldn't because I don't know how. Then they got a military tow truck, took the car and left.

We were in very bad shape. I wasn't able to tidy up the house by myself. About an hour later, my husband's brothers came. Soldiers had gone into their homes, too, but didn't arrest any of them. I don't know what I would have done without them. The whole city is under closure, and you're not allowed to be out and about. The kids were frightened.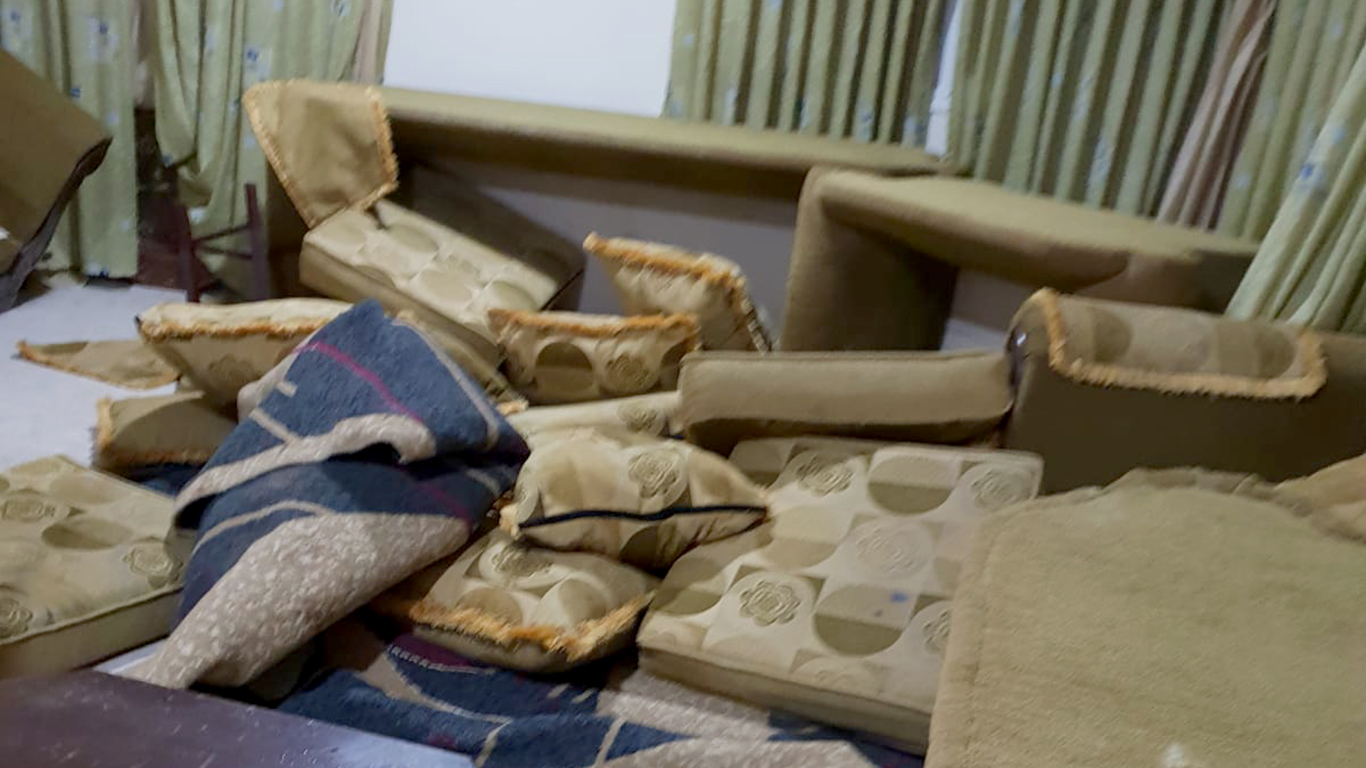 Na'im Murar, Budrus:
That night, it was quiet around the village. I'm on the village emergency committee, and we were all monitoring traffic in and out of the village because of the spread of coronavirus that's hitting the whole world. It never occurred to us that soldiers might raid our village, especially with everyone preoccupied with fighting the virus.

At around 3:00 A.M., I asked the emergency committee for permission to leave the house to go to Ramallah to help my brother Mahmoud's wife and their little kids, after she called me and told me about the raid and my brother's arrest. My brother Muhammad came to join us, and we got ready to head over there, but before we managed to, more than 30 soldiers came into our family building. I'm used to their raids and their barbarism. They don't scare me. The military and the ISA have arrested me several times. But, this time, I was scared because of the coronavirus. I was worried the soldiers and the dogs might be sick and that they would infect us.

I tried to stop them, but they assaulted me. They pushed me and threatened me at gunpoint, forcing me to sit in the living room. The same thing happened to my brother Muhammad, who came specially to go with me to Ramallah. The soldiers forced everyone who lives in the building, 13 people, to gather in the living room – women, youths and children. In the meantime, the dogs wandered around us. They forced us to sit really close to each other, even though we'd been careful until then, because of the instructions issued by the Palestinian Ministry of Health, to keep as distant from each other as possible.

I tried arguing with them, but they didn't care. Every time we tried to say something, they threatened us with their guns and forbade us to speak. During the raid, I saw soldiers in every corner of the house. Through the stairwell, we heard them digging around in the apartments on the upper floors and damaging things. I told them: "What, is there no humanity, no mercy? How can you treat women, children, a whole family this way? Have you no compassion? Aren't you concerned about giving us the virus?" But they ignored us.

Every once in a while, one of them asked me how we got weapons. I told him: "You're searching and digging in the house. If you find weapons, take me and arrest me. I know I have no weapons, and I'll file a complaint about you with all the local and international human rights organizations about your crimes against us".

It took three hours for them to leave, at around 6:00 A.M. It was only then that I found out they had raided the homes of my three brothers in the village, too. They looked through all the furniture in my apartment and in the apartments of my three married sons – Malek, Msallam and Muhammad. They ripped the upholstery on the sofas, tore out marble slabs and tiles in my Msallam's and Malek's apartments, and broke potplants and picture frames in the entrance to my house.

Apart from the damage they caused, they really scared the women and children and made everyone's anxiousness over coronavirus worse. When they left, we called in the Palestinian Civilian Emergency and Protection Committee to sanitize the house and the furniture.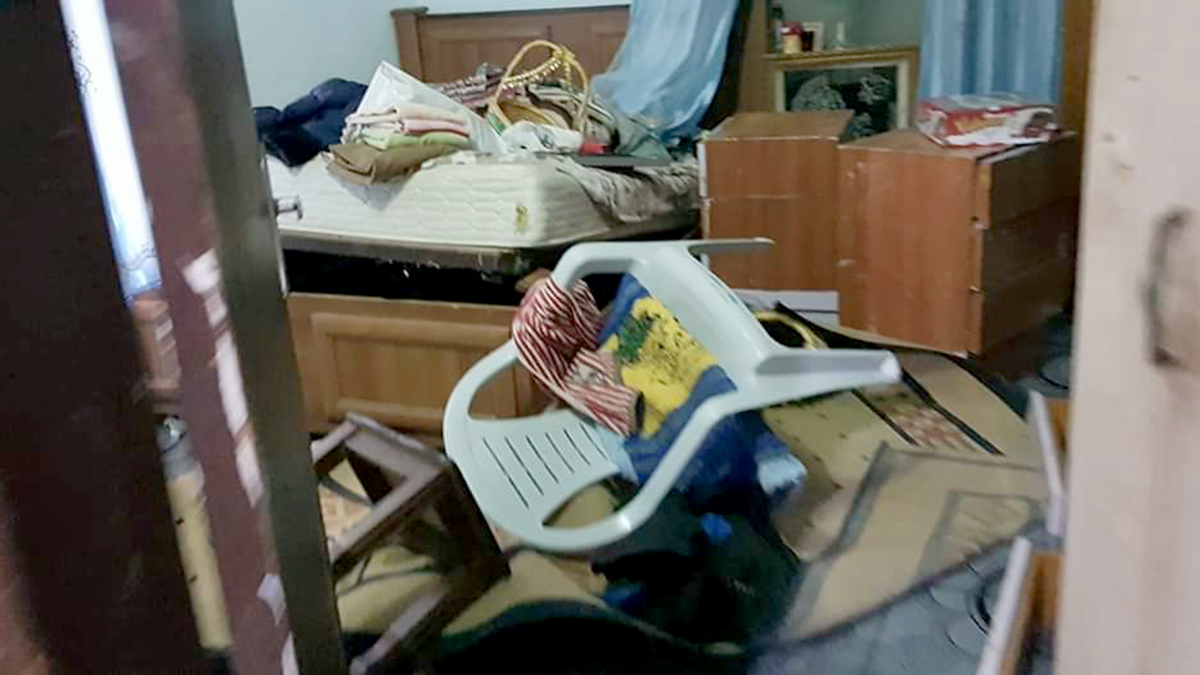 Muna Murar, Budrus:
My husband, Naser, wasn't home that night. He works in the village emergency committee, which enforces the lockdown imposed because of the spread of coronavirus. It was quiet. I was woken by noise outside and got up to see what was going on. I saw a large complement of soldiers, about 30 soldiers, deployed in front of the house. They were preparing to raid the house. We tried opening the door for them before they broke it down, and then we heard one of them instructing us to stay clear of it. We obeyed. I went to wake my five young children so they wouldn't wake up in a fright because of the soldiers. My son Aws, 20, picked up my baby, who's one month old.

The soldiers broke into the house within seconds. They spread out through the kids' rooms. They wouldn't let me, my daughter Shams, 18, or my mother-in-law Khadijeh put on our head coverings. They were acting hysterically, like they were looking for something dangerous, and didn't explain to us what they were doing there.

They took my phone away at the very beginning and forced me, the children and my mother-in-law to sit in the living room without moving. They wandered around the whole house, going in and out all the time. Two soldiers stayed with us, pointing their guns at us. They were very tense. Other soldiers went to the home of my brother-in-law, Sheikh Muhammad Murar, 62, on the top floor. Muhammad wasn't home at the time, and only his wife and children were there.

One of the soldiers started asking us: Where's father? Where's father? We understood he was looking for my husband and we said he wasn't there. I asked for my phone back so I could call him and ask him to come, but they refused.

Every time one of the kids spoke or asked for something, they just said: "Shh, quiet." When one of the children asked to go to the bathroom, they refused. After two hours, I got very tired. I'm one month after a caesarian section and still weak. I asked the soldiers to go to the bathroom, but they refused again. When I insisted, they told a female soldier to search me in the room. She brought a dog with her and made me pull up my clothes standing next to it. I was scared it would attack me. After that, they brought the dog into the bathroom and only then let me go in. When I was finished, they brought the dog after me again. I don't know what all that was for. It really scared me and the children, who were still sleepy. They were in shock.

 

After about an hour and a half, an officer came and gave the soldiers instructions. As soon as he came in, they gathered from the rooms picture frames, drawings, pictures of Abu 'Amar (Yaser 'Arafat) and Palestinian flags – anything they found with a Palestinian symbol on it. They piled everything up in front of us and the officer asked my son Ahmad, 15, if it belonged to him. He asked him a lot of questions, and Ahmad was scared and didn't know what to answer. I intervened and told him these weren't forbidden things and that every house has them. I asked why they were raiding our house, and the officer didn't answer.
A floor tile uprooted by soldiers in Muna and Naser Murar's bathroom in Budrus. Photo courtesy of the family

While we were sitting there, I heard the soldiers moving furniture and damaging it all over the house, including the kitchen and the bathroom. I heard them tearing out floor tiles. They kept searching and held us like that until about 6:00 A.M.

In the morning, after they left, we saw the state the house was in. In my room, they left nothing where it was. All the furniture and clothing were a mess, in piles. They removed the drawers, and all the closet doors were open. It was a frightening sight. I thought: Who is going to tidy up all this mess?! They tore out two floor tiles in the bathroom.

The first thing we did was make sure the house got sanitized. People from the Palestinian Civilian Emergency and Protection Committee came and sprayed everything in the house – doors, closets, furniture, clothes and dishes – with disinfectant. After that, we waited until the afternoon for the effect of the agents they'd sprayed to disappear, and only then we all started tidying up. They disrupted our lives, scared the children and have made them anxious.

The aftermath of the violent search in Muna and Naser Murar's home in Budrus. Photo courtesy of the family
Location:
More on the A Routine Founded on Violence