Life under oppression: An Israeli soldier strikes Palestinian cars with his gun because he didn't like where they were parked
As part of the separation regime Israel maintains in Hebron city center, the military has installed checkpoints and gates at the entrances to neighborhoods where it does not allow Palestinian vehicular traffic. Local residents must, therefore, leave their cars outside these neighborhoods, often parking their cars near the checkpoints and walking home from there. The military installed a gate on the road leading to the Jaber neighborhood. The gate is kept closed and it prevents cars from entering the neighborhood. About 70 meters away from this gate, further along the same street, the military placed a staffed checkpoint, known as the Wadi a-Nasara checkpoint.
On Sunday evening, 5 May 2019, at around 7:00 P.M., 'Ammar Jaber, 29, from the a-Salaimeh neighborhood, arrived at this gate with his brother 'Amru Jaber, 28, who lives in the Jaber neighborhood. As they always do, the brothers parked near the gate that blocks off access to the neighborhood and 'Ammar waited in the car while 'Amru walked home to get cash to pay for shopping in the market for the Ramadan.
A few minutes later, two soldiers who were staffing the Wadi a-Nasara (Worshipper's Route) checkpoint down the road approached the car. One of them told 'Ammar Jaber to move his car. Jaber tried to explain he was waiting for his brother, but the soldier would not listen, so Jaber moved his car a short distance away. In video footage captured several minutes later, the soldier is seen walking over to the car and hitting it with the barrel of his gun. 'Ammar moved his car a few more meters, and then the soldier approached another car that was parked nearby and started striking at it as well. This car, a black one, belongs to 'Aref Jaber, who lives in the nearby Jabal Juhar neighborhood and had driven over to visit relatives. A young boy, a relative of 'Aref's, had seen what was going on and went to get him. When 'Aref got there, the soldiers told him and 'Ammar that they had better not park behind the gate, threatening damage to their cars if they parked there again. Ever since, residents have avoided parking there.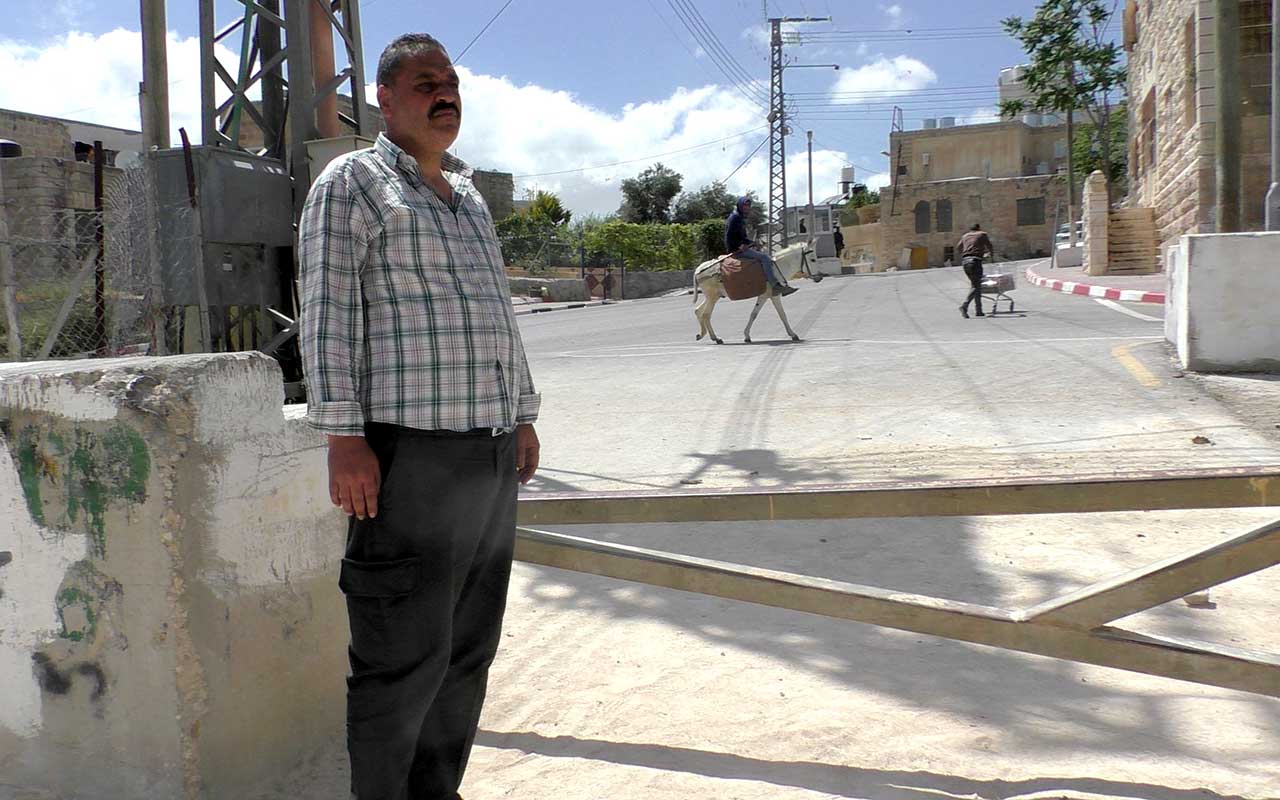 Given that the military has never before prohibited parking by the gate, it is unclear whether these were orders the soldiers received or a particular soldier's interpretation of policy, given the military's abusive policy toward residents of central Hebron. As 'Amru Jaber put it: "I think they do it to add to our suffering as part of a policy designed to get us to leave our homes. It's really hard to park further away and lug all the shopping home. My house is about 200 meters away from the gate, but my brother's house is about 1.5 kilometers away. Life in this area is getting harder and harder."
Currently 34,749 Palestinians and about 700 settlers live in Hebron city center (Area H2). The regime imposed by Israeli authorities in the area is openly and explicitly based on the "principle of separation," which completely ignores the needs of the Palestinian residents and subjects their lives to arbitrary decisions and draconian restrictions affecting every aspect of their lives. The underlying purpose of these actions is to make the lives of Palestinian residents of the area unbearable, in the hopes that they will leave their homes, ostensibly of their own will. The soldiers' conduct in this incident is no more than another illustration of this policy. It also demonstrates the soldiers' utter disrespect for Palestinians and the complete free hand they have, secure in the knowledge they will never be held to task for their actions, which have the full backing of all Israeli authorities.
'Ammar Jaber, 29, a married father of two, is a construction worker and lives in the a-Salaimeh neighborhood. In a testimony he gave B'Tselem field researcher Manal al-Ja'bri, he said:
'Ammar Jaber. Photo by Manal al-Ja'bri, B'Tselem, 7 May 2019

The area where I live is off limits to Palestinian cars. Several times, we tried to get a car entry permit but we were unsuccessful, so we're forced to park behind the concrete blocks and metal gate the military installed at the entrance to al-Jaber neighborhood. I park there because my mother and brother live close to the gate and I help them carry the groceries home. My house is much further, about 1.5 kilometers from the gate and I have to carry my shopping on foot the whole way.

On Sunday, 5 May 2019, at around 7:00 P.M., I was driving with my brother 'Amru. We parked behind the metal gate, and 'Amru went to his house to get money for shopping. In the meantime, a soldier approached me, coming from the direction of the Wadi a-Nasara checkpoint and asked me whose car it was. I said it was mine, and he told me to move it. I told him I was waiting for my brother and asked him to let me wait there for just five more minutes, until my brother came back. He refused and insisted I leave right away. I moved the car a little and then got out. In the meantime, I phoned my brother 'Amru and asked him to hurry back.

As I was doing this, I saw the soldier walking toward my car. He looked angry and said he was going to smash all the cars that were parked there. I ignored him because I was afraid he'd attack me, but I wouldn't leave before my brother returned. Suddenly, he started hitting the car with his gun and the car got scratched.

I tried to stop the soldier from damaging my car, but he threatened to break all the cars that were parked there. I moved the car back again, and then he went over to another car, a black one, that was parked behind the gate. The car belongs to 'Aref Jaber, a relative of mine, and the soldier started pounding at it too. The soldiers threatened me and 'Aref not to park there again or else they'd damage the cars. Then my brother 'Amru came back and we drove away.

As I've mentioned, the area where we live is off limits to Palestinian cars. The gate is the closest parking to our houses.
Muhammad Jaber, 49, is a married father of seven. He is unemployed and lives in the Jaber neighborhood. In a testimony he gave B'Tselem field researcher Manal al-Ja'bri on 9 May 2019, he said:
The damaged hood of 'Aref Jaber's car. Photo courtesy of the witness

My brother-in-law 'Aref Jaber and his wife came to visit us on Sunday, 5 May 2019, and at around 7:00 P.M., my nephew came over and said a soldier was looking for us. 'Aref and I quickly went to the entrance to the neighborhood, where we saw two soldiers. One of them started asking about 'Aref's car, whose it was. 'Aref said it was his and the soldier asked him why he had parked there. I told him 'Aref was visiting us, but the soldier ignored me, went up to the car and started striking it.

We didn't try to get him away from the car because we could see he was really mad and we were afraid he'd shoot us or arrest us. After he hit the car, he took 'Aref's ID card and car keys and took them with him to the checkpoint. He told us to come see him in an hour. About 20 minutes later, the soldier came back and asked why I hadn't explained to 'Aref that it's a no-parking zone. I told him there was no other place where parking was permitted, and he said it wasn't his problem. He gave 'Aref his ID card and keys back and told him to remove the car from the area. 'Aref did and parked the car at the end of the street, near Ziad Jaber School.