Israeli soldiers fatally shoot Mahmoud Nakhleh, 18, in the back from 80 meters away, and deny him medical aid
On Friday, 14 December 2018, at around 4:00 P.M., a group of teenagers from al-Jalazun R.C., north of Ramallah, threw stones at a military post located several hundred meters away, in the settlement of Beit El. Another group of teens and young men was sitting several dozen meters from there, by the entrance to the camp near the Ramallah-Nablus Road (Road 466). The soldiers fired a tear-gas canister that landed near the second group.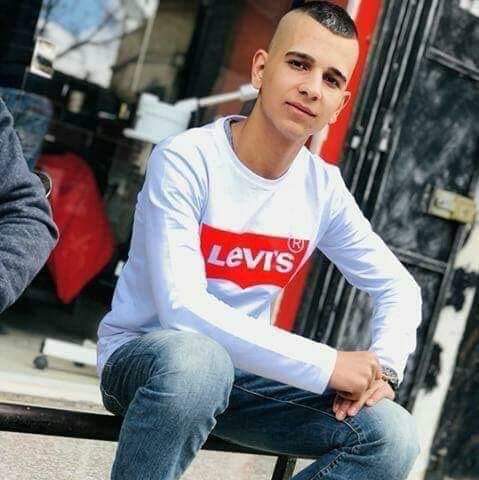 Immediately after that, two military vehicles drove up and the youths ran into the camp. About eight soldiers got out of the vehicles, formed two groups and chased the youths while firing live rounds. Two of the youths, one of whom was Mahmoud Nakhleh, an 18- year-old from the camp, ran west into the camp. As Nakhleh was running away, soldiers shot him from a distance of about 80 meters and hit him in the lower back. Video footage captured by a camp resident shows Nakhleh running away from the soldiers, sustaining a shot and falling to the ground.
A.H., a 20-year-old from the camp who was sitting on his balcony about 200 meters from where the second group had been sitting, described what he saw in a testimony he gave to B'Tselem field researcher Iyad Hadad on 17 December 2018:
At around 4:00 P.M., I was sitting on the balcony on the second floor of my house, watching the entrance to the camp. I saw several young guys sitting near the entrance. Then I heard the sound of a tear-gas canister fired towards the entrance. It happens a lot – when young guys approach the military post on the outskirts of the settlement to throw stones, the soldiers fire tear-gas canisters to drive them away. The canister landed where the kids were.

I saw two army jeeps driving very fast from the direction of the settlement toward where the boys were sitting. When they saw the jeeps, they ran off and scattered. Some of the kids ran along the camp's main road and two ran west, in my direction. The soldiers got out of the jeeps and formed two groups that chased the boys, firing live rounds at them from a distance of several dozen meters. The two boys who were running in my direction were running one after the other on a dirt road to the side. I saw the boy in the rear fall down several dozen meters away from the soldiers. They didn't go up to him. I guess they didn't notice he'd been hit.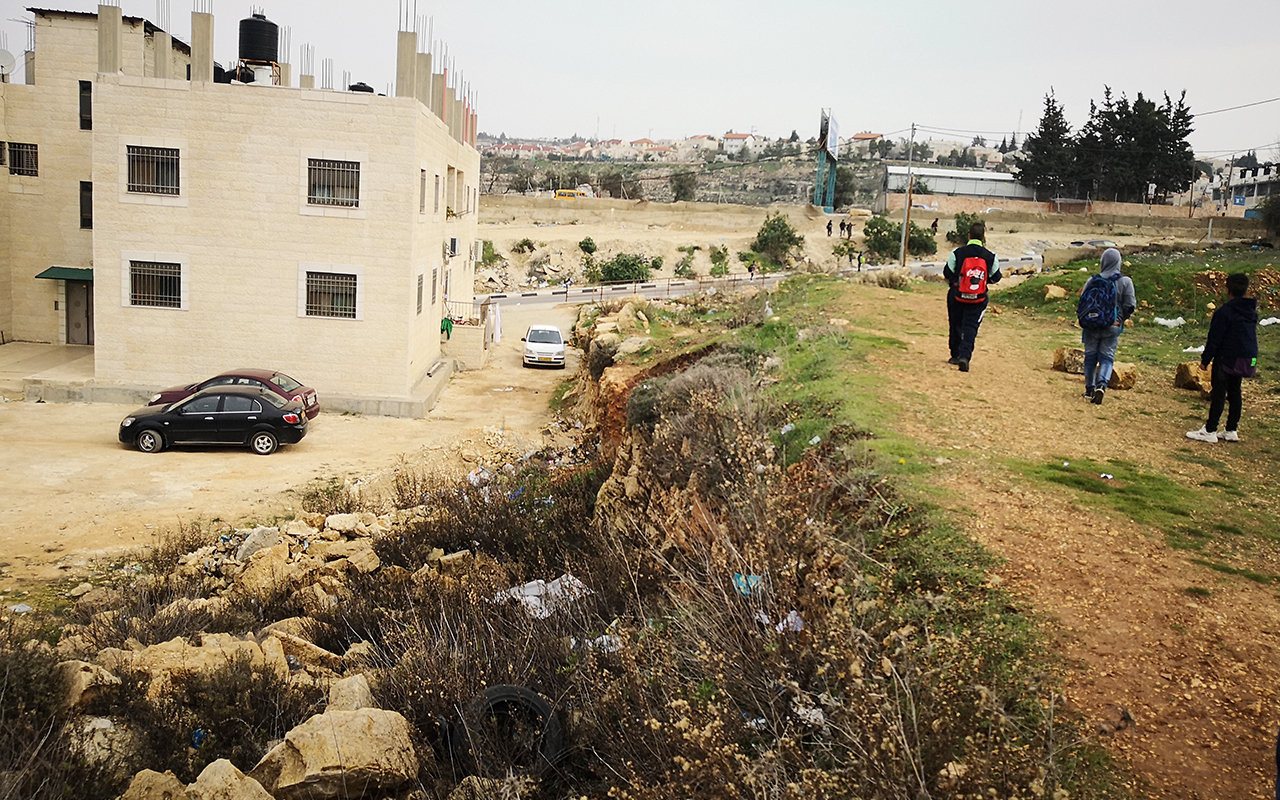 F.S., 42, married mother of five, was at home. The house lies below the spot where Nakhleh was shot. She smelled tear gas and when she opened the front door, saw soldiers firing at the fleeing youths. She heard a cry of pain, stepped out of the house with her 22-year-old daughter, and saw a group of soldiers standing on the path above the house. She later learned that the soldiers were standing around the wounded Mahmoud Nakhleh. When the soldiers caught sight of the two women, they opened fire at them and hit the windshield of the family car, which was parked by the house. Safi ran back inside with her daughter, and came out again a few minutes later.
In a testimony she gave B'Tselem field researcher Iyad Hadad on 16 December 2018, she described what happened next:
As soon as I opened the door, I saw the soldiers lifting the wounded boy up in a barbaric, ugly way, as if he was some slaughtered animal: four soldiers were walking along the fence around our house, holding him from his limbs. His head was lolling and his body was limp. He didn't shout. He looked unconscious.

Four or five other soldiers were with them, pointing their rifles right and left. As soon as they saw me, one of them threw a stun grenade towards me. I backed away and it didn't hit me. All I cared about at that moment was getting the boy away from them. I insisted on walking behind the soldiers who were carrying him and said: "What you're doing is wrong, give me the kid! You've killed him!" While they were walking towards the camp's main road, an ambulance arrived. It must have been nearby. The soldiers dropped the injured boy on the pavement as if he was a sack of potatoes. Then they started pushing us away – me and the ambulance. I kept begging them: "For the love of God! Give me the kid! Let the paramedics treat him."

My daughter and husband joined me. The soldiers yelled at us and ordered us to go inside, but I stood my ground. I didn't care about their orders or their threats. I kept begging them and crying for help. I even told them he was my son, but they didn't care. Every time I tried to get near the wounded boy, they yelled at me to get back.
First Aid Officer 'Abd al-Hadi Mustafa is the Red Cross ambulance driver who arrived on the scene. He drove there with a paramedic after receiving a call about the wounded youth. Mustafa, who is 23 and lives in Ramallah, said in a testimony he gave to B'Tselem field researcher Iyad Hadad on 19 December 2018 that when they arrived at the entrance to the camp, they saw the soldiers dragging the wounded Nakhleh and laying him down on the pavement. He recounted:
I drove up to the site with the siren on. I pulled over near the soldiers. One of them came up to the ambulance, gave it a kick and told me to get lost. I got out of the ambulance and told the soldiers that I wanted to evacuate the wounded boy. One of them answered me in Hebrew. I didn't understand what he was saying, but he gestured for me to leave. I kept arguing with them, and then one of them punched me in the cheek, which hurt a lot. At the same time, another soldier pointed his rifle at me and said in Arabic: "I'll shoot you in the legs if you don't leave".

I had to go back to the ambulance and started driving slowly towards the camp. I didn't go far, just drove around. From about 100 meters away, I saw two women go up to the soldiers and ask them to let go of the injured youth and let us treat him. I heard them screaming, "The kid is already a martyr. It's wrong what you're doing. You've killed him. Leave him alone. Let the ambulance take him." But it didn't help.

A few minutes later, the soldiers picked up the injured boy again and moved him to the entrance to the camp, across from the schools. In the distance, I could hear the women calling for an ambulance along with other residents. I drove over immediately. The soldiers were still there. I pulled over about ten meters away from them. The soldiers were crowding around the injured boy, who was lying on the pavement. None of them was treating him.

As soon as I arrived, one of the soldiers tried to stop me from getting out of the ambulance. I argued with him until an officer ordered him to leave me alone and allowed me evacuate the injured youth. We put him on a stretcher right away. He seemed unconscious but he was breathing slowly. He moved his hand and put it on his head.
Nakhleh was taken to hospital in Ramallah, where the doctors found a bullet entry wound in his back and damage to the liver, intestine and aorta. After about thirty minutes of resuscitation attempts, he was pronounced dead.
Asmahan Nakhleh, Mahmoud's mother, who is 45 and a married mother of three, was at her sister's house when she received a phone call telling her that her son had been injured. She drove to the hospital in Ramallah immediately, together with a relative. In a testimony she gave B'Tselem field researcher Iyad Hadad on 9 January 2019, she described that day, and how she feels now:
Asmahan Nakhleh. Photo by Iyad Hadad

I'm a mother of three. Actually, now that I've lost my eldest, Mahmoud, I have only two daughters left – Ayat, 15, and Juri, 5. When we got to the hospital, there were lots of people from the camp who'd come there to support Mahmoud. I heard crying and shouts that he was dead, but some people tried to put me at ease and told me Mahmoud was alive. I was in shock and very confused. I couldn't tell what was true anymore. I prayed to God and begged him to heal my son. I recited Koran verses so the heavens would be merciful to him. A few minutes later, someone from the camp came out and said Mahmoud had passed away. I lost it and started crying and yelling.

He was my only son. God knows how much I suffered during the pregnancy and how much I put into raising him. He was my eldest son, my firstborn. He brought such joy to the family. We were hoping that one day, he'd help support our family. My husband is a junior office worker at the Birzeit Pharmaceutical Company. He barely makes enough to cover our expenses.

When Mahmoud finished 10th grade, he switched to electricity studies because he was more suited to vocational training. He had ambitions, but they were modest. He wanted to finish high school, get his driver's license and buy a car to drive us around, because his father's left hand is paralyzed and he can't get a license.

Losing him tore a gaping hole in our lives. The house is empty and silent without him. Whenever Mahmoud got home, I would hear his voice from the gate and felt calm and content. He was our pampered boy. Everyone loved him – family, relatives, friends. Everyone would ask after him. Even now, after his death, his friends come to our house to comfort me and try to ease my pain. God will do justice by us and by our son, whom the soldiers took away from us. We never even considered filing a complaint or suing them because we have no expectations.

Juri Nakhleh, holding a poster commemorating her brother. Photo by Iyad Hadad, B'Tselem, 9 Jan. 2019

Mahmoud really loved his little sister Juri. He would play with her and spoil her. He brought her anything she asked for. She talks about him all day long and asks where he is. It makes me sad to see her that way. I cry whenever she mentions Mahmoud. She misses his kisses, and playing with him. She keeps a picture of him in her pocket and takes it with her wherever she goes, saying: "This is a picture of my brother. It's mine." Then she hangs it in her room, over her bed.

I feel as though my life has stopped. I've lost all my desire to live now that he's gone. It's a terrible loss, especially when it's your only male child, who had his whole life ahead of him. You seeing a person in front of you now, but it's just a body. My soul died along with my beloved son Mahmoud.
The facts of the case are clear: Soldiers shot Mahmoud Nakhleh in the back and critically injured him as he was fleeing them, from a distance of several dozen meters. After shooting him without any justification, the soldiers ignored his fatal injuries and offered him no medical assistance. Instead, they dragged him by the hands and feet, moving him from place to place, all the while using violence, including gunfire, blows and threats against the persons trying to save his life.
These facts are backed by eyewitness accounts and video footage. Nonetheless, as far as the security establishment is concerned, nothing is amiss. The IDF Spokesperson issued a baseless statement about the incident, reported in Hebrew-language media, claiming without a presenting a shred of evidence that, in "a violent public disturbance during which dozens of Palestinians threw stones at IDF troops... One Palestinian approached a combatant with a suspicious object in his hand. The combatant responded with fire. It was later reported that the Palestinian had been killed." The IDF Spokesperson also took pains, as usual, to note that "an MPIU investigation has been opened and its findings will be delivered to the Military Advocate General's Corps".
The attempt to retroactively justify the criminal killing of Nakhleh, whether through lies far-removed from reality or by the stock phrase about an MPIU investigation, is nothing new. It is part of the military's routine whitewashing protocol, applied in thousands of cases in the past. The object of this standard procedure is not to prevent such incidents from recurring, nor to ensure that criminals be held accountable for their actions. It is to cloak an unlawful, unjustified shooting in a shroud of legality and silence criticism, in order to allow the military to continue using lethal fire as it pleases without being called to task in any way.
The same occurred in this case. Everyone involved – be it the soldiers on the ground, their commanding officers or those responsible for the official statement designed to sanction the incident – have shown utter disrespect for human life, for the humanity of the injured Palestinian and for basic moral tenets. They have done so in complete confidence that all of this, even this, can be successfully whitewashed.
* On 21 December 2018, media reports stated that an MPIU investigation had been launched.
Location:
Related Media: