Israeli police assault and arrest two Palestinian teens, fire sponge rounds and throw stun grenades in East Jerusalem neighborhood
On the afternoon of 7 November 2017, at around 4:00 P.M., Israeli Border Police officers were writing traffic tickets in the neighborhood of Batan al-Hawa, which is part of the village of Silwan in East Jerusalem. A.R., a 15-year-old local resident, rode by on a bicycle on his way home. One of the officers stopped him and demanded to see his ID card. As he is not yet 16, A.R. said he did not have one. In reply to a question by the officer, he said that his father was at work. A.R. then got off his bicycle and began walking away, but the officer grabbed him by the neck.
 In a testimony he gave to B'Tselem field researcher 'Amer 'Aruri the next day, 8 November, A.R. said:
I got off my bike and started heading home to tell my mother that the officer was asking for my father's ID card. But then the officer grabbed me by neck and pressed it really hard. Maybe he thought I was trying to escape. It really hurt. I heard my cousin Yazan ask the the officer, "What do you want from him?" A commotion started, and there was pushing and shoving between the officers and people from our neighborhood. All of a sudden, the officer threw me to the ground and pressed his knee on my head. I yelled in pain and then I saw stones falling next to me. After a while, I heard Yazan yell, "Ow, my eye!".
Yazan a-Rajabi, 18, who arrived at the scene a few minutes after his cousin, described what happened next in a testimony he gave B'Tselem field researcher 'Amer 'Aruri on 8 November:
A Border Police officer knocked my cousin, A., down to the ground and put his knee on his head. A. started crying out for help and, at that moment, someone threw stones from a rooftop nearby. The stones landed next to him and I was afraid he'd get hurt, so when the officers stopped pushing us and went to look for the stone throwers, I went up to the officer that had his knee on A.R.'s head and said to him in Arabic: "You have to get the kid away from here, so the stones don't hit him". 

The officer took a small canister of pepper spray out of his pocket and sprayed me in the face, with his knee still on A.'s head. I just wanted to get home and started running, without seeing where I was going. My face was stinging badly. Later, I was told that I ran about twenty or thirty meters, away from the direction of my house. I felt dizzy and nauseous. In the end, I decided to go back to where A., the officer A. and the rest of the people were.
A.R.'s uncle, Jadallah a-Rajabi, 38, arrived at the scene and saw the officer with his knee on A.R.'s head. He spoke with the officer, who claimed that A.R. had tried to run him over with his bicycle. Jadallah helped his nephew off the ground and moved him away, to get him out of the line of the stones being thrown. The officer followed them and would not let residents approach them.
In a testimony he gave B'Tselem field researcher 'Amer 'Aruri on 8 November, Jadallah described what happened next:
I was standing next to A. when I saw Yazan heading towards us from the area of the garbage dump. He had his hand over his face and he was screaming. You could see the markings of pepper spray on his face and neck. I don't know why, but the Border Police officer who had stepped on A.'s head now assaulted Yazan. He grabbed him in a headlock, pulled him and said he was under arrest.

I asked another Border Police officer: "Why are you doing this? Leave the kids alone!" One of them pointed at A. and said: "This kid was riding a bike without a helmet and he has to get a ticket". I answered: "So he didn't try to run anyone over, like your colleague said"? As this was going on, stones were being thrown from neighborhood rooftops. I brought some milk from the house to alleviate Yazan's burns from the pepper spray. A paramedic from the neighborhood also arrived and gave Yazan first aid.
At that point, about eight Special Patrol Unit officers arrived and started shooting sponge rounds and throwing stun grenades. One man was lightly wounded by a sponge round.
The officers took A.R. and Yazan a-Rajabi to a police car, where they tied their hands with zip ties. Inside the police car, one of the officers tightened the ties around A.R.'s hands. Yazan asked him to loosen them, but the officer refused and slapped him. When he asked again, another officer removed A.R.'s zip ties. After about two hours, the boys' fathers arrived at the police car, but the officers would not let them speak with their sons.
About ten minutes later, the officers drove both boys to the police station on Salah a-Din Street, where they were taken into a room with two Border Police officers in it. At around 7:00 P.M., a lawyer from the Wadi Hilwa Information Center in Silwan arrived and spoke separately with each boy. Yazan was interrogated for about 30 minutes, without being informed by the interrogator that he had the right to remain silent.
In his testimony, he recounted:
They took me to a room where an interrogator in civilian clothes was sitting. He said to me in Arabic: "You're accused of threatening a police officer and hindering him in the performance of his duty". I said: "That's not true! There are cameras in the neighborhood. You can check and see who assaulted whom!" The interrogation lasted about half an hour. The interrogator told me to call my father to come and sign a guarantee. I called from the interrogator's phone, but my father said: "You're 18. You don't need me. I won't come!" I told the interrogator that my father refused to come and that he said I was an adult and could sign whatever paper necessary myself. The interrogator said to me: "Then sign your statement and an undertaking to report back for questioning next Thursday". He threatened that if I didn't come, I'd pay a 5,000-shekel fine.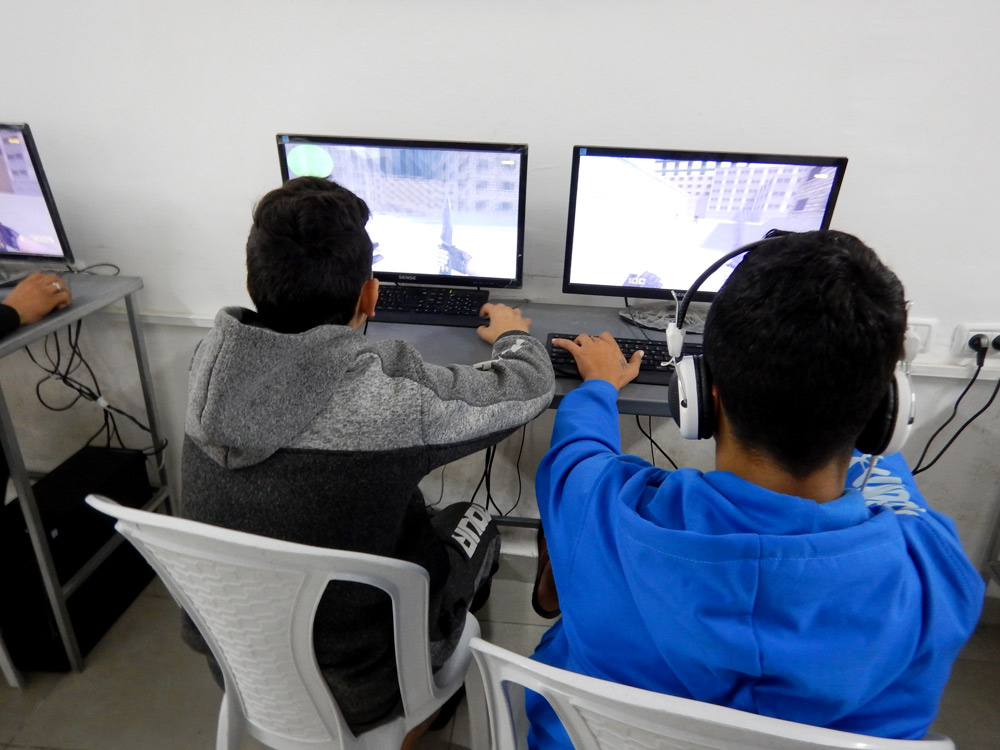 Yazan signed his statement, which was written in Hebrew, a language he cannot read, and the officers took him back to the room he was taken into when he first arrived at the station. In the meantime, A.R. was taken into a different room and handed a 250-shekel ticket for riding a bicycle without a helmet. A.R. and Yazan were released at around 10:30 PM.
As previously reported by B'Tselem, this is not unusual police conduct. Police brutality and false arrests are nothing new in Batan al-Hawa. This neighborhood has been the scene of the largest expulsion effort in East Jerusalem in recent years. More than 100 settlers are already living in the neighborhood, and some 80 Palestinian families who have lived there for decades are facing eviction proceedings. The entry of settlers into the neighborhood has changed life there entirely – lawsuits, violation of privacy and daily harassment by settlers have become par for the course, together with massive presence of Israeli security forces and private security guards who use violence against the Palestinian residents, threaten them, arrest minors and completely disrupt life in the neighborhood.