Occupation routine in Hebron: Soldiers harass teachers and children at school
The Ziad Hamuda Jaber Elementary School for Boys is located in the Wadi a-Nasarah neighborhood of Hebron, about 50 meters from the road leading to the settlement of Kiryat Arba. Approximately 300 students attend the school. In order to reach the school, students and teachers must pass through a metal gate installed some 30 meters from the school, separating the neighborhood of Wadi a-Nasarah from the Jaber neighborhood. The gate is positioned on the so-called "Worshippers' Route" that leads from Kiryat Arba to the Tomb of the Patriarchs (al-Haram a-Sharif). The gate prevents access by vehicles, but pedestrians are permitted to cross. Occasionally, and unpredictably, soldiers are stationed there and conduct random searches of passersby. 
Since 2002, the residents of the neighborhood have suffered from restrictions on their movement that affect both students and teachers at the school. Since 2015, some 30 students have been stopped and detained on their way to or from school, on the alleged grounds that they were involved in throwing stones.
During October and November 2017, B'Tselem documented four instances in which soldiers harassed students passing through the gate. On 16 October, at about 12:30 P.M., some classes ended their school day and set off home. A few minutes later, some of them ran back to the school and told the teachers that two soldiers and a settler were chasing them and photographing them.  
In testimony taken on 23 October by B'Tselem field researcher Manal a-Ja'bri, a 12-year-old 7th-grade student, A.J., stated:
As soon as we passed through the metal gate, we saw about six soldiers together with a settler. He photographed us with his cell phone. I asked him, "Why are you photographing us?" Then, suddenly, a soldier attacked me. He was in a bad mood and had a bottle in his hand – I don't know what was in it, maybe juice or maybe something else. He slapped me on the back of my neck. Then another soldier stepped in and pushed me to the wall. A third soldier moved them away from me and said I could go. I saw our teacher Muhannad walking toward me, but then the settler stopped him and started talking to him in Hebrew. I kept walking. I don't know what happened to the teacher after I left the area. While I was walking, I saw other soldiers photographing me from inside a jeep parked nearby. Since then I've been afraid to go to school by myself. Sometimes my mother comes with me as far as the checkpoint, and sometimes I have to go through by myself. The other students are also very afraid to leave school at midday because the soldiers bother us […].

Sometimes the soldiers near the gate stop me or other children who go to the school and search our bags. This usually happens on the way to school and on the way back home. Sometimes the soldiers also enter the school, and one time they even went from class to class looking for children who had been throwing stones. They checked our hands to see if they were dusty. Sometimes they fire tear gas canisters close to the school.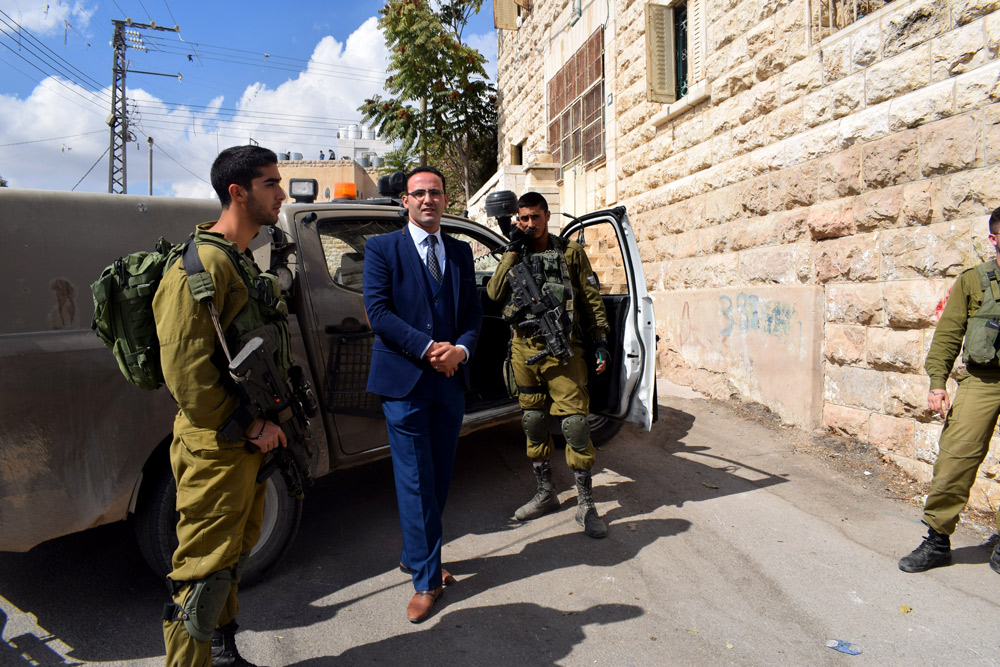 Muhannad a-Za'tari, 35, a married father of four and teacher at the school, stated in testimony taken on 23 October by B'Tselem field researcher Manal a-Ja'bri:
The soldier grabbed my hand and pulled me toward a jeep nearby, telling me that I was under arrest. He asked for my identity card and I gave it to him. He spoke to me in Hebrew and I told him that I don't understand Hebrew.

A few minutes later, a police car arrived and a police officer who spoke Arabic got out. The teacher who was with me, 'Abd al-'Alim, tried to film what was happening, but the soldiers were agitated. They pushed him and prevented him from filming. The police officer came up to me and began to ask me questions about the school, how old the children are and how many of them there are. I answered, and then he told me that he would help me get out of this trouble if I brought him two of the children who throw stones. I laughed, and then the soldier, who was very agitated, came towards me and told me in Arabic that he was a crazy soldier and "would turn the school inside out." He said that he would close down the school and arrest us, and that I was responsible for any stone thrown at settlers' cars.

The police officer came back to talk to me and said that I was under arrest, and that he would take me to the police station to interrogate me. In the meantime, a Red Cross car arrived on the scene. I guess they called some people in the military, and about half an hour later the police officer let me go. He told me that he would summons me for interrogation, and that if I didn't come they would arrest me. He threatened that if the stone throwing was repeated, they would close the school. He also said that he wanted to see me standing at the checkpoint every day while the children come to school or leave […].

Over the past few years, soldiers have entered the school on many occasions. They frighten and scare the students, and this has an effect on their academic achievements and their psychological condition. They also frequently search the children's bags and even detain them. As members of staff, we also suffer from searches and have been delayed several times in the past as we pass through the gate that leads to the school. The situation also has an impact on the number of children who are registered for the school, because families prefer to avoid exposing their children to all this. 
In two other incidents documented by B'Tselem over the following days, soldiers chased students from the school as they were returning home at the end of the school day. In both cases, the soldiers detained one of the teachers who was accompanying the students – in one case for an hour, during which time residents were not allowed to pass through the gate.
On 9 November, an event was due to be held at the school during the first period, to mark the anniversary of the death of Yasser Arafat. At about 7:45 A.M., while the teachers and students were on their way to school, they saw dozens of soldiers gathered close to the school, as well as a settler from Kiryat Arba. For about half an hour, the soldiers prevented the students and teachers from passing through the gate. After they were finally allowed to pass, the school decided to cancel the events planned for the day.
At about midday, the teacher Muhannad a-Za'tari decided to accompany students who had ended their school day. Some of the students passed through the gate without any problems, but the soldiers again detained a-Za'tari. In response, several teachers and students from the school gathered and waved Palestinian flags. The soldiers began to push those present, telling them to leave the area.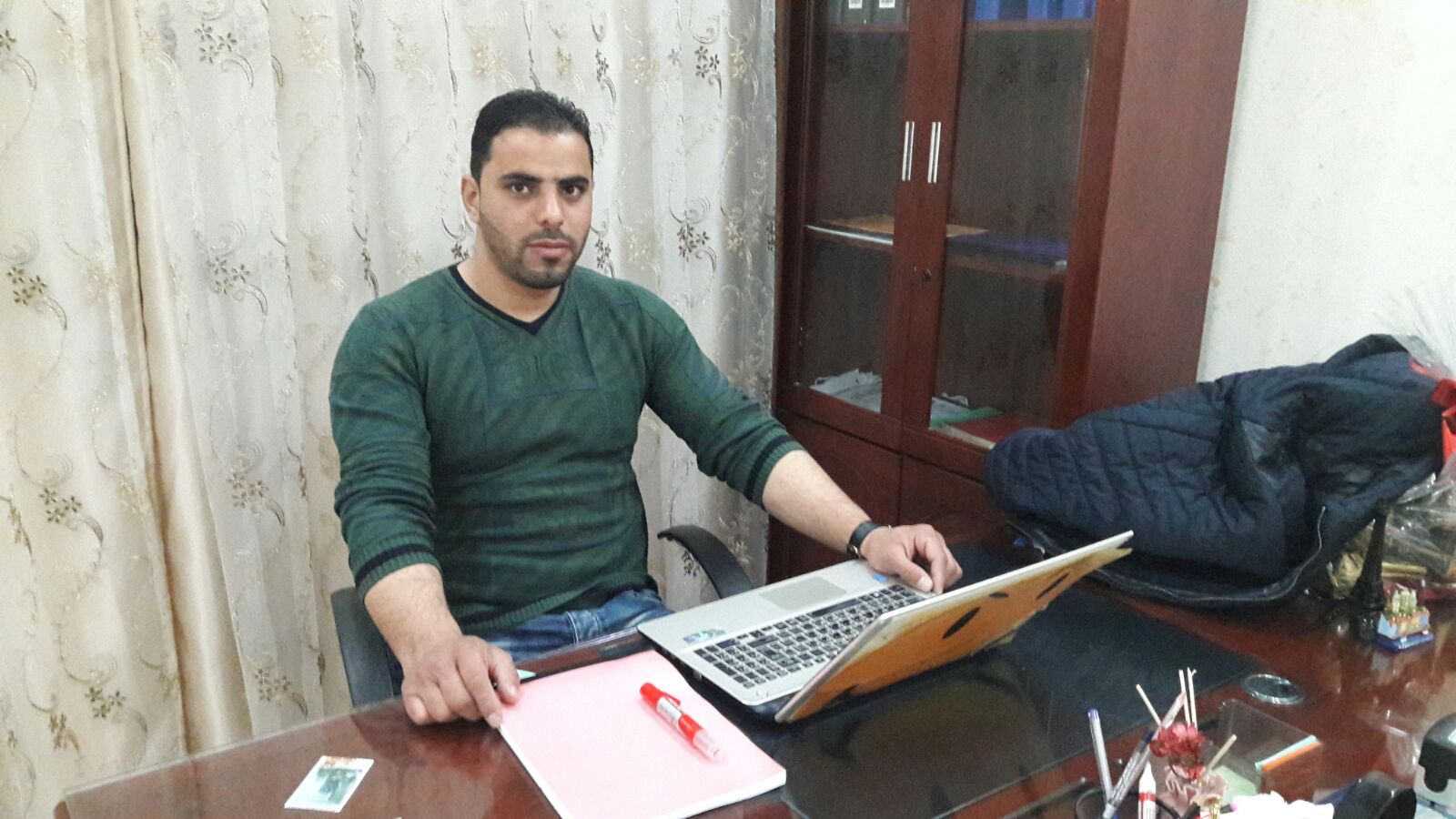 Ibrahim Zahdeh, 31, a married father of two and teacher at the school, stated in testimony taken on 12 November by B'Tselem field researcher Manal a-Ja'bri:
After most of the children had dispersed, it was just us teachers left. The soldiers began to shout at us, ordering us to leave. They acted in a brutal and provocative manner. We told them that we wouldn't leave until they released our colleague Muhannad and gave him back his identity card and telephone.

The soldiers began to forcefully push us away. We stepped back a few paces, and as we were doing so a soldier pushed me. I pushed him back, and then he demanded to see my identity card and ordered me to stand with my face to the wall. At first I refused, but then I stood as had he told me. He began to move the other teachers away and detained one other teacher.

All this time, an Israel Police officer was sitting in a Border Police patrol car a few meters away, watching what was happening. He only intervened after about 20 minutes, during which time the soldiers acted violently toward us. He spoke fluent Arabic. He asked what was going on, and while we were talking one of the soldiers threw a stun grenade toward a group of teachers, students, foreign activists and human rights workers that were standing on the side. A neighborhood resident was also there, together with his little daughter, and she was very scared by all the noise. He began to argue with the soldier because of this, and the soldier started to push him.

The police officer told me that I was under arrest along with another teacher called Rashad, and that they were taking us for interrogation at the police station in Kiryat Arba. They put me in the back seat of a police patrol car, between two soldiers, and they took Rashad in a military jeep. I arrived a few minutes before Rashad, and when he got there I saw that he was handcuffed with plastic cable ties and blindfolded. As he walked, the soldiers pushed him very aggressively. Then they took off his blindfold and tried to remove the cable ties with a razor blade, but they didn't manage, so they brought some scissors and cut them. The soldiers frisked us both aggressively, and then we sat and waited in the yard.
 
The two teachers were detained for about an hour and then released unconditionally.
These incidents illustrate the casual manner in which Israeli soldiers stationed in the West Bank can threaten and intimidate dozens of Palestinian school students and several teachers, disrupting routine studies. The soldiers' presence impairs the children's ability to study, influences their achievements, and prevents any possibility of maintaining a reasonable routine in the school. Such events also distress the students' parents, who are unable to influence what happens to their children on their way to and from school.
These are not isolated or exceptional incidents, but an integral part of life in Hebron, where Israel has established several small settlement clusters within the heart of the Palestinian population. Israel imposes an overt policy of segregation in the city and, accordingly, the military prohibits Palestinians from using main streets and has shut down hundreds of businesses. These restrictions, together with the constant harassment of Palestinian residents by security forces and settlers, deny residents the chance to maintain a routine and make their lives intolerable. This policy has driven many Palestinians to leave the center of the city, leading to the economic collapse of the area. Israeli authorities continue to implement this policy despite the outcomes, thereby encouraging the silent transfer of Palestinians from the center of Hebron.
.