Palestinians with work permits must arrive at checkpoints before dawn, undergo humiliating inspection
More than 30,000 Palestinians have permits to work in Israel, and may enter the country by crossing any one of eleven checkpoints. Three checkpoints are located in the southern West Bank, five in its center, and three in the northern West Bank. Last month, B'Tselem staff visited Tarqumya Checkpoint in the southern West Bank and Eyal Checkpoint in the northern West Bank. They interviewed laborers waiting to cross and filmed the situation at the checkpoint.

Video documentation from Tarqumya checkpoint, Sunday, 9 June 2013
Private security companies run both checkpoints for the Ministry of Defense. Every Sunday, the beginning of the Israeli work week, approximately 4,500 Palestinians cross these checkpoints in order to enter Israel; on other days, the numbers are smaller. There are eight inspection stations at each checkpoint, but they are not all staffed at all times. Tarqumya Checkpoint opens at 3:45 A.M. and Eyal at 4:00 A.M. Nevertheless, the lengthy lines that build up outside the checkpoints force laborers to arrive in the middle of the night in order to ensure their place in line, and then wait until dawn to cross into Israel and travel to their workplaces. When their turn to enter the checkpoint itself finally arrives, the laborers and their belongings are scanned with a metal detector. Then, they move on to staffed stations where security guards check their fingerprints and their papers, including their entry permits.
On Sunday, 2 June 2013, several B'Tselem staff members arrived at Eyal Checkpoint at approximately 2:00 A.M. At that time, some fifty laborers were already waiting in line. Less than quarter of an hour later, hundreds more had arrived. B'Tselem spoke to the laborers, and they described how the checkpoint operates. They explained that crossing it takes so long because there are only two metal detectors in place, and inspections are lengthy. On Sunday, when the checkpoint is particularly busy, all eight inspection stations are open, but on other weekdays only four are usually staffed. After the laborers pass through the metal detector, guards randomly choose some laborers for further inspection. The further inspection is conducted individually. Each laborer enters a room and must strip down to his underwear in front of a guard. After putting their clothes back on, they are taken to a small room, where they have to wait until eight laborers have gathered, and only then are they sent on to the regular inspection stations. On the day of B'Tselem's visit, several volunteers from the Palestinian General Federation of Trade Unions were at the checkpoint to supervise the situation, following several incidents in which laborers were hurt due to the overcrowding.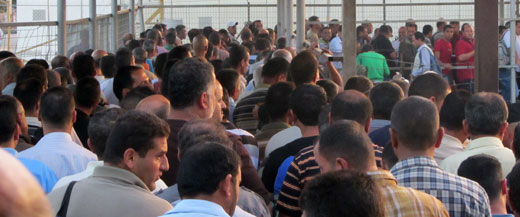 Eyal Checkpoint. Photo: 'Abd al-Karim Sa'adi, B'Tselem, 2 June 2013
Tarqumya Checkpoint is run by a company named Sheleg Lavan. B'Tselem staff visited the checkpoint on Sunday, 9 June 2013. When the staff arrived, at approximately 2:30 A.M, there were already some 200 laborers waiting in line, and the numbers quickly rose. Less than an hour later, there were thousands. B'Tselem's staff members spoke to a few of them. They reported that only four of the eight inspection stations at the checkpoint are usually open, even on Sunday, the first and busiest day of the work week. The security guards randomly pick twenty to forty persons and send them into a room, where they must wait until the room fills up, at which point they undergo a physical inspection. They usually stay in the room for forty to ninety minutes, and can leave it only when the last person is inspected. The conditions in the room are harsh: there are no chairs and the workers must stand, crowded together. Although there is an air conditioner in the room, it is not turned on. Palestinians have dubbed it "The Room of Death".
B'Tselem's staff witnessed some of the laborers who had entered the checkpoint being turned back by guards, for various reasons. One of them reported that a guard had demanded that he return to the end of the line because he had reached the inspection station before the hour stated on his entry permit – 5:00 A.M. Others related that guards had confiscated their entry permits, either quoting Israel Security Agency (ISA) orders or stating that their fingerprints did not match those in the computer database and that they must arrange the matter at the Civil Administration offices.
On 26 May 2013, Tarqumya Checkpoint was so crowded that a 50-year-old laborer, 'Abdallah a-Nawaj'ah, was crushed just before reaching the gate to the checkpoint and fractured a rib. He was taken to 'Aliyah Hospital in Hebron in a Red Crescent ambulance. He is currently at home and cannot return to work.
In response to a story about Tarqumya Checkpoint aired on Israeli TV Channel 2, the Ministry of Defense stated that inspection at each station lasts only seven minutes. Even if that is the case, the ministry's response addressed only the inspection process itself, utterly ignoring the masses of people wishing to cross the checkpoint and the long lines stretching outside it.
The long hours that Palestinian laborers must wait on line in order to cross checkpoints are nothing new. In 2007, B'Tselem filmed similar footage at the same checkpoints. Then, too, the lines were long and the laborers reported similar difficulties.
This reality, in which laborers must forgo a night's sleep and wait for hours for a checkpoint to open, just to reach their workplaces on time, is not a necessary evil but a result of a policy by the Ministry of Defense. The ministry must adjust the conditions at checkpoints to accommodate the number of Palestinians issued work permits by the Civil Administration, and it must ensure that the labourers can enter Israel without violation of their human dignity.