For a handful of Jewish worshippers: Military shuts Palestinians in homes and they suffer noise, littering and damage to property
Two towns in the northern West Bank are home to tombs that some recognize as Jewish holy sites. The tombs of Joshua Bin Nun and Caleb Ben Yefuneh lie within Kifl Haris, north of Salfit.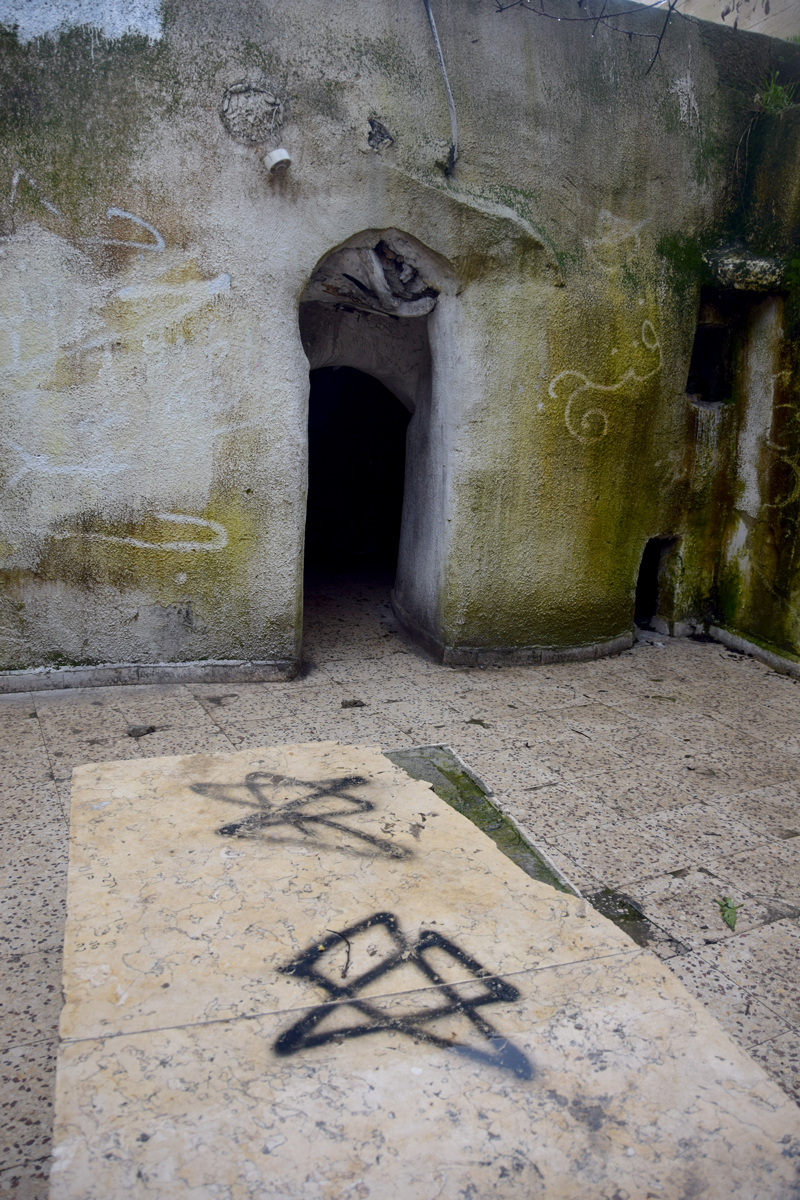 The tombs of Elazar and Itamar, sons of Aaron the Priest, and the Cave of the Seventy Elders are located within 'Awarta, south of Nablus. Once every few months, the military blocks the entrances to these towns, sets up roadblocks within them and restricts residents' movement for an entire night in order to allow Jewish worshippers to access the sites on foot or by car.
These incursions are an intolerable burden for the men, women, children and the elderly who live in the towns. Large military and Border Police forces arrive hours before the Jewish worshippers, spread out in the streets and order residents stay indoors. In some cases, they throw stun grenades at residents who refuse to comply. Businesses are ordered to close for the day, incurring losses.
Hundreds of worshippers arrive in buses and private cars, traveling from tomb to tomb with a tight escort of security forces and causing a commotion. In some cases, they bring portable toilets and food, leaving filth behind when they are gone. Worshippers have also left sprayed Hebrew graffiti at some of the sites and taken carpets and books. Some swear at residents as they pass through, and throw stones at homes or vandalize personal property such as water meters, potted plants, chairs and cars. They do this in plain view of the security forces, who take no action against them.
The incursions are yet another blatant manifestation of Israel's violent policy in the West Bank, which gives the interests of Jewish citizens absolute preference over the rights of Palestinian subjects. Even in the middle of the night, in the heart of Palestinian communities, Israel uses military might to enable its citizens to do almost as they please, completely ignoring the price paid by Palestinians. In this case, the price takes the form of damage to property, compromised safety and severe disruption of daily life.
B'Tselem field researcher Salma a-Deb'i collected testimonies from residents about the two most recent incursions: on 7 January 2020 in Kifl Haris and on 30 January in 'Awarta.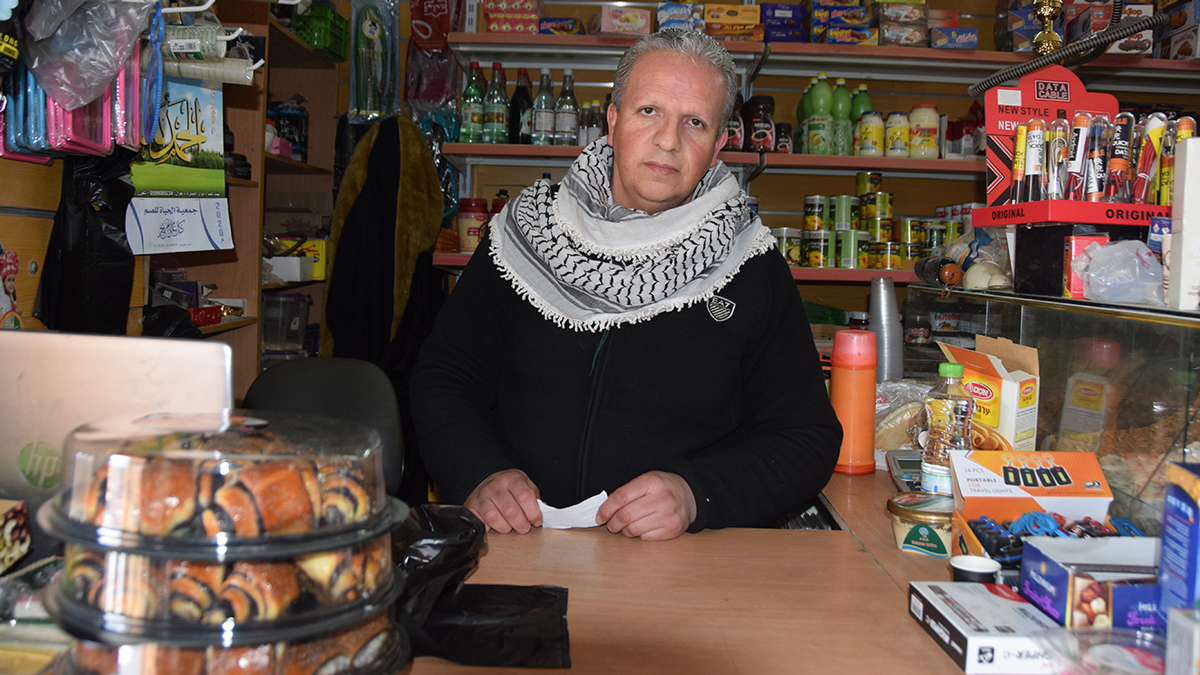 Kifl Haris, 7 January 2020
On Tuesday, 7 January 2020, at around 9:00 P.M., military and Border Police vehicles entered the town of Kifl Haris, which lies north of Salfit. The forces blocked the entrances to the town and closed off streets at the center of town and near the three sites of Jewish worship, barring Palestinian access. They ordered residents who were in the area to leave and threw several stun grenades at them. About two hours later, hundreds of Israeli worshippers entered the town. They traveled between the three tombs, some of them throwing stones at homes and swearing at residents along the way. The worshippers left town along with the security forces at around 4:00 A.M.
Jalal Buziyeh, 43, a father of five, has a grocery store in the center of town. In a testimony he gave on 15 January 2020, he said:
At around 9:00 P.M., while I was in my store, about eight military and Border Police jeeps came to town. The soldiers got out of the jeeps and ordered local residents to leave because the settlers were coming. They also threw a few stun grenades to get people away. There were several dozen people there, because we don't have a coffee shop and people gather in the town center. I usually sell more in those hours than during the rest of the day.

A few minutes later, five soldiers came into my store and told me to close up because the worshippers were coming. My clients left, and I went outside to talk to the soldiers. I told them I couldn't close the store because it's my livelihood. They told me in Arabic: "Don't make us use force" and again instructed me to close up. When I refused and went back into the store, they closed the door while I was inside with my five children, who are between the ages of 5 and 16. I opened the door, but they closed it again. After this happened about five times, one of the soldiers pushed me forcefully into the store and closed the door. I called the Palestinian DCO in Salfit and told them what was happening. I said the situation was intolerable. He told me he'd inform the Israeli DCO, and they'd come to me. I gathered from him that the Israeli DCO people were in town.

About ten minutes later, an Israeli DCO jeep arrived. Two officers came in, and I told them what was going on. They said the soldiers had been wrong to use force, but that I had to close up shop. I told him the worshippers don't come until 11:00 P.M., and there was no reason to close so early. The DCO officers left after about ten minutes, after making it clear to me that I had to close shop to avoid trouble with the soldiers. My sons were very scared, especially the little ones, especially when the soldiers pushed me and yelled. They asked me to leave and go home. I had to close up and go home with the kids.

Jalal Buziyeh's grocery store in central Kifl Haris. Photo by Salma a-Deb'i, B'Tselem, 15 Jan. 2020

I went with my kids to my mother's house, which is about 100 meters from the store. She lives only with my sister, and she's scared when things like this happen. I also worry they'll get hurt. The soldiers wanted to come up to the house and use it for a lookout, as they've done before, but I refused to open the door for them. It was around midnight. I spoke to them from the balcony and told them there were women and children in the house. The Israeli DCO came to the house and told us to go inside and keep off the balcony so there wouldn't be any trouble. As that was happening, the settlers swore at us in Hebrew and Arabic and made obscene gestures, so we had to go inside.

We can't sleep when this happens, because of the racket and also because we don't feel safe. The worshippers make a lot of noise, blow the shofar (horn) and play music and drums. It's unbearable. When they leave, the square is full of garbage and smells like urine, even though they bring portable toilets. I often find food scraps in my mother's yard and at the entrance to my store, and have to clean up after them.

Every time this happens, I miss the busiest time at work. One of the incursions left me with 20 kilos of unsold bread. When the incursions happen, residents are afraid and don't let their little children go to the center of town even before the soldiers spread out, and I lose more money because I don't sell candy and other sweets.
K.S., 46, a town resident and married father of six, lives near the town's southern entrance. At around 1:00 A.M., his 20-year-old daughter woke him up and told him worshippers were throwing stones at the house. In a testimony he gave on 12 January 2020, he said:
I got out of bed quickly, opened the front door and saw lots of settlers walking along with four or five soldiers. Some of them (the worshippers) were throwing stones at our house and swearing in Hebrew and Arabic. I told the soldiers in Hebrew: "Can't you see what they're doing?!" They told me to calm down. The stones kept hitting my house. One of the worshippers said to me "whores, pigs" and "all Arabs are garbage." He didn't stop swearing.

At 4:00 A.M. I left the house to go to work. The settlers were already in groups around the southern entrance to the village, praying there. I took a different route to avoid them.

Every time they come, soldiers block all the entrances to the town in the evening and ban movement by residents almost completely. It disrupts our lives. In the summer we were out of town, and when we came back, we couldn't get home and had to spend the night at my sister's house in the center of town. Another time, a military jeep stopped me when I was in the car, near the town pharmacy, about 200 meters away from our house. My wife and children were with me, and they held us up for almost an hour. They wanted us to leave the car and continue on foot. I refused because I was sure the worshippers would wreck the car. We feel trapped like mice while they walk around and pray in the three holy tombs in our town. We're so scared we stay up at night, mostly my wife and children. They also make a lot of noise, swear endlessly and do whatever they please. It's so unbearable that my wife and children don't want to stay at home on the days they come.

Since I bought the car last year, I've parked it in my brother's storage space on the nights they raid the town. I worry that if I park it near the house, the settlers will throw stones at it, vandalize it, or even burn it. A few months ago, they punctured the tires on my brother's car.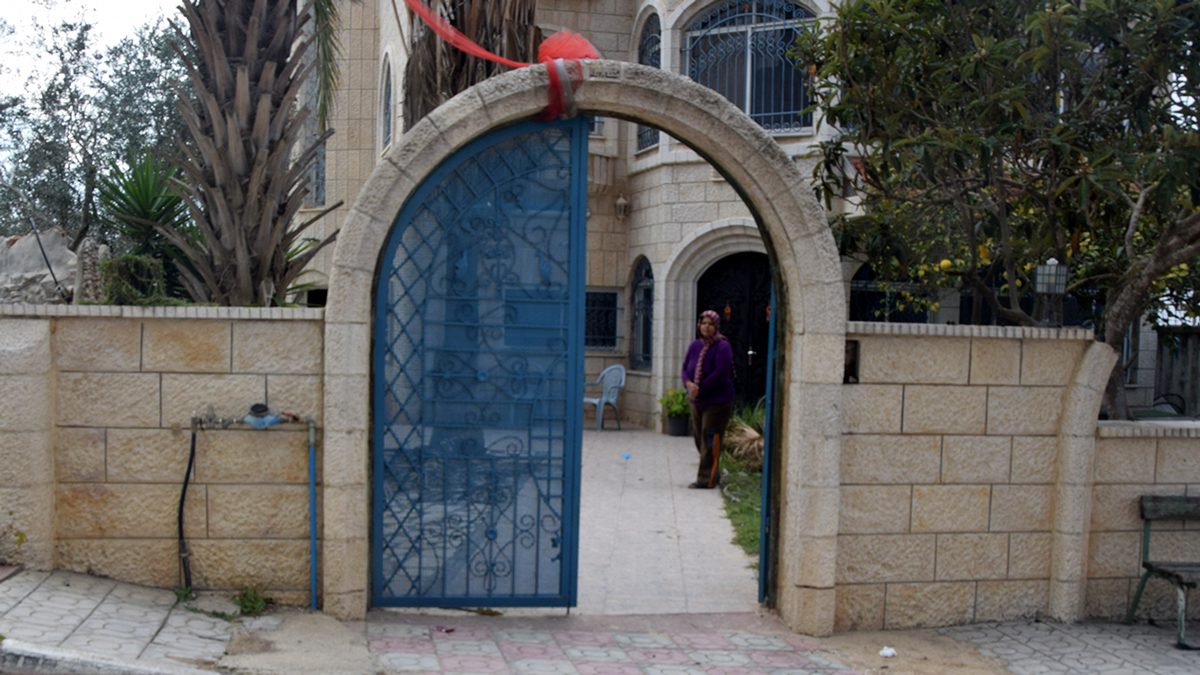 Maha Dweik, 58, a married mother of ten, lives with her husband, two of her sons and her daughter-in-law at the entrance to the town. In a testimony she gave on 12 January 2020, she said:
As soon as I heard on social media that the settlers were coming, I warned my two sons who live with us and work at night not to go to work, as I always do. When these invasions happen, they sleep at home after the morning shift, so they can stay up at night while the worshippers are in town because we're truly afraid for our lives. We stay up all night and I even ask my son Saleh, who lives downstairs, to come up to our house with his wife because I'm scared for them.

The settlers came at around 11:00 P.M. There were more of them than usual. Every time, all the way to the tombs, they act like vandals, attacking homes and damaging our property. They threw stones at our home. My husband and children went outside. I went after them, because I was afraid they'd get hurt. Right away, two soldiers told us to go back inside, but my husband, who speaks Hebrew, insisted their commander come. About half an hour later, a military jeep came, and the soldiers told my husband to go inside. The commander told him he'd post soldiers near our house and that if anything happened, he'd be responsible. We went back inside and saw, out the window, two soldiers in front of the entrance.

The worshippers left town at about 4:00 A.M. On their way out, they threw stones at our house again and swore at us, right in front of the soldiers.

They've broken the water meter near our fence a few times, and the doorbell. After we'd fixed the doorbell almost ten times, we simply stopped fixing it. They broke the potted plants in front of the house, too. We park our car in a storage space so that it doesn't get vandalized.
'Awarta, 30 January 2020
On Thursday, 30 January 2020, at around 10:30 P.M., military vehicles, soldiers and Border Police officers entered 'Awarta, south of Nablus. The forces blocked the town's northern entrance, threw several stun grenades and spread out in the town to block the movement of residents. About an hour later, several hundred Israeli worshippers entered the town. They stayed until 4:00 A.M. and left with the security forces.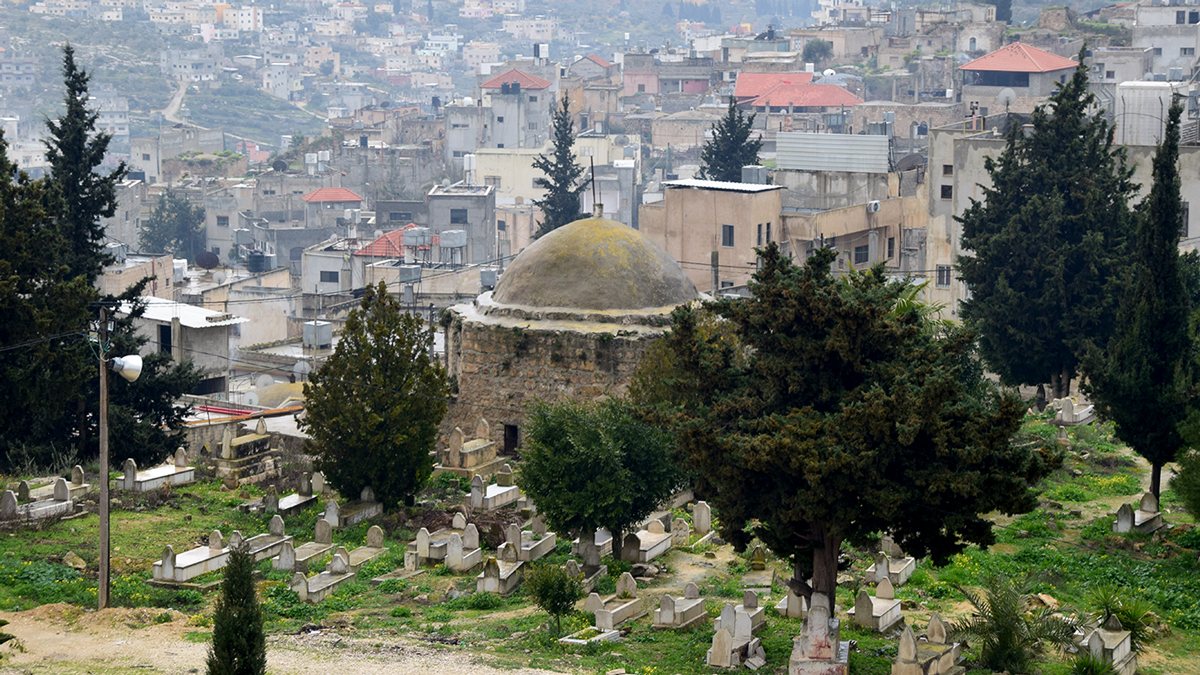 Taghrid 'Awwad, 49, a mother of eight, lives in central 'Awarta with her husband and four of her children, between the ages of 18 and 26. In a testimony she gave on 12 February 2020, she spoke about the last settler incursion into town:
At around 10:30 P.M., a lot of military vehicles and soldiers came into town. The soldiers stationed themselves in the center of town, as they usually do, and threw a few stun grenades. I'd asked all my kids earlier to go home early and reminded them to get groceries for dinner because if you go out, the soldiers won't let you go back, and also, all the stores in town closed early. Nowadays, we find out about these invasions into town in advance through the media. In the past, it used to happen suddenly with no warning, and it was very disruptive.

The soldiers spread out through the streets and alleys in town, and after about forty minutes, a lot of settlers arrived. Our house is right by one of the gravesites in the center of town. After they prayed, they went to another holy site, which is near the cemetery, and from there, to a third on the western end of town.

I couldn't sleep, even though I was really tired. They make a terrible racket, eat and drink and shout and blow shofars without any consideration for the fact that people, including children and elderly people, are in their homes right next to them.

They left town around 4:00 A.M., and I managed to sleep for a few hours. This time, thank God, they left without causing too much trouble. In the past, they sometimes fired teargas canisters and our house, which faces the street, would fill up with gas.

About a year ago, the settlers broke tombstones in some graves in the town cemetery, including my husband's mother's, who passed away the year before. That was very difficult for us. Even the dead can't escape their violence. My husband immediately replaced the broken tombstone with a new one.

About two years ago, during an invasion of the town, they vandalized some cars that were parked in yards or on the street near houses. They also used to knock on doors and rip out doorbells. They broke our doorbell several times, until we just stopped replacing it. It happened again and again. I can't remember how many times anymore.
In a testimony he gave on 12 February 2020, Wajih 'Awwad, 22, who works with his father at a convenience store, related:
Wajih 'Awwad. Photo by Salma a-Deb'i, B'Tselem, 12 Jan. 2020

On 30 January 2020, I closed our convenience store in the town center at 9:30 P.M., instead of our usual time, 10:00 P.M., because I knew that the military and worshippers were going to raid the town. I preferred to close up before the soldiers came and made us do it anyway. I was also worried they'd throw stun grenades and tear gas.

I went home right after I closed up. About half an hour later, I heard a commotion outside and cars. Through the window, I saw several military jeeps and soldiers throwing several stun grenades in the street. There was hardly anyone else outside. It was cold and people had gone home early.

The soldiers spread out through all the alleyways that lead out of the town center. After about an hour, busloads of settlers arrived at the town center. They got off the buses and went to one of the holy sites. I heard singing, praying and religious rituals. I stood by the window, behind the curtain, because I was afraid the soldiers or worshippers would see me and throw stones at me or yell at me to leave. When the settlers traveled between the holy sites, they were eating as if they were in some public park in the middle of the day, while we were holed up inside, stressed and worried about them being here. How can you sleep or relax when they're close by like that? It's very hard.

They left at about 4:00 P.M. I made myself a cup of coffee, because there was no time left to sleep. I open the convenience store at around 6:00 A.M., when laborers and other people head to work and want to buy breakfast, cigarettes and other things. That night, I couldn't sleep at all. I couldn't even rest.

 
Location:
Related Media:
More on the A Routine Founded on Violence