Israeli High Court facilitates interrogation of Palestinian under torture
On Monday, 7 October 2019, a three justices of Israel's High Court of Justice (HCJ) ruled to uphold an injunction denying Samer 'Arbid, a Palestinian from the West Bank, the right to meet with legal counsel. 'Arbid had been interrogated by the ISA (Shin Bet) with "special means" and admitted to hospital unconscious. The Court justified the decision by "a certain improvement in his medical status", of which 'Arbid's family and lawyers were not informed.
The sequence of events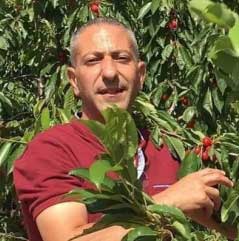 On 25 September 2019, Israeli soldiers arrested Samer 'Arbid, 44, a married father of three from Ramallah. According to eyewitnesses, they severely beat him and took him to the Russian Compound in East Jerusalem. There, he was interrogated using "special means." The next day, 'Arbid was brought to court and remanded in custody without the presence of his lawyer, after an injunction was issued denying him the right to meet with legal counsel.
On Saturday, 28 September 2019, an ISA agent called the lawyer appointed 'Arbid by the Addameer association to tell him that 'Arbid had been admitted to Hadassah Mt. Scopus Medical Center and was unconscious and on artificial respiration. It later came out that 'Arbid had been transferred to hospital the day before, but nobody had bothered to inform his family or lawyer. His wife managed to visit him there together with his lawyer, but the hospital refused to provide either them or Physicians for Human Rights basic information about his medical status.
On Sunday, 29 September 2019, Israeli media reported that the Inspector of Complaints by ISA Interrogees at the Justice Ministry was looking into the case and would submit recommendations to the State Attorney's Office and the Attorney General whether to open a criminal investigation against the interrogators.
'Arbid's lawyers demanded that the military court release him and provide them with information about his medical condition. On Wednesday, 2 October 2019, the military gave the court and 'Arbid's lawyers a medical report, which served as the basis for a ruling by Maj. Merav Hershkowitz Yitzhaki that there was a "gradual improvement" in his condition and that "in the coming days it may be possible to interrogate him again." She decided to remand him in custody, explaining: "I found that the suspect's threat to regional security is unquestionable and requires his remand in custody at this point."
The HCJ ruling
After a new injunction was issued preventing 'Arbid from meeting his lawyers, Addameer petitioned the HCJ to cancel it. On 7 October 2019, Justices Isaac Amit, George Kara and Yael Willner rejected the petition in a brief ruling, only a few paragraphs long, signed by all three.
In the ruling, the judges first state that "the situation at hand is unusual" given the petitioner's medical status. They go on to note that, according to the information provided by the state, the injunction against 'Arbid's meeting legal counsel was removed "due to his medical condition." However, the judges add, "due to a certain improvement in his medical status, and as the petitioner has begun to communicate again, we have decided to reinstate the injunction." They note that they "reviewed the material ex parte," and conducted "dialogue with security officials". This concludes the description of the circumstances and the course of the hearing.
Next, the judges announce their decision: "We are satisfied that preventing the meeting [with legal counsel] is indeed vital to regional security, and that the material presented to us is unequivocal." This concludes the ruling.
At the end of the ruling, the judges note that "the petition before us is based on the assumption that the petitioner was subjected to severe torture, which caused his grave medical condition, to the point of real danger to his life." Yet they quickly brush this aside, stating only that "on this matter, an inquiry is underway by the Inspector of Complaints by ISA Interrogees, and it behooves the Court to avoid any conclusion or statement so long as that inquiry is underway."
In practice: The ISA can continue torturing 'Arbid in interrogation
The right to consult a lawyer is a basic right of detainees, which may only be denied under special and exceptional circumstances. Conferring with counsel is vital for detainees, as their lawyer is the party authorized to advise them on their rights, assess their situation and take suitable legal steps in their defense. For detainees in interrogation, who are cut off from the world and physically and mentally weak, legal counsel is crucial. Yet the HCJ justices ignore this in their ruling and do not explain why they upheld the injunction preventing 'Arbid from meeting with his lawyer.
The statement that the situation is "unusual" appears to have no bearing on the justices' decision. They imposed no restrictions on the conduct of ISA agents in further interrogation, including the means permitted for use against 'Arbid; they did not demand external oversight of the interrogation; and they didt not require regularl, independent medical supervision of 'Arbid's condition to ensure no futher harm comes to him. The ruling alone, without the context provided by the media, makes no connection between the ISA interrogation and 'Arbid's admission to hospital.
The judges are surely aware of the argument that there is a causal connection, which is what makes the situation "unusual". They note claims regarding violence used against 'Arbid in interrogation but refrain from addressing them, making do with a declared investigation by the Inspector of Complaints by ISA Interrogees. Yet this is a false recourse: as the judges and the whole world know full well, the investigation of complaints regarding violence and torture in ISA interrogations is most likely – as the facts indicate – a sham. Inquiries by the Inspector of Complaints by ISA Interrogees are not intended to uncover the truth or ensure measures against those responsible for violations to prevent their recurrence. Many detainees do not lodge complaints and for the those who do, the benefit is negligible: since theunit was established in 1992, it has looked into hundreds of complaints yet closed all cases but one with no consequences – i.e, without launching an investigation or taking measures against interrogators and their superiors.
This reality makes the HCJ ruling horrifying in its significance. Without restrictions on the conduct and methods of interrogators, external oversight or a real system of investigating complaints, the Court's decision to prevent 'Arbid from consulting with his lawyers – who are supposed to defend his rights – allows the ISA to continue interrogating him under torture unchecked.
'Arbid is not an exception: the ISA's interrogation policy
'Arbid's case is exceptional only because he was interrogated with "special means" and submitted to hospital unconscious. The reality is that every year, as a matter of routine, hundreds of Palestinians are interrogated by the ISA with methods that constitute cruel, inhuman and degrading treatment, and even torture.
In September 1999, the HCJ ruled that Israeli law does not empower ISA interrogators to use physical means in interrogation and disqualified specific methods the ISA used, such as painful binding, shaking, and placing a sack on a person's head for prolonged periods of time. However, it also held that ISA agents who used violent means of interrogation would not necessarily bear criminal responsibility for their actions, based on the "necessity defense."
The immediate consequence was a drastic drop in the use of the methods specifically forbidden by the ruling. However, by using the Court's recognition of the "necessity defense", the ISA instituted an alternative system of interrogation that is still based on physical and psychological abuse designed to cut detainees off from the world. Detainees are held in inhuman conditions, including narrow, windowless cells that are sometimes moldy and foul-smelling and are constantly lit with artificial lighting that is painful to the eyes. Some are held in solitary confinement, completely cut off from their surroundings. Some report exposure to extremes of heat and cold, as well as sleep deprivation. Many describe abominable sanitary conditions and inedible food. In the interrogation room, they are forced to sit bound to a chair, without moving, for hours and even days on end. Interrogators threaten the detainees, including threats to harm their relatives, as well as shouting and employing violence against them.
This system of interrogation is not the personal initiative of any particular interrogator. It was designed by state authorities, which collaborate to facilitate it: the Israel Prison Service (IPS) designed the inhumane prison cells, physicians greenlight the interrogation of Palestinians who arrive at the facility, soldiers and police officers abuse detainees while transporting them to the ISA, military judges almost automatically sign off on motions for remand in custody to allow continued interrogation, and, finally, HCJ justices regularly reject petitions seeking to overturn the denial of detainees' rights to meet with legal counsel, clearing the way for continued abuse. Above all this is a law enforcement system that allows this system of interrogation to continue and does not take measures against anyone involved, allowing it to continue unimpeded.
Human rights?
'Arbid's case clearly demonstrates the vulnerable and defenseless position of Palestinians who are detained for interrogation, and shows how all the entities that are supposed to safeguard their well-being collude in ongoing harm to them, even when the terrible results are known.
This case reflects the extent to which Israel renders the protections afforded to Palestinian detainees by Israeli law and international law, which it repeatedly claims to uphold, meaningless. International law does not recognize terms such as "ticking bomb" or "special permits", and determines unequivocally that the prohibition on torture and abuse in investigation is an absolute prohibition with no exceptions, whatever the circumstances.
According to the ISA, 'Arbid is a senior operative in the Popular Front for the Liberation of Palestine (PFLP) and personally detonated the explosive device next to the settlement of Dolev that killed 17-year-old Israeli Rina Shenrav, seriously injured her 19-year-old brother and inflicted medium injuries on her father. If 'Arbid did indeed carry out the attack, he is guilty of grave crimes. But at this stage, he has not been convicted of anything and is only a suspect. Moreover, 'Arbid – like any other suspect or prisoner, and all human beings – has rights. Some of these rights can never be denied – such as the right not to be subjected to torture – while others can be withheld under clearly-defined, limited conditions.
This relies on a profound understanding that should be obvious, certainly to law enforcement agencies, regarding the meaning of being human, of human rights, and of Israel's undertaking to uphold these rights. In the case of Samer 'Arbid, all the involved parties – from the soldiers who arrested him, through the ISA interrogators, to the HCJ justices – overlooked all these consideration. Instead, they decided to treat 'Arbid as if he were not a human being.