According to recent media reports, several Israelis have been arrested on suspicion of torching the home of the Dawabsheh family in the Palestinian village of Duma on 31 July 2015. 'Ali Dawabsheh, one and a half years old, was burned to death in the fire and his parents, Sa'ed and Riham, were seriously injured; they later died of their wounds. The family's other son, four-year-old Ahmad, is still hospitalized in Israel.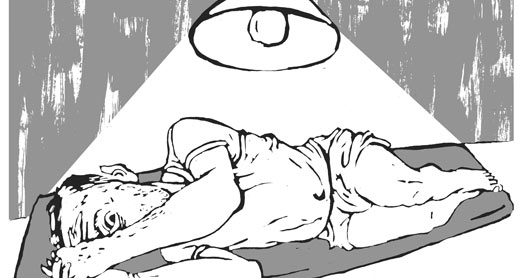 Sleep deprivation, one of the "special measures". Illustration by Ishai Mishory
Several decisions by Israel's Supreme Court indicate that the four people, two of them minors, were arrested at the end of November or early December 2015. The Israel Security Agency (ISA) has kept the four detainees from meeting with their attorneys from the time of their arrest until at least 13 December 2015. Requests to keep holding them without legal counsel were repeatedly authorized every few days by the District Court and the Supreme Court.
The media reported that ISA interrogators are making little headway in the interrogation of the suspected arsonists, an obstacle that may lead to the adoption of "special measures", a rarity in interrogating Jewish suspects. The term "special measures" is not limited to the preventing legal counsel: it is a code name for a variety of physical and mental abuse techniques, all designed to break a detainee's spirit. Use of these techniques, especially when interrogators employ them in combination and for lengthy periods, amounts to torture. As shown in several reports issued by B'Tselem and HaMoked: Centre for the Defence of the Individual, the ISA routinely and systematically uses these techniques to interrogate thousands of Palestinians suspected of committing security offenses of varying severity.
The Supreme Court's decision to continue barring the suspects who are minors from meeting their attorneys reinforces the suspicion that the ISA intends to use "special methods" in this case. In view of B'Tselem's past findings with regard to Palestinian detainees, preventing meetings with legal counsel is more than a stand-alone measure for pressuring a detainee. Isolating the detainee from the outside world serves interrogators in enabling them to use a variety of techniques that constitute abuse and even torture without being subject to any external monitoring. The pressure resulting from this kind of interrogation often causes detainees to confess to allegations, even falsely, just so the abuse will come to an end.
Abuse and torture of detainees are immoral and illegal measures. Sixteen years ago, Israel's High Court of Justice ruled that ISA interrogators do not have the authority to use physical means of interrogation and prohibited the use of various techniques mentioned in the petition. The justices did grant permission to use violence during interrogation in extreme cases. Since that ruling, the ISA has formulated an alternative system of interrogation that still involves physical and mental abuse of detainees under questioning, including cutting them off from outside world for long periods of time and exerting pressure by holding them in rough conditions. Thousands of Palestinians are regularly interrogated under this alternative system, in which they are subjected to humiliation, abuse and torture. It is not a case of individual interrogators deviating from regulation, but a system of interrogation implemented with the backing of all state authorities, including the State Attorney's Office and the Supreme Court.
Even if the authorities do succeed in getting the suspects in the Duma torching case to confess to their involvement and responsibility for killing members of the Dawabsheh family, this will not help promote law enforcement against violent settlers on the whole, as authorities systematically refrain from enforcing the law in cases of settlers who harm or intend to harm Palestinians. The majority of complaints filed by Palestinians concerning settler violence have come to nothing, as the police usually do not carry out even the basics of rudimentary investigations and the military does not act in real time to detain settlers harming Palestinians or their property.
Burning down the Dawabsheh home when the family was at home was one of the most horrific acts of violence committed by Israeli citizens against Palestinians. Law enforcement authorities must solve this crime and prosecute the offenders. However, they must not violate suspects' rights in the interest of fulfilling this duty. Accordingly, authorities must allow the individuals suspected of torching the Dawabsheh family home to meet with their attorneys as soon as possible, and must carry out their interrogation without resorting to abuse or to prohibited interrogation techniques.
Authorities must also rescind the prohibition on meeting attorneys currently imposed on all Palestinian detainees undergoing interrogation, and must end the systemic abuse and torture routinely used against them.