Testimony of Meyasar Masa'ed, 56
I married in 1969 and went to live in Khirbet Yarza in the Jordan Valley. We've lived ever since. We also have a house in Tubas where our sons live, and we use it for vacations and special occasions. But we can't make a living there.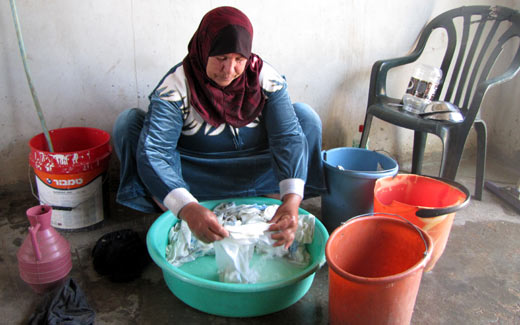 Meyasar Masa'ed doint the laundry. Photo: 'Atef Abu a-Rub, B'Tselem, 17 April 2011.
My husband has a few plots of land, but we make a living mostly from raising sheep and goats. The army has turned Yarza into a military area and uses it for training activities, which endangers the residents. My son Ibrahim was killed in 1993, when he was nine years old. He was killed by a dud. In 2006, I was injured in the waist when a bullet struck me during military exercises.
The army also tries to prevent us from grazing out flock, and prevents us from building anything. We are not allowed to repair the roads, to hook up to the power grid, or to install water pipes.
The residents of Khirbet Yarza use the winter's rainfall that is collected in cisterns. When this water runs out, we have to buy water and pay the transportation cost. They bring the water in containers drawn by tractors. In the past two years, we have brought water from the Tamun well. The road between Tamun and our village is terrible. It's so bad that it is dangerous to drive a tractor on it, so it takes a long time to make the trip and costs a lot of money. A container of water of three cubic meters costs from 90 to 100 shekels. This includes the gas for the tractor that brings it. The big tankers, which can carry a great quantity of water have more trouble getting to the village, so they rarely come.
To overcome the water shortage, I save water in all kinds of ways. For example, I wash utensils in a container and save the water to wash the floor, the toilets, or to water the trees. I even save the water for the ritual washing prior to praying and use it to water the flock. I try not to waste a drop of water. Still, there is never enough water for cleaning and other needs.
Living without being connected to a water and electricity system is hard for the whole family, and me in particular, as a homemaker. I really notice it because I have the house in Tubas, which is hooked up to electricity and water systems. The difference between life there and here is huge.
For example, here I have to wash clothes by hand, because you can't run a washing machine without electricity and a constant flow of water. It takes lots of time and energy to do the wash. Whenever I do the wash, my body hurts at night. The water shortage is especially problematic because we make cheese, and to do that we have to clean the utensils daily. If I had one wish, it would be for electricity and water to wash things with, because cleaning demands a lot from me.
Sometimes, the water in the container runs out and the water arriving from Tamun is delayed. When that happens. I take the utensils and clothes and go to a small well that has a small amount of water, where I wash them. Sometimes, I bring home some water from the well, so we'll have it to drink.
Water is always on our minds and it demands organization and planning. Sometimes, I imagine what it would be like if we had a water pipe like everybody else does. I don't think about this a lot, because it won't happen, and we have no control over it. This is the way we live.
Meyasar Hasan Tawfiq Masa'ed, 56, motner of nine, is a resident of Khirbet Yarza in Tubas District, the West Bank. Her testimony was given to Atef Abu a-Rub on 14 November 2010 in al-Jiftlik.