'Abd a-Rahman Abu Rajelah, 61

My brothers and I own 10 dunams [1 hectare] of land in eastern Khuza'a. Two dunams [0.2 hectares] are forty meters away from the fence, two are about 250 meters away, and two are 530 meters away. Until the year 2000, my family worked all those plots. We used to grow wheat, barley, almonds and figs. At that time, I was working in Israel and my brothers made a living from those plots. In 2006, the crossings between Israel and Gaza were shut down and I started farming, too.
But then, things near the border started getting dangerous. Israeli military bulldozers drove onto our land and destroyed fig and almond groves. After that, we only cultivated the plots that are more than 300 meters away from the fence. Because of firing by Israeli soldiers, the whole area became dangerous, so we only planted wheat and barley there and only came there twice a year – to plant and to harvest. International activists accompanied us during the harvest. The crops depend on the amount of rain. Sometimes, one dunam [o.1 hectares] yields six sacks of wheat, and sometimes four (sixty kilograms).
We got nothing out of the four dunams that are closest to the fence. Also, the two dunams that are 530 meters from the fence were ruined by the military. Military bulldozers razed that land more than once in previous years. We used to have olive, apple and avocado trees there. Even after the last ceasefire in November 2012 [after Operation Pillar of Defense], I still can't get to some of my farmland, because the Israeli military fires at anyone who gets as near as 150 meters from the border fence.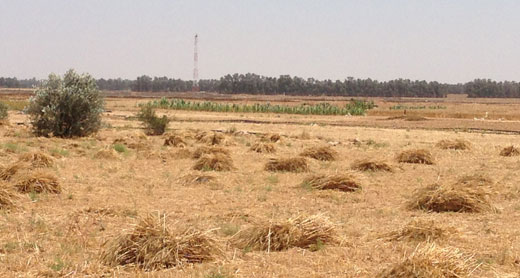 'Abd a-Rahman Abu Rajelah's field in the vicinity of the perimeter fence. Photo: Khaled al-Azayzeh, B'Tselem, 20 May 2013
This year, I managed to sow barley in the plot that's 250 meters from the fence, and two weeks ago, we harvested the crop (seven sacks worth of barley). I wanted to plant vegetables there, but they cost more to grow because of the fertilizer and other things that you need, and they also require daily attention. Because of the shooting, I can't get there often enough and I'm also afraid that the military will destroy the crops.
We rely on humanitarian aid now. Every three months, I get a food package from the aid agency containing ninety kilos of flour, twelve liters of cooking oil, eight kilos of sugar, eight kilos of rice, six bags of milk, and six packages of meat. When I look at my plots of land, I feel bitterness and pain. I can't work my land, while on the other side of the border, I can see Israeli farmers working their land all year round. They grow peanuts, cotton, potatoes, watermelon, and sunflowers. Their land is green and they have plenty of water, while my land is barren and dry. I can see my land and I can't even reach it.
'Abd a-Rahman Abu Rajelah, 61, is a farmer, a father of eight and a resident of of Khuza'a in Khan Yunes Distirct in the Gaza Strip. His testimony was recorded by Khaled al-Azayzeh on 20 May 2013, near the Gaza perimeter fence.