Maisoun al-Haj 'Ali
I live with my four children – my daughters Aya, 11 and Inas, 8; and my sons Muhammad, 6, and Rami, 5 – in an apartment in a-Sheikh Radwan neighborhood in Gaza City. My husband, Ibrahim, used to work in a sewing factory in the city, where he made 1,500 shekels [approx. USD 430] a month. After Hamas took over the Gaza Strip in 2007, the border crossings were shut down and work at the factory was stopped. My husband became unemployed. To make ends meet, we sold gold jewelry that I was given when we got married. We got 1,000 dinars [approx. USD 1,400] for it. My husband managed to find occasional work as a taxi driver, but our lives became very difficult.
In early 2008, Ibrahim went to Egypt to work in sewing, but he got paid poorly and only stayed there two months. He started looking for job opportunities outside the Gaza Strip.
In April 2008, Ibrahim was referred for kidney-stone surgery at Barzilai Hospital in the Israeli city of Ashkelon. He had the operation and then went to the West Bank to find work. His brother-in-law lives in the West Bank and works at the Finance Ministry in Ramallah. He and Ibrahim opened a sewing workshop together in Ramallah. My husband brings cloth from Israel, sews, and then sells the merchandise to merchants and shops in Israel. He now lives in Ramallah and makes a good living. Every month, he sends us about 2,000-2,500 shekels [approx. 570-700 USD]. In 2010, my husband filed a request to change his registered address to the West Bank. About two years later, he was given a new identity card with a Ramallah address, so it's now legal for him to be there.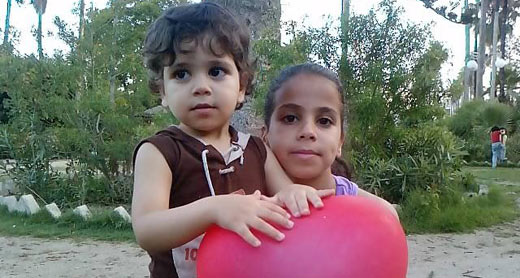 Inas and Rami al-Haj 'Ali, two of Maisoun and Ibrahim's children. Photo courtesy of the family.
He filed a request for "family reunification" so that the children and I can come and live with him in the West Bank, but the Israeli authorities have yet to respond to the application. I tried to file an application to get to visit him for a few days in the West Bank, but the clerks at the Office for Civil Affairs in Gaza informed me that we could only file if my husband sends us a detailed medical report on his health, but that the chances of getting a permit would be slim.
My husband said he'd ask for a medical report on his health. He still suffers from kidney stones. He had had a stone removed from one of his kidneys, but the problem didn't go away and he still has to be hospitalized in occasion. He's in constant pain and regularly takes painkillers. If he eats something that has even a few grains of salt, he suffers and it takes a few days for the kidneys to get rid of the salt. He needs another operation and for that, I should be by his side, to be with him and take care of him. After the operation, he'll have to rest for at least two months. It's hard for me to be far away from him. I worry about him all the time, especially when he's in a lot of pain.
I'm raising our children alone. They keep asking me about their father and when we can go live with him. They daydream about being able to see him every day, about going out together and playing with him. Family celebrations are especially rough on them. When they see their uncles playing with their cousins, they ask me why their father isn't with them, playing with them like their uncles.
Not having their father with them makes them feel lonely and sometimes scared. I'm constantly anxious and worried because he's far away. I dream of being back together and no longer living through phone calls. We miss him terribly and we feel anxious and worried all the time because we're apart.
My mother-in-law, Maryam, was diagnosed with gall bladder cancer. A year ago, her health deteriorated and we were afraid that she was on her deathbed. On 10 March 2013, my husband filed for a permit to visit his mother in Gaza, but the Israeli authorities denied the request. On 15 March, she died. She was only 69. My husband went to the DCO and told them that his mother had died. They asked him to attach a notice of death to his request. He did so, and was given a permit a few days later. Four days after his mother died, my husband entered Gaza with a permit to stay for a week.
That week was full of mixed emotions. We were deeply sad over Maryam's death, especially because my husband didn't get to say goodbye to her, but we were also so happy that he was finally home with us. We spent a week together. We ate and drank together and went on walks. The children were thrilled and wouldn't leave his side. All they wanted all the time was to do stuff with him. It was a magical week. It lasted until Monday, 25 March, and then he had to go back to the West Bank. When he reached Erez Crossing, he found that it was closed because of a holiday, and the Palestinian DCO told him to come back on Wednesday, 27 March. When he returned home, we were overjoyed to have two more days with him. The children bought cakes to celebrate the extended visit. On Wednesday, 27 March 2013, Ibrahim went back to Ramallah, and we were sad once more and filled with longing to be with him. We dream of moving to Ramallah so that we can live together as a family.
Maisoun Yusef 'Abd al-Hadi al-Haj 'Ali, 33, a mother of four, lives in Gaza City. She gave her testimony at home to Muhammad Sabah on 4 April 2013.