'Abir Sharaf 48

I was born in Gaza City. In 1997 I and married a resident of Nablus. In 1999, I changed the address listed on my ID card from Gaza to Nablus. I visited my family in Gaza regularly, about a once a month.
When the second intifada started, the Israeli authorities stopped accepting applications for permits to enter Gaza, so I managed to visit my family just once, in 2003. I got that permit only after I submitted a medical report about my mother's illness. I was given only a two-day permit, which really wasn't enough time after I hadn't seem my father and mother and my eight brothers and sisters in three years. I was nine-months pregnant and wanted to have the bay in Gaza, with my family. So I stayed longer and didn't leave by the date written on the permit. Then I got gallstones. I wanted to have the operation at al-Maqassed Hospital in East Jerusalem and had a referral to go there, but the Israeli authorities wouldn't let me back into the West Bank – maybe because I had overstayed in Gaza – even though the address on my ID card is Nablus. I filed all the necessary documents proving that I'm married to a West Bank resident, but nothing helped, and I had to risk matters and undergo the surgery in Gaza. It was 11 months before they gave me a permit to return to my husband and daughter in the West Bank. I was very nervous, and I wasn't sure they'd let me return at all. I was worried about my husband and daughter the whole time.
When I got back to my home in Nablus, I couldn't believe what followed. From 2005 to 2012, I tried over and over again to get an entry permit for Gaza, but Israel rejected all my requests. The Israeli authorities also refused to issue my parents and brothers and sisters permits to visit us in the West Bank.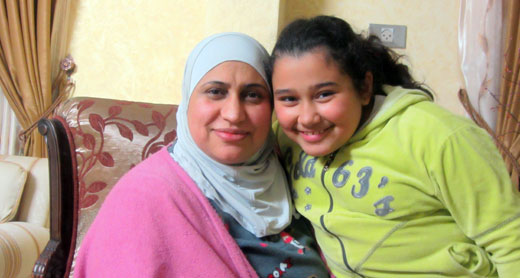 'Abir Sharaf and her daughter Jana. Photo: Salma a-Deb'i, B'Tselem
Last year (2012), I had no choice by to travel to Gaza via Egypt. It was a long and hard journey, and I traveled with my children. We went through Palestinian border control at the border crossing in Jericho, then through Israeli border control, then through Jordanian border control, then we flew to Egypt, where we went through Egyptian border control, and finally we went through Hamas border control at Rafah. We had to stay in hotels in Jordan and al-'Arish, because Rafah Crossing kept being opened and shut irregularly, and because only a limited number of people were allowed through each day. This whole trip was extremely expensive.
In 2010, my brother got married and I really wanted to go to his wedding. I packed my suitcase, after they told me at the Palestinian DCO that they would try to get me a permit to enter Gaza, because I cried a lot and begged them to help me. But, in the end, they didn't manage to get it. I felt very bad and the doctor diagnosed me with depression. I really wanted to go to my home in Gaza, to where my parents and brothers and sisters live. I so much wanted to be with them and share their joys and sorrows. I wanted to share their grief when my uncle died in 2011, and on a lot of other occasions. My grandmother passed away, too, in 2007. She was the one who raised me.
One of my births was a C-section, and I really needed my mother's help. I had no one to help me and take care of my kids. The neighbors took pity on me and helped me, but that's nothing like having your mothers and sisters around. I always miss my family during holidays. If I'd known what my life would look like, I wouldn't have agreed to marry someone from the West Bank and move there.
Sometimes, I worry that Israel won't ever allow me to visit my parents, and that I'll always have to travel through other countries to reach my parents' house, where I was born and raised. I think it's an injustice. I'm always sad and feel like I'm in mourning, especially when I see other married women going to their parents' homes, and when their parents visit them on holidays and special occasions and during Ramadan. I just want to spend one day with my mother, on Mothers' Day. I want to kiss her hand and hug her. I want to be the first one to greet her on that day. I want to be able to go shopping with my sisters, like all sisters do. I want to go over to my brothers and sisters and have fun with them together with my boys. I want my kids to have fun with their aunts and uncles and cousins.
A lot of women from Gaza married West Bank residents, and they all suffer like me. We need a solution because we're trapped here, like prisoners in an Israeli prison, only we're imprisoned in our home, and our parents are prisoners in the big, crowded jail of Gaza. All we want is to be allowed to visit our parents, or for them to be allowed to visit us, even just once a month, or once a year. Even prisoners are allowed to see their parents twice a month. I want to get at least what prisoners are given.
'Abir 'Issa 'abd a-Jawad 'Abir Sharaf, 48-year-old mother of 4, is a social worker at al-'Omariyah School in the city of Nablus. She gave her testimony to B'Tselem field research Salma a-Deb'i on 23 April 2013.