I have five children: Iman is 13; Shahd, 12; Muhammad, 10; 'Abd a-Rahman, 7 and Mira is two and a half.
We've been suffering from power cuts for the past ten years. In the early days of the crisis, we had electricity eight hours on, eight hours off. I had to use candles for lighting. One night, two years ago, we nearly had a disaster when Muhammad rolled over in his sleep and knocked over a lit candle. His blanket caught on fire. Luckily, I was sleeping beside them that night because Mira was sick and had a high fever. I woke up from the smoke and put out the fire right away.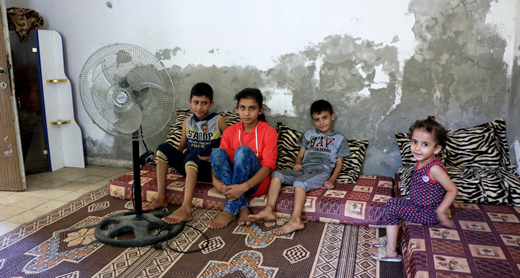 Four of Khulud Jaber's children at home, Nuseirat Refugee Camp. Photo by Khaled al-'Azayzeh, B'Tselem, 7 July 2017
Lately, we've been getting power for fewer and fewer hours. At first, we were getting electricity for six hours, with 12-hour blackouts, then for four with 12-hour blackouts. Now it's gotten even worse and the blackouts last for 18 hours every day. Also, the power does not come on at regular hours, so sometimes there's electricity only when we're asleep at night, or when we're out of the house. My husband has lymphatic cancer and has been out of work since 2007. We live off the NIS 800 [approx. USD 225] that we get every two or three months from welfare. I borrowed money from a friend and we bought a rechargeable battery for NIS 150 [approx. USD 40]. We also got LED flashlights, one for each room, from a charity in a-Nuseirat Refugee Camp. The power doesn't stay on long enough now even to charge the battery, so I have no choice but to use candles again. The children really miss watching television, especially 'Abd a-Rahman and Mira. They sometimes try to hook it up to the battery, hoping it'll work.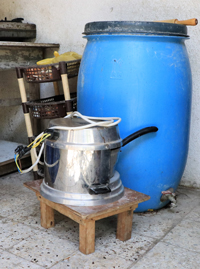 My washing machine broke down about two months ago, because of the irregular power supply. Before that, when we got power at regular hours, I'd set an alarm clock to get up and run a load when the power came back on at night. I'd also knead dough and bake a few dozen pita breads in an electric pita-bread pot for us and for my husband's family. My hands ache, but we can't afford to buy ready-made bread. When the power shut down, I'd move on to housework that doesn't require electricity.
Without electricity, the children really suffer from the heat, and you can't turn on a fan. Mira has a rash from the heat and sweat, and she needs cold water rinses all the time. I fan her with a tray instead of a fan, and it hurts my hands so much I have to take painkillers. My sons spray water on each other to cool off a little. I'm physically exhausted from the heat and the lack of sleep, and I'm emotionally exhausted from having to chase down electricity so that I can try to get the kids what they need and help them feel better.
Khulud Nimer Hussein Jaber, a 33-year-old married mother of five, lives in a-Nuseirat Refugee Camp. She gave her testimony to B'Tselem field researcher Khaled al-'Azayzeh on 10 July 2017, in her home.