Ahmad was born in 1999. A week after he was born, a neighbor of ours who is a cardiologist came over to our house to congratulate us. She told us to go to hospital because she saw Ahmad's skin had a blueish tinge.
At A-Naser Children's Hospital, they found that Ahmad had congenital defects: his heart was in the middle of his chest, not on the left, there was an opening between its chambers, and problems with the atria, arteries, and a valve. They referred Ahmad to Al-Makassed Hospital in East Jerusalem for lifesaving surgery. He had the surgery and came back home. A year and a half later, he needed another complicated operation on his heart to implant arteries and connect them to his lungs. He had the surgery at Tel Hashomer Hospital in Israel and came back home. 
Seven years later, Ahmad had to undergo open-heart surgery at Tel Hashomer, where he had an artificial valve implanted. Once he recuperated, he started going to school and was in good health. But in 2011 he had a heart attack. He was taken to Schneider Children's Hospital in Israel and had extensive cardiac surgery to replace part of his artery. After that, he went back to functioning as usual until 2013, when he had a cardiac catheter put in at Schneider. Ahmad needed to undergo another open-heart operation, but the Palestinian Authority and Schneider Hospital no longer had a coordination arrangement, so he ended up having the surgery at Al-Makassed Hospital in East Jerusalem in October 2015. The doctors there recommended that he receive further treatment in Israel, either at Schneider or at Tel Hashomer.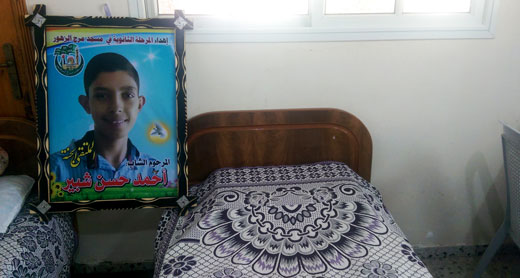 Ahmad Shbeir's photo in his room. Photo by Muhammad Sabah, B'Tselem, 23 Jan. 2017
On 29 October 2015, I went with Ahmad to Tel Hashomer Hospital. He was urgently transferred there for pre-surgery testing because blood was leaking from his heart valve. He underwent surgery at Tel Hashomer on 27 December 2015 and had a stent put in. 
In January 2016, Ahmad had follow-up exams at Tel Hashomer, and another appointment was scheduled for February 2016. But this time, the Israeli authorities didn't issue him a permit to leave Gaza. On 22 March 2016, we managed to get a permit. We went to Erez Crossing (between Gaza and Israel) on the way to Tel Hashomer, and were surprised to find ourselves being called in to meet with the ISA (Israeli Security Agency). I was led into a room where an officer was waiting. He introduced himself as Ibrahim and said: "We know about your son's condition, and we know you have high blood pressure and diabetes. We're willing to help your son, but we want information from Gaza and the names of neighbors." I asked: "Do you want to help me care for my son?" He answered: "Yes." I told him that I'm not involved in politics or anything like that and that my life has been devoted to caring for my son for seventeen years, so I'm no danger to anyone. He said: "It's my duty to defend the State of Israel. If a Jewish boy were sick, would you treat him at your Kamal 'Adwan Hospital?" I said: "We might, as far as possible, because that's the human thing to do." He asked me to consider his offer and said he'd allow me to get to the hospital, and that he'd talk to the hospital to make sure they took better care of my son. I went to the hospital with Ahmad and he had the tests done. We went home the next day.
On 18 April 2016, I took Ahmad to Tel Hashomer again for pre-surgery medical test, to prepare for open-heart surgery he was supposed to undergo in September 2016. But by the date scheduled for surgery, we hadn't been issued a permit to enter Israel. We made a new appointment with the hospital for a month later, 10 October 2016. Then, the day before, we received notice on our mobile phone that we hadn't received a permit. A few days later, we were infomred via the Palestinian Center for Human Rights that Ahmad had been summoned for a meeting with the ISA, and that they would coordinate it. We set another appointment with the hospital for 3 November 2016, and applied again for a permit. A day before the scheduled date, we received a text message that the request had been denied.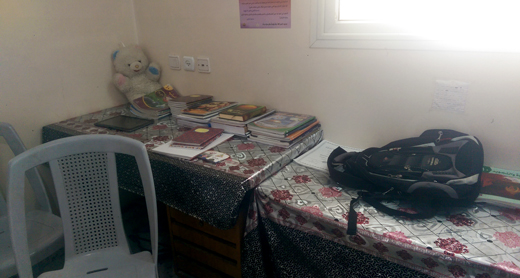 Ahmad Shbeir's belongings in his room. Photo by Muhammad Sabah, B'Tselem, 23 Jan. 2017
On 10 November 2016, we were informed that Ahmad was being called in to meet with the ISA on 16 November 2016. His father went with him to Erez Crossing. They were there from morning until seven in the evening. Ahmad was questioned and the ISA made him an offer to collaborate with them. They showed him names of friends and neighbors, photos of people, and maps. He told them he didn't know these people because he's a minor and sick, so he can't go out or work. Then they said to him: "If you don't want to collaborate with us, go back to Gaza and let the doctors there treat you." Ahmad asked the officer if he would let him in (to Israel), and the officer said he wouldn't. After twelve hours, Ahmad came home exhausted.
We made another appointment at Tel Hashomer Hospital for 8 December 2016, and applied again for a permit. A day before the set date, we were informed that the security clearance procedure for me and Ahmad had still not been completed. Ahmad's condition was getting worse and he was hospitalized every few days. He had edema around his heart and lungs, in his back, and in his legs. The doctors in Gaza gave him injections to reduce the swelling. We knew his life was in danger and couldn't do a thing. We set another appointment at Tel Hashomer for 30 January 2017 and applied for permits. We hoped that because Ahmad's condition had deteriorated, they would let him get to hospital. 
Ahmad got worse and we didn't leave his bedside. We felt terribly sad and helpless and kept crying. In the early hours of 14 January 2017, Ahmad passed away. He was a top student and had hoped to get better, live pain free, and finish his studies. Because he'd suffered so much, Ahmad had hoped to study medicine and become a cardiologist, so he could help other patients and spare them what he had suffered. We lost our son while he was waiting for a permit to be treated at Tel Hashomer Hospital. The delay in issuing him the permit and getting him treatment cut his life short, and stole him away from us and his friends.  
Amal Kamel Nayef Shbeir, 50, is a married mother of eight from Gaza. She gave her testimony to B'Tselem field researcher Muhammad Sabah at her home in the a-Naser neighborhood on 23 January 2017.