My husband passed away in 1995. In 1997 I bought an apartment on the ninth floor of the a-Zafer Tower and lived there with my children. Over time, they got married and moved out. Two of them now live abroad. Eventually, just my daughter Hind and I were left in the apartment. In 2004, she too got married and moved out. In 2006, my son Muhammad, a doctor, rented an apartment on the fifth floor. In 2011 he bought an apartment on the second floor. In 2013, my son Muhannad bought an apartment on the ninth floor, across from mine. We had a good life with a close family atmosphere. I felt as if I was living in the same house as my children. All the other tenants are nice, respectable people and the atmosphere was very homey.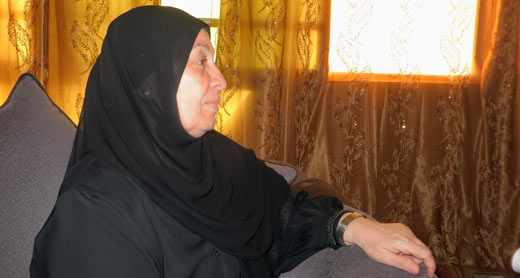 Maryam Abu Raya in her rented apartment. Photo: Muhammad Sabah, B'Tselem, 29 June 2015
We went through two wars here. In 2008-2009 we didn't have any special problems. In 2012, we didn't really worry until a shell hit the eighth floor. Luckily, no one was hurt. I think it was the result of artillery fire. When it hit, everybody left the building for several hours, and then we all went back home. The windows were shattered and there was some damage, but we all went back to our lives as usual.
In the beginning of the last round of fighting, in 2014, my sons and I stayed in our apartments. It was very tough, because of the airstrikes everywhere, power failures and water shortages. We couldn't sleep nights. We counted the days, the hours, and hoped that any minute the war would be over. We were glued to the news broadcasts. We saw the terrible sights on TV. We cried over the people killed and the homes destroyed, leaving so many people homeless. We left the house only to buy essentials.
On Saturday, 23 August 2014, at about 5:30 P.M., I was at my son Muhammad's apartment. It was his birthday. Then I went back up to my apartment. The phone rang and Muhammad's wife told me that we all had to leave the building because she'd received a phone call saying it was about to be bombed. I opened my front door and saw other tenants going down the stairs carrying belongings. They told me they'd heard that the tower was about to be bombed. I immediately went down to my son Muhammad's apartment, but there was no one there. I turned off the gas supply and went down the stairs with the other tenants. Some took the stairs and others took the elevator. I was wearing my prayer clothes. The neighbors were all carrying their children and some belongings. We were all in shock and no one understood what was happening. Some people said the missiles would be aimed at the eleventh floor, where Hamas had a communications office.
I went with my sons, their families and some other families from the building to the villa of an acquaintance, Muhammad Abu Mazkur. We sat in the courtyard there and waited for them to bomb the apartment so we could go back to our apartments. While we were drinking coffee, a drone fired a missile at the building. We got another phone call from someone who said he was with the military. He ordered us to evacuate the entire area and make sure that everyone was out of the tower.

Video footage of  a-Zafer Tower bombing: safadpress
A few minutes later, we heard two blasts and then the tower collapsed. I was shaking like a leaf. My heart was beating so fast, I thought it would jump out of my chest. Everything was destroyed, our three apartments. I cried and couldn't believe the tower had come down.
We couldn't walk through the glass and debris. We fled from there. My son Muhammad had a broken leg and was using crutches, so someone took us in a car to my daughter's house in a-Nasser neighborhood. Fifteen minutes after we got there we heard a rumor that the building my daughter lived in was also about to be bombed, because the Hamas-owned a-Risala newspaper had an office there. We left the building and went to my sister-in-law in a-Sheikh Radwan neighborhood. We stayed at her house until the end of the war. We kept hearing airplanes and bombings and were very afraid. After that we went back to my daughter Hind's house, which hadn't been bombed after all. We stayed there until 1 October 2014 and then moved for a month into a rented apartment in a building off Abu Mazen Square.
Then we rented three apartments for me and my sons Muhammad and Muhannad and their families. We had no clothes or mattresses. Some relatives gave us a few mattresses and bedding and some clothing. We had nothing in the apartments and could barely get by. At first we were completely distraught and couldn't sleep.
Later, we went back to the ruins of our building to look for official documents, passports and the children's university diplomas. We also looked for the gold jewelry that belonged to my daughters-in-law, but we didn't find anything.
To this day, we still think and talk about our apartments. I had a furnished apartment and lacked nothing: I had a refrigerator, a washing machine, television sets, presents, and souvenirs we brought back from Libya, Tunisia, Egypt and Jordan – mementos from my life with my husband. It was all destroyed in the strike.
Even now, I haven't yet bought everything I need for the rented apartment: electrical appliances, clothes, sheets, mattresses, a sofa, and other things. I put 17 years into the apartment I owned and everything in it. You can buy everything but the mementos cannot be replaced.
After we lost our apartments to the bombing, I developed diabetes. I still cry over the apartments that were destroyed for no reason and dream of going back home to my apartment. I hope they rebuild the tower and we can go back, but it will never be the same.
Maryam Muhammad 'Abd al-Qader Abu Raya, 65, is a widowed mother of six. She lives in the Tal al-Hawa neighborhood of Gaza City. She gave her testimony to B'Tselem field researcher Muhammad Sabah on 29 June 2015 in her rented apartment.