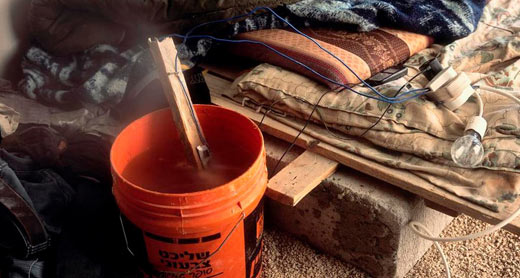 Photo by Ron Amir, 2012, from a series depicting the lives of Palestinians working in Israel.
I live in Hebron with my wife and three children. Our eldest boy is seven years old. I have a permit to work in Israel and I work in maintenance and laying water pipes in the city of Ashdod.
The permit is meant to enable me to return home every day and then go to work the following morning. But to do that, I have to leave home at 3:00 A.M. and get home late at night, when my family is already asleep anyway. So I prefer to sleep at my workplace all week, from Sunday through Thursday. It's really tough on me and on my children and wife. I miss them all week. But even if I went home in the middle of the week, I wouldn't really have time to be with them.
On Sundays, I leave home at 3:00 A.M. and get to Meitar Checkpoint, south of Hebron, at 4:00. It's not long before there is a long line of thousands of workers there. Everyone pushes and shouts at one another. In winter I really feel the cold. The checkpoint opens at 5:00 A.M. and we undergo a very thorough inspection. Sometimes some of us are sent to another room where you go through a metal detector. We're very scared of that machine because some people say it's harmful to your health, but we have no choice. After all the inspections, it takes me another hour to travel to work.
I used to try to go through Tarqumya Checkpoint, northwest of Hebron, because it's closer to where I work. But there are even more workers there, and the jostling and the crowding are even worse, so I prefer to go through Meitar.
The checkpoint and the journey to work are bad enough, but the sleeping conditions are rough, too. The other workers and I sleep in tiny rooms or in pre-fabs, and sometimes the rain leaks in on us.
'O.Kh., 37, of Hebron, is married and has three children. As he was at his place of work in Ashdod, Israel, he gave his testimony by telephone on 20 April 2015 to Musa Abu Hashhash, B'Tselem field researcher in the Hebron District.