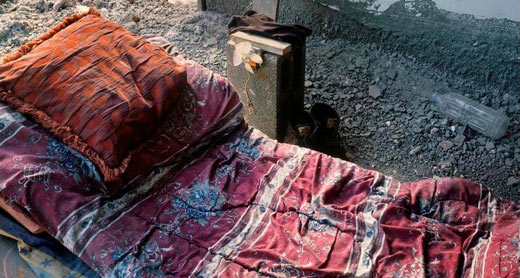 Photo by Ron Amir, 2012, from a series depicting the lives of Palestinians working in Israel.
I live in Al-Fawar Refugee Camp in the West Bank, south of the city of Hebron. I work in construction in Israel, in the city of Beersheba. It's hard for a single man my age to get a permit to work in Israel, so sometimes I have to take the risk and enter without a permit. Sometimes, the police catch me and arrest me.
Because I don't have a permit, there are long periods of time that I have to sleep where I work. I haven't been back home with my family in 35 days. I can't go every day, or even once a week, because it's too risky. Sometimes, the military fires at workers trying to enter Israel.
Some of the people I work with have permits and some don't. Crossing illegally into Israel is no easy matter. It's very dangerous and incredibly stressful. It's also expensive. It costs almost 400 shekels [approx. USD 100] for taxis to the Separation Barrier and from there to work. Most of us sleep on site, at the workplace. Some workers haven't been home in three months.
I sleep in the building we're constructing, on a mattress on the floor. I barely leave the building, especially at night. I'm afraid of getting caught by the police and being arrested. I ask other workers who do have permits to buy me food and other things. I feel like I'm working in a small prison. But despite all the hardship, I do make 300 shekels [approx. USD 75] a day, which is much more than you can make in Hebron, if you're even lucky enough to find a job.
I sleep in conditions unfit for humans. There's no electricity in the building and I only have a blanket and a mattress. I know I'm working illegally and that if I'm injured or anything happens to me, my employer won't take responsibility and won't compensate me. Even so, I have to continue working under those conditions. Like the other workers without permits, I'm always anxious and can't stop worrying. Sometimes the police come to the construction site, and then we run and hide in other buildings. It happened again today.
About two months ago, I was caught and put in prison for two months. I really hope to start my own business one day, so I can live without all this stress and worry.
A.H., 37, is unmarried and lives in Al-Fawar Refugee Camp, Hebron District. As he was at his place of work at Israel, he gave his testimony by telephone on 20 April 2015 to Musa Abu Hashhash, B'Tselem field researcher in the Hebron District.