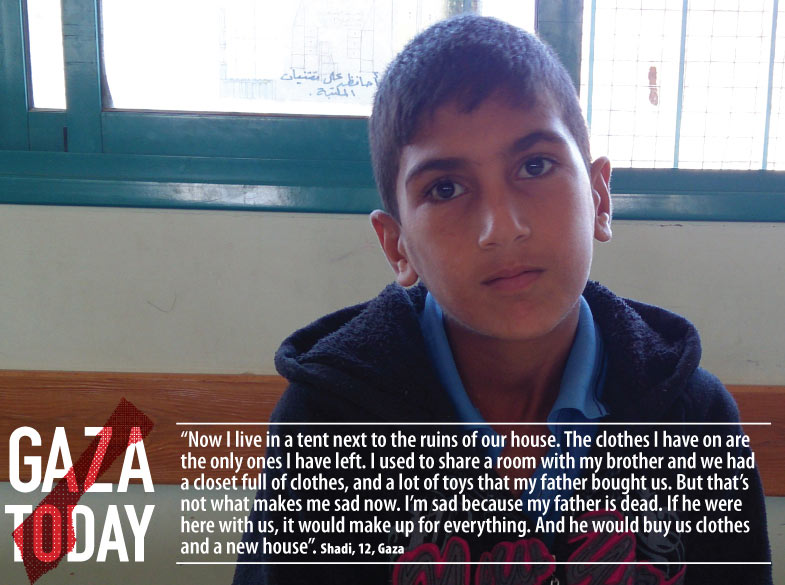 I'm in the sixth grade and I have seven brothers and sisters. One of my brothers and two of my sisters are married and don't live with us. We live in the al-Barakeh neighborhood near the al-Shabeh Mosque. My father used to work in construction in Israel, but after that he was unemployed.
A few days after the war began, the bombings and sounds of shooting near our house grew stronger and it was very frightening. One evening, we were all sitting together in one room. I was near my mother, who kept crying. I heard my father call the rescue services and ask for help. He wanted them to get us out of the house because the bombing was getting nearer. After each explosion, we heard stones falling on the roof of the room we were hiding in.
We stayed in that room for about two hours and then an ambulance came to get us. We were so glad and we all got in. The sounds of shooting continued all around us. The ambulance took us over to my big brother Nafez's house. He lives with his wife in a rented house in Bani Suheila. We stayed with him for about two weeks. On Thursday afternoon, 29 July 2014, my father went out to the shops to get some household stuff. When he didn't come back, we started to get worried. After dark, some friends called Nafez and told him my father had been injured and had been taken to hospital.
We all got into a neighbor's car and went to Nasser Hospital. We looked for my father in a few different wards until we reached the refrigerators in the morgue. That's where we found him. He was dead. My mother can't stop crying, I see her crying for hours on end. After we buried my father, we stayed with Nafez for a few more days and then they threatened to bomb a neighbor's house, so we moved to my sister Ulfat's house in al-Amal neighborhood, western Khan Yunis.
After that we went back to Nafez's house until a ceasefire was declared. Then we went home, but all we found was a pile of rubble. The house had collapsed. Now I live with my mother, my brothers Fadi, Anis and Anas, and my sister Inas next to the ruins of our house, in a tent we made out of pieces of cloth and mats. Conditions are really tough here. It's cold at night and I'm afraid when I hear dogs bark and the wind whistle. We don't have a bathroom of our own and have to go to my sister Nisreen, who lives with her husband's family, to take a shower and use the toilet. We sleep on the floor and sometimes I wake up from mosquito and bug bites or because I feel bugs or ants crawling on me.
The clothes I have on are the only ones I have left. I go to school in them and wear them in the tent, too. I used to share a room with my brother and we had a closet full of clothes, and a lot of toys that my father bought us. But that's not what makes me sad now. I'm sad because my father is dead. If he were here with us, it would make up for everything. And he would buy us clothes and a new house. I feel that my life has really changed since my father was killed. We have no happiness now.
Shadi Muhammad Suliman Barakeh, 12, is a sixth-grader. He lives in 'Abasan al-Jadidah in the southern Gaza Strip. He gave testimony to B'Tselem field-researcher Muhammad Sa'id on 19 Nov. 2014 at 'Abd al-Karim al-Karami School in 'Abasan al-Jadidah.