I am married to Jibril Abu Tu'eymah and we have four daughters: Shatha, 6, Rana, 5, Jana, 2, and Ghina, who was born just three months ago, after we moved to the shelter. For the first seven years of our married life, we lived with my husband's parents. We kept dreaming of building a home of our house so things would be calmer and easier for us. At first, my husband worked as an electrician and then he started working in the trade tunnels on the Egyptian border to earn and save more. In 2010, a tunnel collapsed on him while he was on the job. He suffered fractures to his back and ribs and hasn't been able to work since.
In 2012, I borrowed some money from my family. We used that money along with what we had saved from my husband's job and our income from selling olives and lemons from trees on a plot of land we own to build a house on that plot. It was in 'Abasan al-Jadidah, roughly a kilometer and a half from the border. The house was 125 square meters. We moved in before the interior was quite finished because we ran out of money. The cost of building materials was so high that we couldn't complete work on the house. Still, we were very glad to have our own home and I felt on top of the world. I had a place of my own, where I could host friends and relatives to my heart's content. In our first year in the new house, we cut back on expenses and pinched and saved so we could finish furnishing it. Whenever my daughter Shatha asked for new clothes or new shoes, I told her she must be patient and that I'd buy her everything, just as soon as we had a pretty house.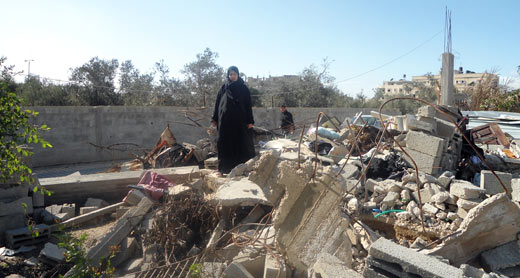 Shuruq Abu Tu'eymah standing on the rubble of her home. Photo: Muhammad Sa'id, B'Tselem, 26 Oct. 2014
About two months before the war broke out, my house was finally ready. We managed to put in the finishing touches and buy furniture. But when the war began, I was afraid to stay in the house because of its location and because I was eight months pregnant. We moved to my parents' house in the a-Daghamneh area, not far from the entrance to 'Abasan al-Jadidah, east of Khan Yunis.
We stayed there until 27 July 2014, when the airstrikes and shelling in the area intensified. We were afraid we would all be killed. The house was full of people, so my father called the rescue services and the Red Cross and asked them to get us out of there. We were afraid of being hit if we left the house on unaccompanied. Just before the ambulance arrived, a shell landed next to the house. My sister, Samia a-Daghameh, was injured by shrapnel which hit her hands. My contractions started and felt that I was about to give birth. I asked the ambulance to take me to Nasser Hospital, but the driver refused and said that a lot of families were trapped in 'Abasan al-Jadidah and he had to go rescue them. We drove by car to the al-Horani elementary school in central Khan Yunis and stayed there. Meanwhile, my contractions eased.
I gave birth on Friday, 1 August, at Mubarak Hospital. While I was there, my husband told me that our house and his parents' house had both been bombed. He said that the Israeli forces had also uprooted the olive and lemon trees around our house, which were our only source of income. We've been living at the school ever since. I felt I couldn't go and look at what's left of the house. I didn't think I could take it. I couldn't bear to see how years of work, my husband's and mine, went down the drain in a single moment, through no fault of our own. We had done nothing wrong. My family and I have a lot of beautiful memories from that house and I didn't want them spoiled.
We've been living at the school for almost three months now and conditions here are very hard. Even our basic needs aren't met. We still sleep on a mat we were given when we arrived at the school, with a few blankets I took from my parents' house. We keep getting the flu and stomach ailments because of the cold and our unhealthy diet, which consists mostly of dry or tinned food. The bathroom is in the schoolyard, at a distance from the building. We're afraid of sleeping here because of all the strangers. We have no privacy and I'm tense. There are a lot of families here, almost sixty women and children living together.
I often go to my sister or my parents to do the laundry and take a shower with the little ones. There is no hot water at the school and it's getting cold, winter is already here. My family is scattered. My husband sleeps in the classrooms designated for men and I sent my two eldest, Shadha and Rana, to live with my sister so they would be close to kindergarten and school, which are in 'Abasan. We're waiting for the world to help us, so we can at least go back home.
Shuruq 'Eid Suliman Abu Tu'eymah, 28, is the married mother of four littler girls. A homemaker, she lives in 'Abasan al-Kabirah in Khan Yunis, the Gaza Strip. She gave her testimony to B'Tselem researcher Muhammad Sa'id on 29 October 2014 at al-Amal al-Jadidah school.