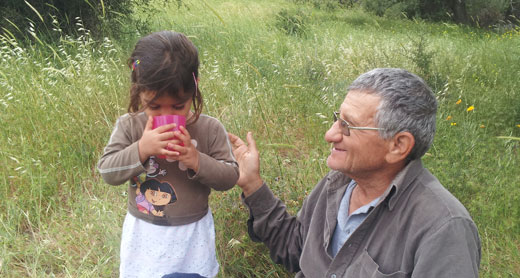 Yaakov Yinon and his granddaughter. Photo courtesy of the family.
Here in Netiv Ha'asara we've been suffering for 14 years from the firing of rockets and mortar shells. We're the closest community to the perimeter fence with Gaza. We have high walls that conceal us. Ten days ago a foreign worker from Thailand was killed here.
Our house is 200 meters from the northern border of the Gaza Strip. I don't have young children but the situation on the moshav [farming community] is unbearable. The noise of the firing from both sides was horrendous. It was impossible to concentrate on anything. Three weeks ago we left the moshav. We've spent the past few days in Jerusalem, in Nazareth, and with our children. I'm fortunate because my son owns two guest houses, so I don't feel dependent on others. I'd feel really uncomfortable if I had to stay in someone else's home.
I'm an agronomist: I specialize in field crops, training, and supervision. Almost all my work is in the fields. Until we left the moshav I kept going out to the fields. As long as I can work, I do. I was born in the fields almost 70 years ago. I was raised in the fields, studied and worked in the fields. Nothing can change that: it's stronger than anything else.
The fact that we are away from home has consequences. It's costing us quite a lot of money – eating out instead of cooking at home. It's not such a terrible thing, but it's a real financial burden and it just exacerbates our emotional worries and anxieties.
The future is uncertain. When we go back, will it be like before when our children wouldn't come to visit the moshav, or will we return to an entirely new reality that will be good for everyone – us and them?
My children last came to visit on Passover. While they were staying with us there was a Color Red alert. My grandchildren woke up while we were carrying them into the safe room, and ever since they won't agree to come visit.
I think most of the families with children have left the moshav. I went back on Thursday to get some clothing and medications from home and didn't see any of them there.
Ya'akov Yinon, 69, is an agronomist. He lives in Moshav Netiv Ha'asara, a farming community in southern Israel. He gave this account by telephone to Osnat Skoblinski on 4 August 2014.