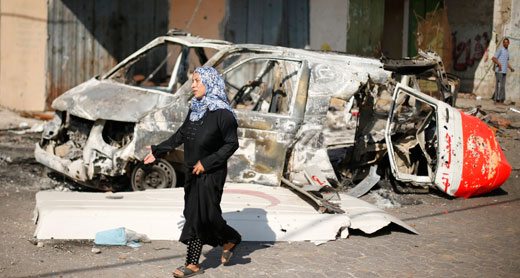 Palestinian woman walks past the wreckage of an ambulance in Beit Hanoun town. Suhaib Salem, Reuters, 1 August, 2014
I work as a paramedic. On Saturday, 19 July 2014, at around 11:00 P.M., I was at work, at the call center that sends ambulances to people calling for help. We started getting calls from three areas in a-Shujai'yeh neighborhood in Gaza City: a-Nazaz Street, a-Sha'ath Street, and al-Beltaji Street. The callers sounded extremely distraught. They were shouting for help and asking that we come quickly to take wounded people to hospital. They said they were under massive artillery shelling and a lot of people had been hurt.
We realized that the shelling was still underway and we couldn't reach the area. We called the Red Crescent and the Red Cross, but they said it was very dangerous, that we mustn't go there, and that they were also waiting for the shelling to stop in order to go there. In a short space of time, we got more than 200 calls from the neighborhood of a-Shujai'yeh. I can say with almost absolute certainty that we received a call from every single house in the areas I mentioned. During the calls, we could hear young children screaming in the background and women crying. People had been injured and killed in every home we got a call from.
At around 5:00 A.M., we held an emergency meeting with the director of the First Aid and Trauma Unit, Diaa Abu Hassan. We decided to go out there, no matter what.
We left in three ambulances and two vehicles with civil defense teams. We were joined by Khaled Hamad, a photojournalist. The first house we got to was the a-Sarsak family home on a-Nazaz Street. We had gotten a report that a person had been killed and a child injured in the house. We got out of the vehicles about 200-300 meters away from the house. We couldn't drive any closer because the street was covered with rubble from the shelled buildings.
We only took several steps when, suddenly, a missile was fired at us. It landed very close to me. It hit the photojournalist Khaled Hamad directly, killing killed him.
A 25-year-old paramedic named Fuad Jaber was hit in the back by shrapnel. We ran towards the a-Sarsaks' home to take cover but then another missile landed, close to the house. I started treating a little boy, about four years old, who had been hit in the leg by shrapnel. Then I treated another paramedic, Fares 'Afaneh, who was hit by stones that flew up because of the blast. We carried them both towards the vehicles. When we got to the vehicles, we saw they'd been damaged by the bombing, too. Two ambulances and one civil defense vehicle were useless. We were left with one ambulance and one civil defense vehicle. We got in with the injured child and Fares, the injured paramedic. We headed to the hospital in those two cars, leaving behind Khaled Hamad, the photojournalist who was killed, and Fuad Jaber, the other injured paramedic. We reached the hospital and left the injured people there for further treatment.
Despite the huge risk, we decided to go back to get Fuad. We hoped to find him alive. I'm sorry to say, but when we got there, he was dead. His wound was small, but he simply bled to death. He could have been with us now, if only we'd taken him in the ambulance with us. If they'd have let us take the injured people to hospital instead of bombing us.
We carried away the bodies of Khaled and Fuad. We couldn't take any others. Only then did we understand the horror of what had happened there. Along the short distance I crossed, about 300 meters, I saw a woman and six or seven children lying dead. A few meters from there, I saw two dead men. Across the road, I saw a man, woman and two small children lying dead. They may have been from a single family.
Not a single house was left unharmed on that street. Every house was bombed. It was such a terrible sight. Your eyes see it, but your mind doesn't comprehend.
So many people called us for help that day that I can't even remember most of their names. It's all registered in our records. I do remember one call, made from the house of Abu Muhammad Harazin. It was his son, calling to tell us his father had been injured. At the time, the massive bombing was still going on and we couldn't reach him, to give emergency care and take him to hospital. Half an hour later, the son called us again. He said we shouldn't risk trying to reach them, because his father had passed away.
Ahmad Sabah, 28, married, lives in Tal a-Za'tar neighborhood, Gaza City. He works as a paramedic with the Red Crescent. He gave his testimony by phone on 22 July 2014 to Salma a-Deb'i, B'Tselem's field researcher in Nablus.
Concerning testimonies about the "Protective Edge" campaign:
With the current military campaign ongoing, B'Tselem is taking testimony from Gaza residents, mainly by telephone. B'Tselem verifies, to the best of its ability, the reliability and precision of the information reported; nevertheless, in these circumstances, reports may be incomplete or contain errors. Given the urgency of informing the public about events in Gaza, B'Tselem has decided to publish the information now available. When the military campaign ends, B'Tselem will supplement these reports as needed.