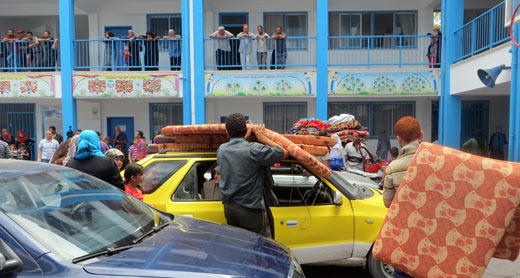 Palestinian civilians find shelter in an UNRWA school, Gaza, 13 July 2014. Photo: Muhammad Sabah, B'Tselem
My husband, Sa'ed Abu Halima, and I have 10 children: the oldest, Sally, is 22 and the youngest, Maha, is four.
We live in the Al-'Atatrah neighborhood of Beit Lahiya, close to the border. Four days ago, after ongoing bombardments, we moved to my parents' home, which is in our neighborhood but further away from the border. The children kept shouting and asking to move somewhere safer, especially after we got a recorded telephone warning from the Israeli army saying that we had to leave our homes for our own safety.
The children were very scared and wanted us to move to schools, where they thought we would be safer. My son Muhammad, who is 18, cried and told me, "You want us to die, like you did with Matar." Our son Matar was 17 when he was killed in the 2009 war [Operation Cast Lead]. He was killed together with his cousin Muhammad, who was 12, while they were trying to escape the bombardments. Other members of the family who were with them were injured. One of them, Ghada Abu Halima, died of her wounds three months later. When he said that to me, I burst out crying. My son Matar was killed right before my eyes. After I lost him, I was in a very bad state and couldn't function for some time. I was sorry I hadn't died instead of him, but it was God's choice. I don't want to put my children at risk – they're the most precious thing in the world to me. I live only for them, even though it's been very hard for me to live since Matar was killed. I thought about it a lot and wasn't sure what to do. Leaving our home means suffering, and we've already been through that in two previous wars. Last time, we had to stay in a school, between stairways and tables, in very difficult conditions. But I guess those are the only options we have here – leave home or die. My husband, my parents and I thought about it until the morning and decided to leave. We took some food from the refrigerator with us – mostly tomatoes, cucumbers, and a little bread and cheese. We went to one of the schools that were opened to shelter refugees. I was surprised to see so many people there. Like us, they all had to flee from their homes and from death. We found a classroom and we're now sharing it with my parents, my three brothers and sisters, my uncle and his wife, and their five children. All of us in one room.
It's Ramadan now and it's very hot. We women have to keep our hijab on day and night because there is no privacy here. For Iftar [the meal breaking the daily fast] today we'll eat what we brought with us – bread and vegetables. I don't know what we'll eat after that. There's no gas here for cooking and we don't have any kitchen utensils or food to cook. We all just want to go home. In the 2009 war, my home was damaged and it took a lot for me to repair it. We just bought new bedroom furniture a few months ago and I've hardly had the chance to enjoy it yet. If we survive, I don't know whether we'll still have a home or just find a pile of rubble. If the army bombs the school, hundreds of people will be killed. There are more than 200 people in the school, mostly women and children, and only God is with us. We keep praying and asking God to protect us and save us from this terrible suffering.
Nabilah Kamal Hashem Abu Halima, 43, a married mother of 10, lives in the Al-'Atatrah neighborhood of Beit Lahiya, in the northern Gaza Strip. She gave her testimony by telephone to Salma a-Deb'i, B'Tselem's field researcher in Nablus, on July 13, 2014.
Concerning testimonies about the "Protective Edge" campaign:
With the current military campaign ongoing, B'Tselem is taking testimony from Gaza residents, mainly by telephone. B'Tselem verifies, to the best of its ability, the reliability and precision of the information reported; nevertheless, in these circumstances, reports may be incomplete or contain errors. Given the urgency of informing the public about events in Gaza, B'Tselem has decided to publish the information now available. When the military campaign ends, B'Tselem will supplement these reports as needed.