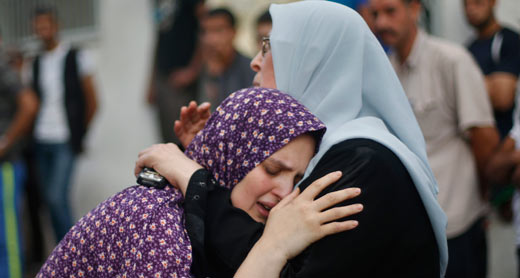 A grieving mother at the funeral of the children. Photo: Muhammad Salem, Reuters, 17 July 2014
My wife and I have four children. We live in the same building as my brother Tareq, my father and my sisters. My brothers Yasser, 'Issam and Muhammad live nearby.
On Thursday, 17 July 2014, just after 5:00 P.M., I was at home. My wife was preparing food for the meal that breaks Ramadan fasting for the day. The rest of the family was at home. We were all waiting to hear the Muazzin call out for evening prayers, marking the end of the fast. My little ones went outside to play with my brothers' young kids. We didn't see any reason to keep them home, because things were quiet and there are no fields or farmland nearby that the army might bomb. I was sitting reading the Quran when suddenly I heard a loud explosion. At first, I thought it was in the street or in a neighboring house. But I quickly realized it actually came from the roof of my house. I couldn't believe my house had been bombed. I ran up the stairs to the roof. Everything was full of dust and smoke. When they settled, I saw a terrible sight: a pile of five children lying one on top of the other. They were my children 'Udai, 15, and Afnan, 8, and my nephews Wasim, 7, and Bassel and Jihad, 10.
I was stunned. I picked Afnan up. The rest of the family had already come up to the roof. They were shouting and hysterical. My brothers and I picked the children up and ran down to the street with them. We waited until ambulances came and took them to a-Shifaa hospital. On the way to the hospital, Afnan passed away in my arms. I fainted. When I came to, we were at the hospital. They told me 'Udai's intestines were badly injured and that he had several fractures in his leg. Later, they told me that two of my brother 'Issam's kids were dead too – Wasim, 7, and Jihad, 10. Bassel, my brother Yasser's son, was very badly injured. He has fractures in his skull and arm. He was in a very serious condition. At first we thought he'd been killed, too.
When my son 'Udai came around, he told us that he, Afnan and their three cousins had gone up to the roof not long before the bombing, to feed the pigeons that he keeps in a coop there. They wanted to pass the time until the evening meal.
Based on the damage to the roof, we think it was a small missile fired by an unmanned aerial vehicle. Thank God, at least, that it wasn't an F-16 missile, because a lot more people would have been hurt.
Wisam Marzuq Muhammad Shuheibar, 41, a married father of four, lives in the a-Sabra neighborhood of Gaza City. He gave his testimony by phone to Musa Abu Hashhash, B'Tselem field researcher in Hebron, on 21 July 2014.
Concerning testimonies about the "Protective Edge" campaign:
With the current military campaign ongoing, B'Tselem is taking testimony from Gaza residents, mainly by telephone. B'Tselem verifies, to the best of its ability, the reliability and precision of the information reported; nevertheless, in these circumstances, reports may be incomplete or contain errors. Given the urgency of informing the public about events in Gaza, B'Tselem has decided to publish the information now available. When the military campaign ends, B'Tselem will supplement these reports as needed.