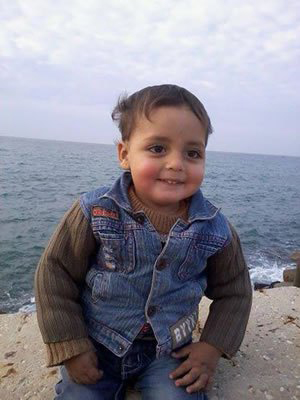 Saher Abu Namus. Photo: Abu Namus family.
We live in Tel a-Za'tar neighborhood in Jabalaya refugee camp. I work as a civil servant and we have five children. Since the operation began, the Israeli army has been bombing our area a lot. It was like that in previous operations, too. There's empty farmland close to our homes, so I guess they think rockets are being fired from there. My home was severely damaged in previous airstrikes on the Gaza Strip.
On Friday, 11 July 2014, at around 2:00 P.M., a resident of our neighborhood was killed in a bombing: Mahmoud Rabi' Abu Hamidan, 60. His funeral was set to take place right after afternoon prayers at al-Imam a-Shaf'i Mosque in our neighborhood, which is less than 100 meters from my home. I decided to go to the prayers and the funeral.
My three-year-old son, Saher, is very attached to me. He goes almost everywhere with me and won't let me leave the house without him. He even comes along when I exercise. When he saw me getting ready to leave for the funeral, he asked to come along. I tried to persuade him to stay home and told him it was very dangerous outside, but he insisted. When I refused, he literally hung off my neck and wouldn't let me leave. In the end, I agreed. I told him to shower and change clothes so he could come with me, and then we went to the mosque together. I went into the mosque and Saher stayed outside to play with some other children.
At around 5:00 P.M., the prayer ended and the Imam began calling out in memory of our killed neighbour. I stayed behind in the mosque for a few minutes and was planning to go outside for the beginning of the funeral procession. Just as I was about to leave, I heard two loud explosions very close by. I went outside. Everything was full of dust. When the air began to clear, I saw my wife running down the street. I ran over to her and saw her pick up a little boy and scream. When I got there, I saw she was holding Saher. He was dead.
I looked at his face. It was perfect and whole. But the whole back part of his head was open.
Several journalists who were there to report on the funeral procession documented the incident. I don't know of any prior warning before the airstrike, about the army's intention to bomb the place. A neighbour of ours, who happened to be passing by, was also injured in the bombing. She was taken to hospital.
It's been a few days now. My wife is still in shock. She was the first to reach Saher and see that terrible sight. She was the one who picked him up and was the first to realize he was dead. She's not the only one in shock. Our whole neighborhood is in mourning over Saher.
Salman 'Ali Abu Namus, 34, a married father of five, is a civil servant and lives in Jabalya refugee camp in the northern Gaza Strip. He gave his testimony by phone to 'Atef Abu a-Rub, B'Tselem's field researcher in Jenin, on 16 July 2014.
Concerning testimonies about the "Protective Edge" campaign:
With the current military campaign ongoing, B'Tselem is taking testimony from Gaza residents, mainly by telephone. B'Tselem verifies, to the best of its ability, the reliability and precision of the information reported; nevertheless, in these circumstances, reports may be incomplete or contain errors. Given the urgency of informing the public about events in Gaza, B'Tselem has decided to publish the information now available. When the military campaign ends, B'Tselem will supplement these reports as needed.