I'm retired. I used to be Director of Higher Education at the Education Ministry in Abu 'Amar's [Arafat's] time.  I retired in 2005 and now I'm a farmer.
I'm married with nine children. Four of them live abroad. My son Mu'taz, his wife and their children, one 2 years old and the other six months old, live with us. Our house is in the center of Beit Lahiya, in an area called "'Ard Abu Harouq".
For three days now, Israel has been warning us, and dozens of other families, to evacuate the area. They claim there is "terrorist infrastructure" here. They call on the phone and say: "The Israel Defense Forces are giving you a warning, to protect your lives, and asking you to evacuate your home because it will be massively bombed in order to destroy the terrorist infrastructure". They ordered us to leave through al-Fallujah Street and stay away from a-Salatin Street. From Friday (11 July) to this morning (13 July), we got 14 phone-calls like that. The last was this morning, at 7:00 A.M. They gave us extra time until 12:00 noon, as a last warning.
We evacuated our house gradually. First, we got the women and children out and I stayed behind with two of my sons to guard the house. Previous wars taught us to fear not only the Israeli missiles but also thieves, who use these opportunities to steal from the empty houses. As you know, it's not easy to leave your home behind, with your entire life in it. That's why I stayed behind with my sons.
Israel fulfilled its threats from day one. It bombed empty fields and farmland. The missiles also landed in private gardens. One landed three days ago on my land, just 30 meters from our house. We have 4 dunams [0.4 hectares] of land with crops and fruit trees. In the last three days, they bombed us more than ten times with F-16 airplanes. Every missile left a hole in the ground about 10-12 meters deep. The crops were ruined and houses nearby were badly damaged. In some houses, the roof collapsed, and in others windows and doors flew out, walls cracked and sheds crashed. Thank God, no one was hurt except one neighbor who was lightly injured, and my brother, who was lightly injured by shrapnel.
We got no specific warnings before the bombings and didn't know when to expect them. Some of them happened in the morning or during the day, and others were late at night. Every time a missile exploded, it felt like an earthquake. The fire from the first missile reached inside our homes, the explosion was so strong. It terrified us. Everyone panicked, especially the women, children and elderly people.
Not all the families in the area left at once. We did it in stages. I saw my little grandchildren and the children of neighbors and relatives paralyzed with fear, and I could see in their eyes that they were shocked. They were trembling with fear. You hear little kids shout every now and then: "A plane, a plane!"
We had to evacuate our home and leave all our belongings behind. We only took a change of clothes, documents, money and jewelry. We left everything else behind: furniture, dishes, equipment. That really hurt. We left in a hurry after the last warning this morning, because we were very afraid of being bombed.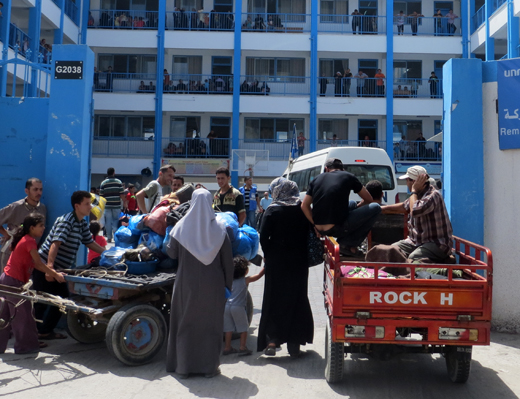 Palestinian civilians find shelter in an UNRWA school, Gaza, 13 July 2014. Photo: Muhammad Sabah, B'Tselem
The hardest thing about leaving was that we didn't know where to go. People in the Gaza Strip have very little and live off almost nothing, especially these days, when it's so hot and we're on Ramadan fast. How can we allow ourselves to go to people's homes and burden them? But, like I said, we had no choice but to leave. My son Mu'taz went with his wife and children to his wife's family.
I went with my wife and the rest of our children to my wife's family in a-Sheikh Radwan area, seven kilometers from our land and house. We're staying in a 120 square meter house. There are three families here now, 14 people all in all: the owner and his family, his daughter and her children, and my family and me. The house has one big bedroom, 16 square meters large. There's a room on the roof but no one is using it because it looks out over the sea and they're afraid the navy will bomb the area. The bombs are landing from every direction, from the sea and from the air, indiscriminately.
We're all squashed together here feeling scared and worried. We don't know how long this will last and how we'll get through the next few days, with 14 people in a house that has only one bathroom, and with nothing except the few things we took with us. Everything is scarce. We have water and power only for short periods. People are fasting and not working. Things are very tough and can bring no joy to either friend or foe, only salvation from Allah. What can we do? We're waiting for the mercy of the heavens.
Muhammad 'Arfah Abu Haloub, 75, a retired employee of the Palestinian Education Ministry and a farmer, lives in Beit Lahiya. He gave his testimony by phone to Iyad Hadad, B'Tselem's field researcher in Ramallah, on 13 July 2014.
Concerning testimonies about the "Protective Edge" campaign:
With the current military campaign ongoing, B'Tselem is taking testimony from Gaza residents, mainly by telephone. B'Tselem verifies, to the best of its ability, the reliability and precision of the information reported; nevertheless, in these circumstances, reports may be incomplete or contain errors. Given the urgency of informing the public about events in Gaza, B'Tselem has decided to publish the information now available. When the military campaign ends, B'Tselem will supplement these reports as needed.