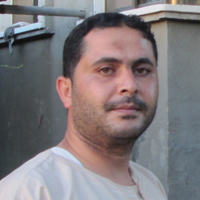 I have three sons and a daughter: Ahmad, 9, Muaiad, 7, 'Abd a-Rahman, 5, and Hibah, 1. We live in a three-story building with our extended family in Deir al-Balah, in the central Gaza Strip. We live on the second floor. My brother Murad and his family live in the floor underneath us, and my parents and sister live across from him. Another brother, Muhammad, lives with his family on the third floor.
On Thursday, 10 July 2014, at around 6:30 P.M., I was with my brothers Muhammad, Marwan and Riad in our sheep pen, next to our house. We were feeding the sheep and waiting for the Muazzin to call out for the first evening prayer, which marks the breaking of the Ramadan fast for the day.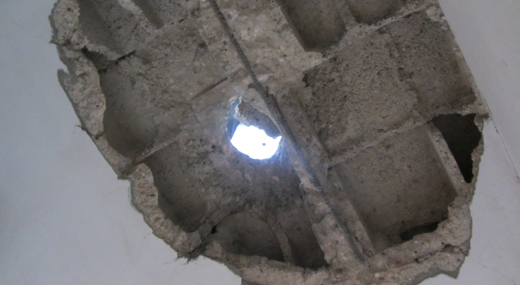 Photo: Khaled al-'Azayzeh, B'Tselem, 13.7.14
We heard surveillance airplanes flying low overhead. Suddenly, we heard an explosion in the sky and realized a missile had been fired. I heard the missile fly through the air and then an explosion. Stones and shrapnel hit the tin roof of the pen. I saw Maryam, Muhammad's wife, on the roof of the building. She was screaming frantically. We ran upstairs quickly.
Muhammad got there before me. He told me afterwards that he went into his apartment and found my son 'Abd a-Rahman in his bedroom. He was lying on the bedroom floor. His legs were chopped off at the knees and he had shrapnel wounds all over his body and face. When I got to Muhammad's apartment, I saw him standing in the doorway. He was holding a severely wounded child. I took the child from him without knowing it was my son. I starting carrying the child downstairs, and only then I looked at his face and realized it was 'Abd a-Rahman, my five-year-old. He was dead. I was stunned. I shouted: "My son is dead!" One of my brothers called an ambulance, which came a few minutes later. We took 'Abd a-Rahman to Shuhadaa al-Aqsa Hospital.
Concerning testimonies about the "Protective Edge" campaign:
With the current military campaign ongoing, B'Tselem is taking testimony from Gaza residents, mainly by telephone. B'Tselem verifies, to the best of its ability, the reliability and precision of the information reported; nevertheless, in these circumstances, reports may be incomplete or contain errors. Given the urgency of informing the public about events in Gaza, B'Tselem has decided to publish the information now available. When the military campaign ends, B'Tselem will supplement these reports as needed.