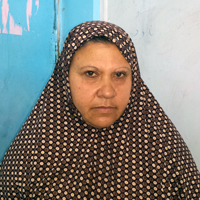 I live with my husband, Maher 'Ata a-Loh, 55, in a one-story house in al-'Atatrah neighborhood in Beit Lahiya, close to the border with Israel. We have eight children and they all live with us: Mahmud, 23, who is married to Zeinab, 23, Ahmad, 22, who is married to Asmaa, 18, Zeid, 20, 'Ata, 16, Vivian, 27, Basemah, 25, Zahya, 14, and Malak, 10. My mother-in-law, Zahya, 90, also lives with us. She uses crutches.
Three days ago, the bombings intensified. We decided to leave home because it was too dangerous. We left at around 1:00 A.M. in a taxi belonging to a friend of my son's, because we couldn't find any other means of transport. Everyone is afraid to drive because anything moving is a target for bombing. My husband didn't want to leave and insisted on staying home with his mother. He told me: "I want to die here. I prefer to die in our home than be homeless and humiliated in other people's homes". My daughters and I cried, but he wouldn't budge. We all got into a four-passenger taxi and sat on each other. Two of my kids had to sit in the trunk. The car could hardly move with the weight. My only thought was how to get out of the area and reach a safer place. I prayed to God that we make it before Israeli airplanes bomb us and tear us apart.
We reached the area of Gaza City and stayed with relatives. They are a family of six in a small house, with only two rooms and a bathroom. It was tough. Today, I heard that schools were opening as shelters for people who had to leave home. I decided we would move to a school and stop burdening our relatives. We're a big family and their house is small.
Now, we're 40 people crowded in one classroom; women, children and men, all from our family: my husband's brothers, his cousins, and their married sons and their families. We sit on school chairs, because there's nothing else to sit on. Every floor in the school has six classrooms and a single toilet. That means one toilet for about 200 people, men and women. Every time I have to go, there are five or ten people in line. There's no shower. I haven't showered for a week and feel disgusting. Even before we left home, and later at our relatives' house, I didn't shower because I was afraid that the house would be bombed while I wasn't wearing any clothes. I wear my prayer clothes all the time now, even at night, because if we get bombed and then I get pulled out of the ruins, I want them to find me in modest clothes and for no one to touch my body. That's our fate in this place. There's nothing in school but desks, chairs and blackboards, and I don't know how we'll sleep tonight. I'm exhausted. I haven't slept properly since the war began. Every time I fall asleep for a few minutes, I wake up with a jolt from the sound of bombing or someone talking about a bombed home. Yesterday, for example, I woke up because my sons were talking about the al-Batash family, whose home was bombed without warning and a lot of them were killed.
I'm really worried about my husband. I talked to him a short while ago, and he told me things are worse. I asked him to leave the house, but he said it's very dangerous and that if he goes outside, he won't make it alive. I don't know what will happen to him. Our home was already bombed once, in the 2009 war [Operation Cast Lead]. We left the house then too and sheltered in a school. When we got back, we found a pile of rubble. There was nothing left that was usable. My husband and children and I built an improvised room out of wood and tin sheets and lived like that for three and a half years, all in one room. We just finished rebuilding one story of our house a year ago. When we moved in, I couldn't believe I had a house with walls, windows, doors, a kitchen, a toilet and a shower. But the happiness didn't last long, because now we've been evacuated again. We had to escape and go back to sitting on school chairs. To me, these chairs symbolize being uprooted again. These chairs mean pain and suffering.
Last night, my husband told me that the Israeli military had called him and were asking the residents to leave the area for their own safety. They told the residents to walk through a-Salatin and al-Fakhura streets to central Gaza. But my husband said that it's impossible, that he won't leave home because his mother is there. She can't walk and there are no means of transport to take her, so he will stay home with her.
My head feels like it's exploding with stress and worry. I can't stop worrying about what will happen to my children, and to my two eldest sons who only got married five months ago and haven't had a chance to enjoy their new furniture. They don't have kids yet, and I really hope I get to see my grandchildren playing next to me one day. I can't stop thinking about my husband and his mother and our house, and what will happen to them. Will I go back to living in a tin shack or will I be buried? If the military bombs the school, we'll all die. Entire families will be erased. There are people from the al-'Atatrah family, the a-Salatin family, and the Abu Halima family in this school. Those are some of the biggest families in the area. I don't know what will happen to us over the next few days of this war. I don't know if we'll leave here wounded, dead, or homeless refugees.
Fayzeh Mahmoud a-Loh, 50, is a married mother of eight who lives in the al-'Atatrah neighborhood in Beit Lahiya in the northern Gaza Strip. She gave her testimony by phone to Salma a-Deb'i, B'Tselem field researcher in Nablus, on 13 July 2014.
Concerning testimonies about the "Protective Edge" campaign:
With the current military campaign ongoing, B'Tselem is taking testimony from Gaza residents, mainly by telephone. B'Tselem verifies, to the best of its ability, the reliability and precision of the information reported; nevertheless, in these circumstances, reports may be incomplete or contain errors. Given the urgency of informing the public about events in Gaza, B'Tselem has decided to publish the information now available. When the military campaign ends, B'Tselem will supplement these reports as needed.