I live in a-Tufah neighborhood in Gaza City. Right across from my house, on the other side of the street, is al-Batsh neighborhood. The al-Batsh family lives there in four or five buildings with two or three stories each.
On Saturday evening, 12 July 2014, I was at home, watching TV coverage of the fighting between Hamas and Israel. Most of my neighbors were at home, too. Others were attending a-Tarawih prayer which marks the end of Ramadan fasting for the day.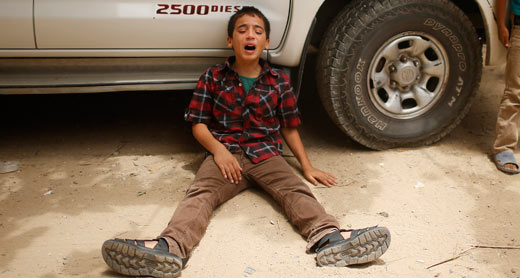 A child from al-Batsh family during the funeral. Photo: Muhammad Salem, Reuters, 13 July 14
At around 10:30 P.M., I heard two loud explosions. They were really close to my house and the whole area shook. There was no warning fire beforehand like there was in other cases. Glass in my house shattered and the whole area was covered in thick smoke. Based on the direction the sound came from, I guessed that an al-Batsh house had been bombed, but I didn't know which one. I made sure everyone in my family was okay and went outside. Everyone was walking towards the al-Batsh houses and I did too.
We got there and saw the results of the bombing. Three houses were very badly damaged. The worst was the house belonging to Majdi Subhi al-Batsh, which was just a pile of rubble. I think that was the target of the bombing. We started searching for survivors. A few minutes later, ambulance teams arrived, as well as civil defense people and municipality officials.
We started carrying the injured people out of the houses. It didn't take long to realize that everyone in Majdi's house was dead – men, women and children. We didn't find a single body in one piece. There were only parts of people scattered everywhere.
The damage to the three houses was huge, and dozens of other houses nearby were damaged too. They had cracked walls, shattered windows and broken doors.
We continued looking for survivors and carrying bodies out all night. We only learned the names of all the people who were killed the next morning. Seventeen people were killed, all from the al-Batsh family. It's a huge tragedy. I can't express it in words. No one in the neighborhood ever imagined that family homes would be attacked for no reason, with no prior warning. Killing entire families is a massive injustice. It's inconceivable and I still can't get my head around it.
I know that residential areas have been attacked in the current war, but the inhabitants were given prior warning and told to leave. That's what happened when my brother's home was bombed three days ago. Someone from the Israeli Shabak [Israel Security Agency] called the family and told them to evacuate the house because it was going to be bombed in ten minutes. Then they shot a warning missile, and the house was bombed about 15 minutes later. The family and neighbors had enough time to get out and no one was hurt.
None of that happened with the al-Batsh family. As far as I know, they were given no warning before the bombing. I asked a lot of neighbors and they all say the same.
Harming innocent people, women and children, is a heinous crime.
Sa'eed Ramadan Sa'eed al-Hadad, 49, a married father of three, lives in a-Tufah neighborhood in Gaza City. He gave his testimony by phone to Iyad Hadad, B'Tselem's field researcher in Ramallah, on 13 July 2014.
The people killed:
Majed Subhi al-Batsh, 50
Amal Hassan al-Batsh, 49
Bahaa Maj al-Batsh, 28
Samah 'Alaa al-Batsh, 20, was 8 months pregnant
Amal Bahaa al-Batsh, 2
Jalal Majed al-Batsh, 26
Manar Majed al-Batsh, 13
Mahmud Majed al-Batsh, 22
Ibrahim Majed al-Batsh, 18
Khaled Majed al-Batsh, 20
Marwa Maj al-Batsh, 25
Nahed Na'im al-Batsh, 41
Anas 'Alaa Subhi al-Batsh, 10
Qusai 'Issam al-Batsh, 12
Muhammad 'Issam al-Batsh, 17
Yihya 'Alaa al-Batsh, 18
'Aziza Yusef al-Batsh, 59
Yazid Ass'ad al-Batsh, 21, died of his wounds on 24 July 2014
Concerning testimonies about the "Protective Edge" campaign:
With the current military campaign ongoing, B'Tselem is taking testimony from Gaza residents, mainly by telephone. B'Tselem verifies, to the best of its ability, the reliability and precision of the information reported; nevertheless, in these circumstances, reports may be incomplete or contain errors. Given the urgency of informing the public about events in Gaza, B'Tselem has decided to publish the information now available. When the military campaign ends, B'Tselem will supplement these reports as needed.