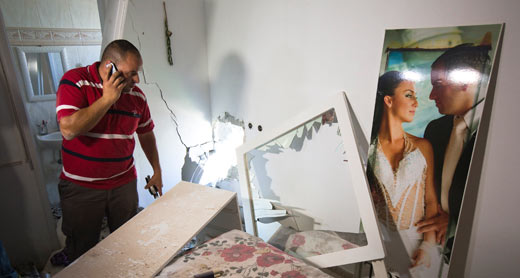 Rocket hit on home, Sderot, 3 July 2014. Photo: Amir Cohen, Reuters
Two Thursdays ago, on 3 July 2014, at about 8:30 in the morning, a rocket hit my neighbor's house. On that day, the house was being used as a small child day care center, as part of a rotation system. There are a few families here that share care for their children on a rotating basis. Each family is responsible for one day a week, and there are five children altogether. After the Color Red Warning, we heard the blast and my wife and I ran outside. We went into the house next door, into the security room, where the children were, to get them out. My wife and I both took one child in each hand and got out. The fifth child was with the care giver. The rocket hit the wall of the house and lodged there, but luckily, it didn't explode, so the damage was relatively minor. I've learned from past experience not to let the kids see the damage the rockets cause, because it can be traumatic, so I waited inside the house with the kids until the bomb squad removed the rocket lodged in the wall, before we went out.
I have four children. The older two are already in university and in the army. My two youngest ones, 13 and 10 years old, are still at home. They were born into the era of Qassam rocket attacks. My house was hit by rockets twice, once 8 years ago and once 6 years ago. The first time, 8 years ago, there was no Color Red Warning. The rocket must have been launched from a low spot so the detectors missed it. It hit the house and all the windows were shattered at once. We were in the security room, so we didn't get hurt. Since the hits on the house, my kids have refused to sleep in their bedrooms, and they'll only sleep in the security room. It's like that every night, not just when there's an escalation. One of them goes regularly to the Hosen Center, for trauma treatment. He sees a therapist who helps him cope with the fear. We try to speak openly with them about the situation and all. I feel that we'll only discover the true mental damage done to Sderot kids many years down the road.
Avi Adaf lives in the town of Sderot. His testimony was taken Yuval Drier Shilo on 14 July 2014 by telephone.