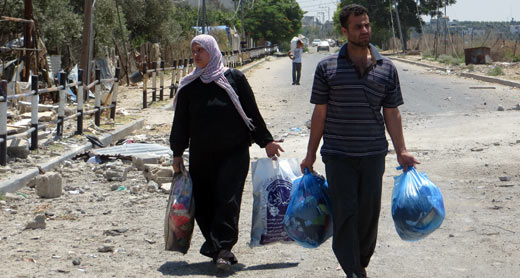 Residents leaving Beit Hanoun by foot during the humanitarian ceasefire. Photo: Muhammad Sabah, B'Tselem, 26 July 2014
My husband and I have five children: Ahmad, 10, Siba, 8, Ne'meh, 5, Fadi, 4, and 'Abd a-Rahman, who is a year and a half old.  My husband, Muhammad Shabat, is a journalist. We live in an apartment building. My husband's brothers and some other relatives live in other apartments in the same building. All in all, we're 60 people, mostly children.
Since the war began, we've been hearing terrible reports of bombings and families and children killed. At first, my husband and his relatives decided that we all stay together at home for the war, and that we face together the difficult times when there are bombings. We decided not to leave our home and not go anywhere else. In the previous war, we had to leave home and we suffered a lot. Ultimately, my husband ended up working round the clock, photographing what was going on, so he wasn't home at all. We stayed at home until today, 19 July 2014, despite the ongoing bombings.
Things are getting progressively worse. There are air strikes as well as shelling from land and sea. Several houses in our area were bombed and people were injured and killed. I can no longer keep up with the names of all the casualties. I feel like my memory isn't working properly. Since the war began, I haven't really been able to sleep. Last night, I didn't manage to sleep at all, not even for a moment.
The children keep screaming and crying because they're afraid. They hold on tight to me. It really upsets me to see them this way. I can't do anything to calm them down and I feel like I could lose them any minute. I cry quietly so they won't notice. It broke my heart to see how 'Abd a-Rahman, who isn't talking yet, reacted when he saw me crying: he laid his head on my chest and kissed my face a few times, as if trying to calm me down. I said to myself, what have my children done wrong? I don't want to stay at home and wait for a missile to land on us and tear our bodies apart. It was a tough decision. Today we decided to leave.
My sister-in-law Maysaa, 32, was very pregnant, and her contractions started. That made things even more stressful. We called an ambulance for her and hoped to be able to travel with her, because that's the safest way to go. Anything that moves becomes a target for bombing, and I wanted to save my children in whatever way I could. But when the ambulance arrived, Maysaa and her children got in and there was no room left for my children and me.
I decided to walk to my sister's house in a-Rimal neighborhood. It was very dangerous. We walked single file, one after another. I carried 'Abd a-Rahman and he held on to me tightly. We walked hugging the walls of buildings and the doors of closed shops, and tried to take cover under trees and light shelters. It felt like we were walking through a ghost town. We were surrounded by death, in every direction. At several points, I recited passages from the Quran and prayed to God that He protect my children and me. I kept walking until we reached the hospital in Beit Hanoun. I met my husband there. I hadn't seen him since the war began, because he was at work all the time.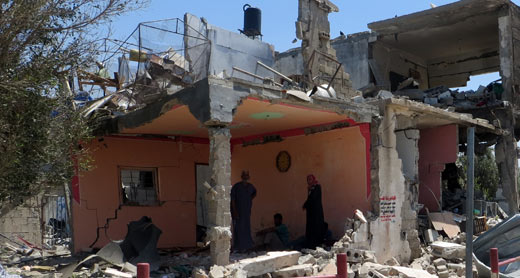 Residents returning to examine the destruction of their house in Beit Hanoun during the humanitarian ceasefire. Photo: Muhamad Sabah, B'Tselem , 26 July 2014 
We took a taxi from there to my sister's house in a-Rimal neighborhood. She was already hosting three other families, relatives of ours who had also fled the bombings. All told, we were 31 people. I was still scared, because no place is safe. Whole families, men, women and children, are getting killed all the time. I sent my two eldest, Ahmad and Siba, to stay with my other sister, who also lives in the same neighborhood, so that if we get bombed they'll be saved. I don't want to lose anyone, but that's the reality we live in.
Although things in a-Rimal are calmer than other places in southern and northern Gaza, we're not far from the bombings. A nearby building was bombed, but I don't yet know what happened there. We follow the news on TV when we have power, and on the radio when the power is out. We don't dare leave the apartment, not even to go over to the next door neighbors. Everyone's hiding in their homes, waiting to see what will happen to them. Nobody is talking. Sometimes people cry. What worries me most of all is my children and my husband, who keeps going into dangerous areas to take photographs. The day before yesterday, the al-Juhara building where he works was bombed. We heard about it on the radio. I was terrified, but he called me a few minutes later and said he'd only gotten a slight injury to his hand, so I calmed down.
I feel like time is standing still, as if it's still the first day of the war. I can't tell the days apart, can't remember what day it is and how many days we have until Ramadan ends and we celebrate 'Id al-Fitr. What kind of celebration will that be, amongst the blood and the ruins?
Suhair Shabat, 36, a married mother of five, lives in Beit Hanoun. Her testimony was taken by phone on 19 July 2014 by Salma a-Deb'i, B'Tselem's field researcher in Nablus.
Concerning testimonies about the "Protective Edge" campaign:
With the current military campaign ongoing, B'Tselem is taking testimony from Gaza residents, mainly by telephone. B'Tselem verifies, to the best of its ability, the reliability and precision of the information reported; nevertheless, in these circumstances, reports may be incomplete or contain errors. Given the urgency of informing the public about events in Gaza, B'Tselem has decided to publish the information now available. When the military campaign ends, B'Tselem will supplement these reports as needed.