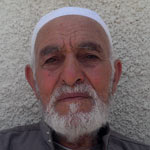 In the evening, especially during Ramadan, we usually sit outside near the entrance to our house. We have two sofas there.
On Tuesday evening, 8 July 2014, I was sitting there as usual with my wife, Rasmiya (62), and my sons and their families: 'Abd al-Hafez (30), his wife, Suha, and their daughter, Nur (5); Mahdi (46) and his children Rakan (2), Kinan (4) and Dina (16); and Ibrahim (22).
We sat and talked. At 11:00 P.M., the power was cut off because the electricity supply runs on rotation. We sat there a while longer and then I got up and called the little ones – Rakan, Nur and Kinan – to come inside with me to get ready for bed. We went in to the house, spread out our mattresses and sat on them for a while. Then Rakan and Nur got up and went to the door leading to the yard. Kinan stayed inside with me.
About three minutes later, I heard a loud explosion. I grabbed Kinan and went out into the street with him. It was full of smoke and dust. I walked on bits of glass. I left Kinan with people in the street and went back into the yard to check on the rest of the family. I found bodies lying on the ground covered in blood, with their clothes torn. Everything was full of shrapnel and blood. Some neighbors came with flashlights. When they lit up the yard, I was shocked – I saw the bodies of my three sons, 'Abd al-Hafez, Mahdi and Ibrahim, my wife, my granddaughter Dina, and my daughter-in-law Suha. The two other little ones, Rakan and Nur, were lightly injured.
I went into shock. The neighbors held me because I couldn't stand. I felt like I was going to faint from the horror of it. The missile fell on my family with no warning. I assume they wanted to hit 'Abd al-Hafez, but what did the rest of the family do wrong? Why did they kill an entire family?
Testimony taken by B'Tselem field researcher Muhammad Sabah on 9 July 2014 at the family's home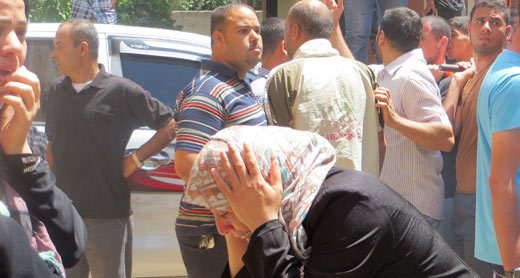 Mourners at the Hamad family home. Photo: Muhammad Sabah, B'Tselem, 9 July 2014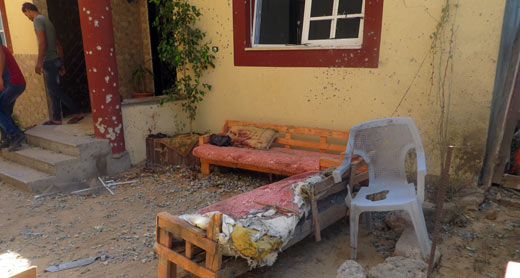 The scene of the incident. Photo: Muhammad Sabah, B'Tselem, 9 July 2014
Concerning testimonies about the "Protective Edge" campaign:
With the current military campaign ongoing, B'Tselem is taking testimony from Gaza residents, mainly by telephone. B'Tselem verifies, to the best of its ability, the reliability and precision of the information reported; nevertheless, in these circumstances, reports may be incomplete or contain errors. Given the urgency of informing the public about events in Gaza, B'Tselem has decided to publish the information now available. When the military campaign ends, B'Tselem will supplement these reports as needed.