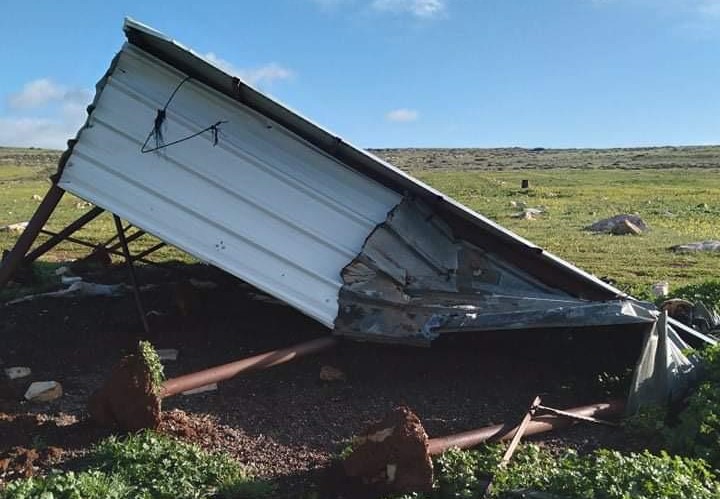 Al-Ka'abneh community, Ramallah District: Settlers try to tow away residential shacks and damage one
On the evening of 12 March 2021, at around 8:00 P.M., residents of the Badu a-Mu'arrajat community noticed several vehicles, apparently belonging to settlers, drive up to the shacks in which the 25 members of the Ka'abneh family live. The settlers towed away one shack, abandoning it in a shambles some way away, and apparently tried unsuccessfully to tow away at least one other. Soldiers stationed at a military outpost in a nearby junction, which has a watchtower overlooking the area, did not intervene.
The shacks are the permanent residence of the Ka'abneh family and lie south of the village of a-Taybah in Ramallah District, about a kilometer from Badu al-Mu'rrajat. The family lives there in summer, and in winter relocates with their flock to a site about two kilometers to the southeast.
The following morning, members of the Ka'abneh family arrived and found the shack destroyed. They notified the Israel Police, but officers arrived only two days later and suggested the family file a complaint at the Binyamin police station.
The family went to the police station twice, but the officers refused to register their complaint, claiming that there was no Arabic-speaking investigator present. 
The settlement of Rimonim was established in 1980 about two kilometers from the community. Several outposts have been put up around the settlement over the years, whose residents graze sheep and cattle in the fields of local Bedouin communities and destroy their crops. In addition, settlers from the outposts harrass local Palestinian residents daily, attacking and threatening them to try and make them leave the area, in order to take over their land. On 14 April 2021, settlers from the outpost harassed three Bedouin brothers who were grazing their flocks in the area and filed false complaints against them. The military unjustifiably detained the brothers for five days, and they were eventually released on a NIS 3,000 bail (~870 USD).
In a testimony he gave B'Tselem field researcher Iyad Hadad, 'Odeh Ka'abneh (36), a married father of six, described his family's situation since settlers took up residence nearby:
We're a Bedouin family of 25. We've been living here for 50 years as shepherds, raising our livestock. We have about 200 sheep, which are our main source of livelihood. In the winter, we move our flock to the Badu a-Mu'arrajat area. The settlement of Rimonim was established about two kilometers away from us.

More than two years ago, settlers set up a farm about two kilometers north of our farm, outside Rimonim's fence. They have about six or seven shacks. Since they came to the area, they've been harassing us to try and make us leave. They drive us out of pastureland and sometimes threaten us with weapons. We filed complaints, but the Israeli police and the military do nothing.

It got to the point where the "Torat Tzedek" organization started sending volunteers to escort us. Last summer, they even lived with us in order to document the setters' aggression. But the documentation and the complaints we've filed didn't help, because the military and the police always back the settlers. They claim we don't have documents proving we own the land, but they don't demand such documents from the settlers. The settlers claim the land is theirs because God gave it to them, that they have a right to live in it and that we should leave. Where will we go? We were here before the settlers and have lived here for several generations.

Now, every year, they take advantage of the period we move to a-Mu'arrajat in winter and leave our shacks here until we return in April.

On Friday evening, 12 March 2021, the Fazza' family – another Bedouin family that lives a kilometer or two from our community – informed us that they'd seen the lights of a vehicle that apparently belongs to settlers, and that they were vandalizing our shacks. We were afraid that if we got there at night, the settlers would hurt us, so we waited until morning.

The following day, I went there with my father and my brothers and an Israeli activist from "Torat Tzedek" to assess the damage. It turned out they'd tried to tow one of the shacks away – they probably wanted to steal it, but failed. We found it lying ruined about 10 meters from where it had stood. It looked like they'd tried to tow another shack and destroy it, too, but were unsuccessful. We called the Israeli police, but the officers only arrived on Sunday morning. They looked at the damage and suggested we file a complaint at the Binyamin police station. My father went there that day and the next day with Arik Asherman to file a complaint, but each time they were told that the complaint couldn't be registered because there were no Arabic-speaking investigators. We dismantled the two shacks and moved them to Badu a-Mu'arrajat, so the settlers wouldn't try to steal them again. I don't know if we'll bring them with us when we go back there in April.

That's how we live now. They don't leave us alone for a single day and don't let us live in peace. The Israeli military and police don't protect us, and even if we defend ourselves, they'll arrest and prosecute us. We don't know who to turn to and are even thinking about abandoning the community, because we're afraid they'll hurt us. These people have no mercy and no God. Our situation is unbearable. Only God knows what we're going through.