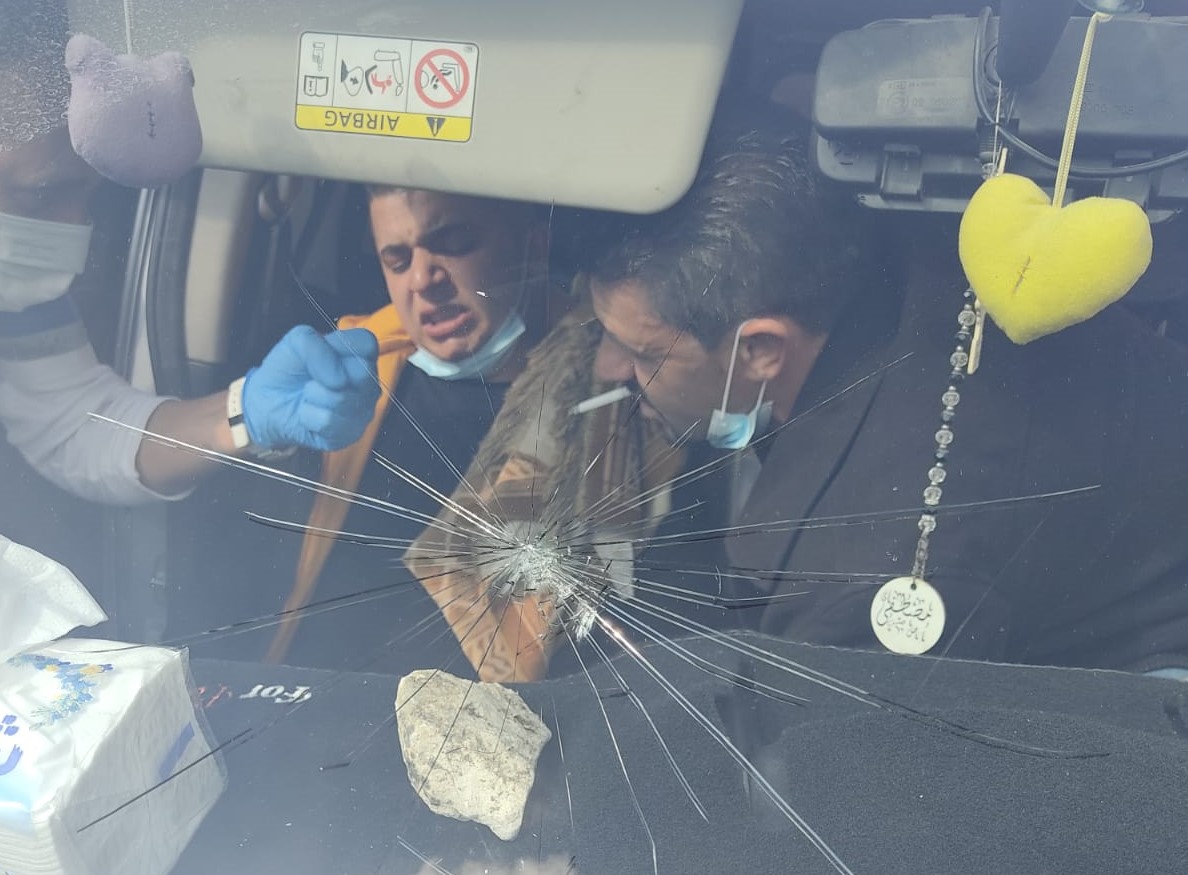 Huwarah Junction, Nablus District: Settlers stop Palestinian car and violently assault passengers, then move on to nearest intersection and stone other cars
On Monday afternoon, 23 November 2020, Yusef Mar'i (25) from Tell was driving towards the Huwarah intersection on his way to Ramallah. With him were his friend Mustafa Ramadan (44) in the passenger seat and another friend in the backseat. When the car was about 500 meters from the intersection, settlers got out of three vehicles parked by the roadside, started stoning the car and tried to assault the passengers. They smashed the windshield, a headlight and the window on the driver's side. One of the stones hit Mar'i in the shoulder.  
Mar'i managed to drive on for about 50 meters and then stopped, and Ramadan replaced him at the wheel. They continued towards the Huwarah intersection, where they saw police officers dealing with a car accident. Mar'i told the officers what had happened, and they asked paramedics there to treat Mar'I's shoulder. Then a Red Crescent ambulance took him to Rafidia Hospital in Nablus. The friend who was sitting in the backseat went with him. The police officers suggested that Mustafa Ramadan, who stayed in the car, file a complaint at the Ariel police station, but he saw no point in doing so.
Meanwhile, the assailants also arrived at the scene of the accident and started throwing stones at Palestinian cars waiting in the traffic jam. Soldiers arrived and held them back.
Ramadan went to Rafidia Hospital and joined his friends. After they were checked and given first aid, the three went home. Repairing the damaged car cost 1,200 shekels (~375 USD).
In a testimony he gave B'Tselem field researcher Salma a-Deb'i, Yusef Mar'i described the attack:
I was driving to Ramallah with two friends. When we neared the Huwarah intersection, I saw three or four cars with Israeli license plates parked on the left side of the road. When we were about 15 or 20 meters from them, a kid who looked 15 at most suddenly emerged between them with a stone in each hand. He threw the stones at our car and came round in front of it.

I was driving slowly, no more than 50 kilometers an hour, but had to stop so I wouldn't run him over. Then, more than 15 settlers got out of the other cars and started throwing stones at us. One stone hit the windshield and cracked it, and another shattered my window and hit me in the shoulder.

I tried to reverse the car, but another settler's car stopped behind me and four or five settlers got out. I tried to get out to defend myself, but one of the settlers slammed the door shut, grabbed me by the neck through the window and started shoving me. Other settlers tried to open the back door.

I felt dizzy. I could barely take it. They were acting like wild animals. I felt we'd fallen into a trap. They were screaming and swearing and ordered us, in Hebrew and Arabic, to get out of the car.

I barely managed to restart the car. I drove quickly and the settlers drew back a little. After driving for several hundred meters, I stopped again because I couldn't drive anymore. I asked Mustafa to take the wheel. Meanwhile, the settlers started running towards us.
Mustafa Ramadan, a father of two from Tell, described what happened after he started driving:
I drove on for about 200 meters and when we neared the Yitzhar/Huwarah square, we saw two Israeli cars that had been in an accident. There were a police car and an ambulance there.

I drove up to them and told an officer that settlers had attacked us and that one of us was injured. He motioned us to stop and called one of the paramedics over. The paramedic tried to calm Yusef down. He was exhausted and had cramps in the left side of his body, his arm and his leg. I was worried about him. Then a Red Crescent ambulance came and took him to hospital.

Meanwhile, the settlers arrived and started throwing stones at Palestinian cars that had stopped because of the accident. They did it in front of police officers and soldiers, and hit several cars.

I stayed in the car until the settlers moved away. The officers asked my friend and me for our details and took down our account of what happened. They asked the three of us to go to the Ariel police station to file a complaint, but we didn't because we saw no point.

I went to hospital to check on my friends, and later we all went home. A few days later, I took the car to be repaired. It cost us 1,200 shekels: the windshield, the window on the driver's side, a headlight and paint and shield repairs where the stones left marks.