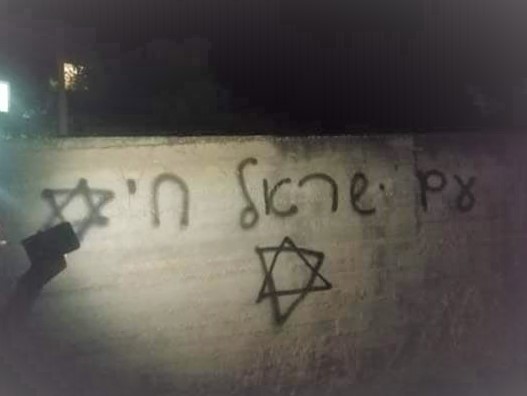 Zeita (Jamma'in), Nablus District: Settlers torch heart patient's car and spray "Israel lives" on his wall
The Hanash family live in the northern section of Zeita. It's a rough walk from their home to the center of the village, especially if you have a heart condition. The settlers who sought to damage this remote property must have had easier access: They came, did their damage and left without anyone noticing them or holding them accountable.
It was a Thursday night, 11 June 2020, around 1:00 A.M. Muhammad Hanash (18) discovered that the family's car was ablaze and called for help. When they went outside, the family found that apart from burning their car, the settlers had also sprayed "Israel lives" ("Am Yisrael Chai") on one of their walls.
Rashid Hanash (48), Muhammad's father, reported the incident to the village council and to the Palestinian police. The latter informed him they could not come, since the Palestinian Authority has stopped its security coordination with Israel.
In a testimony he gave B'Tselem field researcher Salma a-Deb'i, Rashid Hanash recounted:
I saw the front part of the car on fire. We tried to put out the flames with water. Some neighbors came to help us.

Since we put out the fire, I've been sitting by the car in disbelief. I paid 95,000 shekels (~27,500 USD) for it and the insurance doesn't cover damage by settlers. I've had open-heart surgery and rely on the car to go into Nablus for treatment. It's hard to even reach the center of the village without a car, because our house is so far away. I don't know what I'm going to do now.

I don't have the means to buy another car.
The residents of a-Sawiyah, another village in the district, encountered the same slogan, "Israel lives", and similar damage to their cars. Residents of the northern neighborhood awoke to a similar scene on Monday morning, 8 June 2020, when they found the tires of ten cars slashed. A nearby security camera captured a settler slashing a tire and walking away.  
The settlement of Rehelim was established in 1991 about two kilometers away from the neighborhood.