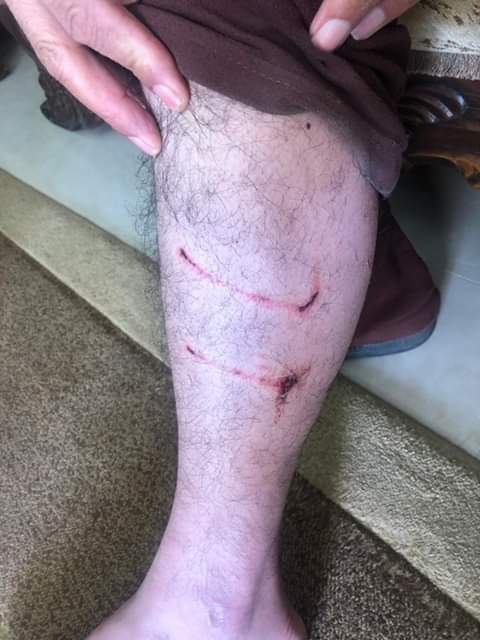 A-Shuyukh, Habron District: Settlers try to establish "mini-outpost" on farmland and violently drive Palestinians from their land
In another attempt to establish "facts on the ground", settlers piled building materials on a plot of land belonging to the Hlaiqah family, set up a tent and stuck rods in the ground in preparation for a fence. On Monday morning, 6 April 2020, around 11:30 A.M., the family learned of the takeover attempt when they found the equipment. The 350-dunam plot [1 dunam = 1,000 sq. meters] lies on the outskirts of a-Shuyukh, a Palestinian town not far from Hebron. 
In 1983, the settlement of Asfar was established east of the town. 
The family called about 50 relatives and other residents, who helped them uproot the rods and burn the tent. A few minutes later, about five settlers headed towards them, some bearing firearms and others tasers or pepper spray. The settlers, who had two dogs with them, shouted at the residents and tried to drive them away. When their demands were refused, one of them knocked Isma'il Hlaiqah (52) to the ground and one of the dogs bit him in the leg. 
A few minutes later, another 15 or so settlers arrived, also carrying electroshock weapon and pepper spray, along with three dogs. The settlers set their dogs on the residents and a confrontation ensued with mutual stone-throwing. One settler attacked Nabil al-Mashani (41) and stunned him with a taser. 
In a testimony he gave to B'Tselem field researcher Manal al-Ja'bari, al-Mashani recounted what happened:
Before we managed to speak with them, they set the dogs on us. One of the settlers knocked Isma'il down. Then a dog bit him in the leg and he bled. I started hitting the dog to defend Isma'il and one of the settlers tased me in the chest. 
After about half an hour of confrontation, some 20 soldiers arrived from the direction of Asfar. They started firing stun grenades and tear-gas canisters at residents and demanding they leave. The residents, some of whom were suffering from inhaling the gas, complied and continued to watch the plot from about one kilometer away. 
Hlaiqah was rushed in a private car to the "Riham Dawabsheh" Governmental Hospital, where his leg was treated. He was later transferred to a medical clinic in Halhul and given a rabies shot. 
The settlers and soldiers left the area and the residents returned home.