Red Line?
On Tuesday, 10 March 2020, two residents of Turmusaya – Musa Abu 'Awwad and his Son-in-law, Tareq a-Rifa'i – were driving on a dirt road that leads to their village. Tareq's two-year-old twins, Adam and Nur, were in the car with them. When they were not far from the outpost of Adei Ad, three settlers drove up behind them on motorcycles, overtook the car and blocked their way. 
The settlers dismounted and approached the car, yelling in Hebrew and Arabic: "Why are you here? What are you doing here? We'll shoot you and your children!" They demanded to see the passengers' ID cards and, after a verbal exchange, Abu 'Awwad and a-Rifa'i handed them over. When they tried to get the cards back, the settlers were slow to return them and a loud altercation ensued, waking the twins, who began crying. 
At that point, the incident escalated quickly. One settler put his hands out to pull Adam out of the back seat. After pushing and shoving, Abu 'Awwad and a-Rifa'i managed to release him from his  hands and get back into the car.
A-Rifa'i turned the key to start the car and flee, at which point one of the settlers broke the back window of the car with the butt of his rifle. 
As they drove away, the passengers saw the settlers return to the outpost of Adei Ad. 

Tareq a-Rifa'i described what he, his father-in-law and his sons went through on that difficult day in a testimony he gave B'Tselem field researcher Iyad Hadad:
After the assault, the kids were scared and upset. They couldn't sleep that night. I couldn't sleep either. I stayed up, unsettled, thinking about the incident. I had terrifying thoughts. 
 
After I filed a complaint, an officer from the Israeli DCO contacted me and asked me about the incident. It was a conference call with a representative from the Palestinian DCO, and after I described what had happened, the officer said: "This act is unacceptable and shameful. Trying to hurt children is crossing a red line and can't be tolerated". Then he said: "We hope there won't be any retaliation from your side..." 

The officer promised me the incident would be investigated and asked me to file a complaint at the Israel Police station in Binyamin. I told him we weren't troublemakers and that my children have American citizenship. I said: "These settlers are first of all harming you and your reputation, because they act like robbers and gangsters." He said: "Yes... That's the 'hill-top youth'. Lawbreakers! We're after them, and I promise you we'll take care of it".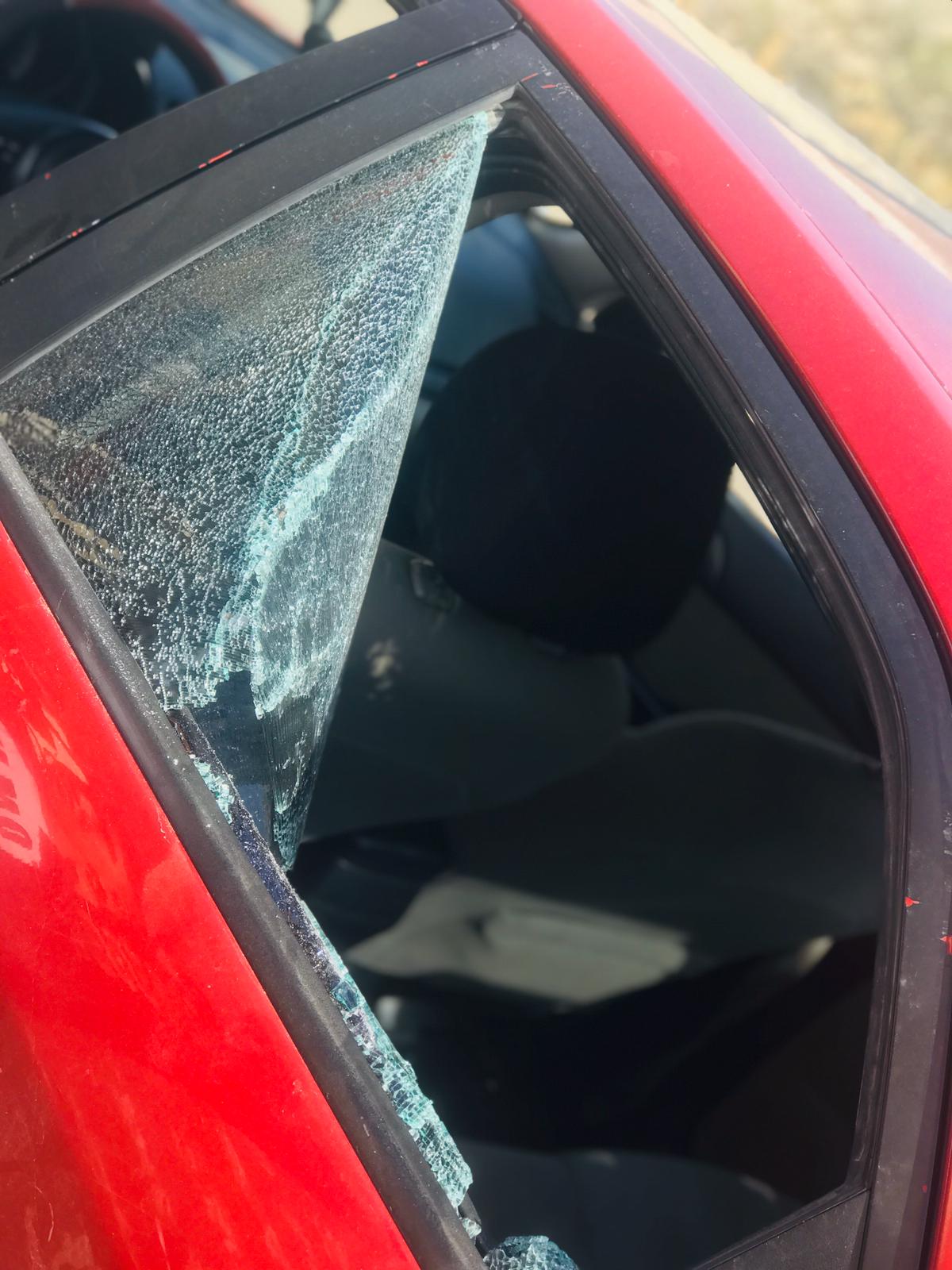 10 March 2020, Turmusaya, settlers detain Palestinian car, threaten passengers, attempt to abduct a toddler and break car window with rifle butt.
Burin: Settlers attack home; soldiers protect them and fire tear gas at residents
Some 10 settlers, accompanied by about five soldiers, damaged a house under construction owned by Muntasser Mansur, on the eastern side of the village. The settlers vandalized three exterior walls of the house, broke sewage pipes and scattered cement sacks - all under the protection of soldiers, who fired tear-gas canisters at residents trying to protect the house. The damage caused by the settlers was estimated at 2,000 NIS (~560 USD).
 Mansur's house has been attacked and damaged by settlers several times. The Civil Administration has tried to prevent Mansur from building it and has given him several stop-work injunctions, although the house lies in Area B, where the Palestinian Authority holds planning jurisdiction and has given Mansur a building permit.
Burin, Nablus District, 10 March 2020: Settlers attack home; soldiers protect them and fire tear gas at residents.