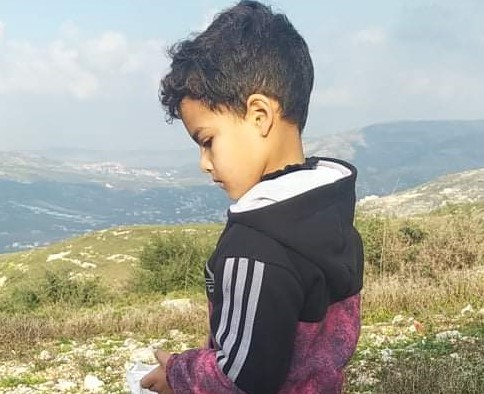 Al-Fandaqumiyah, Jenin District: Settlers violently attack Palestinian women picking herbs with 4-year-old
On 10 February 2021, at around 2:00 P.M., S.R. set out to pick wild herbs along with her four-year-old son and her sister-in-law, Sh.R.
 At around 3:30 P.M., dozens of settlers came to the area where the women were picking the herbs. About 10 of them approached the women and began attacking them with stones and clubs. The settlers forcefully removed one of the women's headscarves and attacked her until she fell down. The settlers left about 15 minutes later, stealing the herbs the women had gathered.
 
The injured women walked home, about a kilometer away. They were taken to the village clinic, where their bruises was examined and they were discharged.
In a testimony she gave B'Tselem field researchers, S.R recounted the attack:
At around 2:00 P.M., I went with my sister-in-law and my four-year-old son, who's on the autistic spectrum, to a hill near our neighborhood. I wanted to gather wild herbs such as Arum, Za'atar (Hyssop) and Cyclamen leaves we use for cooking.

About an hour and a half later, we saw about 40 settlers climbing the hill. Most of them were holding sticks or stones. They shouted at us and threw stones at us. Then about 10 settlers with shirts wrapped around their faces came over and started beating us with sticks. I was hit in the arm and the left thigh and fell down, but got up very quickly because I was worried about my son, who was scared and had started screaming.  

When I got up, there were four settlers around me. They all hit me with their sticks and kicked me, but they didn't attack my son. I started calling for help in the hope someone would hear me.

At the same time, several settlers attacked my sister-in-law. I saw them take off her headscarf and try to strangle her with it while they hit her with sticks. She fell over and almost fainted.

After the settlers left, my sister-in-law barely managed to get up. She had bruises all over her body from the merciless beating by the barbaric settlers. My sister-in-law, my son and I went back home. My sister-in-law was barefoot because her shoe straps were torn when the settlers attacked her.
The settlement of Homesh was established near al-Fandaqumiyah in 1980. The settlement was evacuated in 2005 and a yeshiva now operates on the site.