"Go to Abbas, let him compensate you!"
A story that begins with a stolen donkey, continues with stones thrown at its owner, and ends with the DCO's disdainful refusal to pay compensation and even accept a complaint against the settlers.
In early January 2020, Ahmad Abu Diya, 24, a shepherd from the village of a-Lubban a-Sharqiyah, led his flock of sheep to graze in the area of Wadi Yasuf, near which the settlement of Rehelim was established. He tied the donkey and grazed the sheep close by. Suddenly, he noticed 10 settlers untying the rope and taking the donkey towards the settlement. As he couldn't leave the sheep, he stayed put. The next day, Abu Diya went to Rehelim to get his donkey back. Since the military forbids Palestinians to enter settlements, Abu Diya lodged his complaint with the guard at the entrance to the settlement, who replied he would check the matter and get back to him.
A month passed. On 4 February, Abu Diya noticed his donkey standing by a tent erected by settlers between his village, a-Lubban a-Sharqiyah, and the village of a-Sawiyah. Together with his friend, Jihad 'Awaisa, Abu Diya went to the settlement to try once again to get his donkey back. The guards sent the two to wait in 'Awaisa's car, at the entrance to the settlement. While they were waiting, four settlers suddenly appeared and threw stones at the car. The windscreen shattered and other stones hit the chassis. 
The two friends fled and drove to the police station at the settlement of Ariel to file a complaint. After waiting two hours there, they were referred to the Israeli DCO to file a complaint and receive compensation for the damage. And the DCO? The officials there didn't understand what the problem was and suggested 'Awaisa complain to Mahmoud Abbas: "Why", asked a police officer disparagingly, "does Abbas compensate me if you damage my car?".
Abu Diya did not get his donkey back. 'Awaisa paid 700 shekels to replace his windscreen, but the body of the car remains damaged. So does his pride.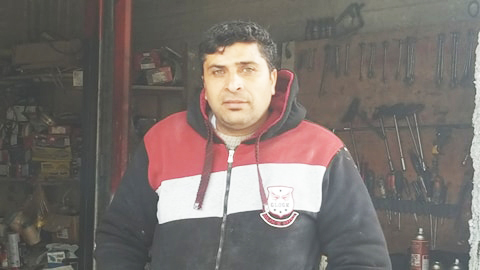 A-Lubban a-Sharqiyah, 4 February 2020: Settlers steal donkey and damage Palestinian car.