On Thursday evening, 3 September 2020, dozens of settlers blocked a lane on Route 60 near the turnoff to the settlement of Eli. They threw stones at passing Palestinian cars and tried to block their way. Some of the stones hit passengers or the cars.
According to testimonies given by B'Tselem, soldiers were present in the area and came to the spot at least twice, yet did nothing to protect the passengers or stop the settlers from throwing stones. In at least one case, the Israel Police was notified but did not arrive.
This is no exception. It is part of routine, daily conduct by Israeli settlers and security forces in the West Bank that has been going on for many years. Israel's policy enables these acts of violence towards Palestinians, even when they result in predictable injury to life and limb, as well as damage to property. In this case, too, although the Israeli authorities knew that settlers were throwing stones at Palestinians on a major highway, they chose not to intervene.
The attacks went on for several hours. The following testimonies were given to B'Tselem field researchers from some of the victims, who were injured at different times.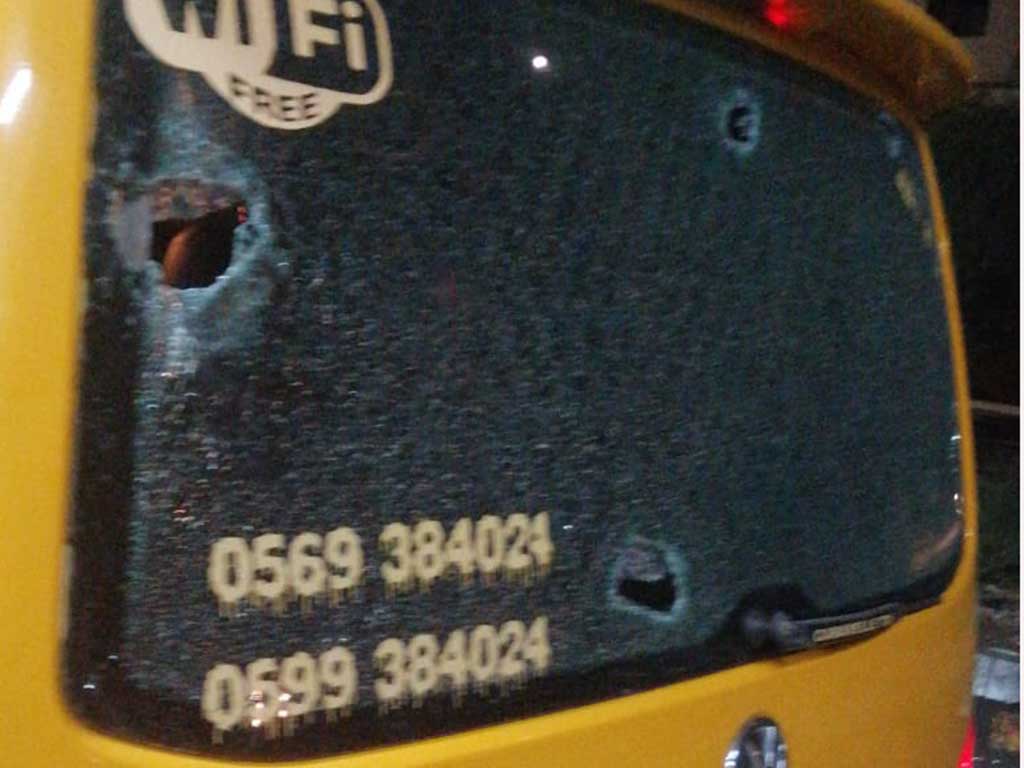 6:00 P.M.: Zuhair Abu 'Ali's taxi attacked
At around 6:00 P.M., taxi driver Zuhair Abu 'Ali was driving along Route 60 with seven passengers who were travelling from Ramallah to Tubas. When he drew near the spot, Abu 'Ali saw dozens of settlers blocking the road and a settlement security car nearby. Abu 'Ali and other drivers tried to keep going but were attacked by stones. The taxi's rear window was shattered, but Abu 'Ali managed to drive away.
In a testimony he gave B'Tselem field researcher 'Aref Daraghmeh on 14 September 2020, Zuhair Abu 'Ali (47), a resident of Tayasir, recounted:
Military jeep and soldiers near Zuhair Abu 'Ali's taxi on the day of the incident. Photo courtesy of the witness.

When I was on the main road near the settlements of Shilo and Eli, next to a-Lubban a-Sharqiyah, I saw that settlers were blocking one lane. There was a settlement security car next to them. Lots of settlers were there, I don't know exactly how many. There were a lot of cars ahead of me. Suddenly, a few settlers approached my taxi. I tried to turn around and get out of there, like other drivers, but it created a traffic jam because everyone was trying to make a U-turn in the middle of the road. The settlers started throwing stones at the cars and several were hit.

It was terrifying. Everybody just wanted to get away from there in one piece. Later, I saw military and police jeeps arrive and try to drive the settlers away. The military took photos of some of the damaged cars.

My rear window was smashed, and some glass shards flew in. There were some scratches and other damage to the car frame. Luckily, none of my passengers were injured. I drove them to Tubas and then headed home. I was exhausted and thanked God for getting me home safely. The repairs cost me over 2,000 shekels (~590 USD).

Like other taxi drivers, to support my family I have to set out early and sometimes only get home at night. This isn't the first time I've seen settlers attack cars, and it's very dangerous.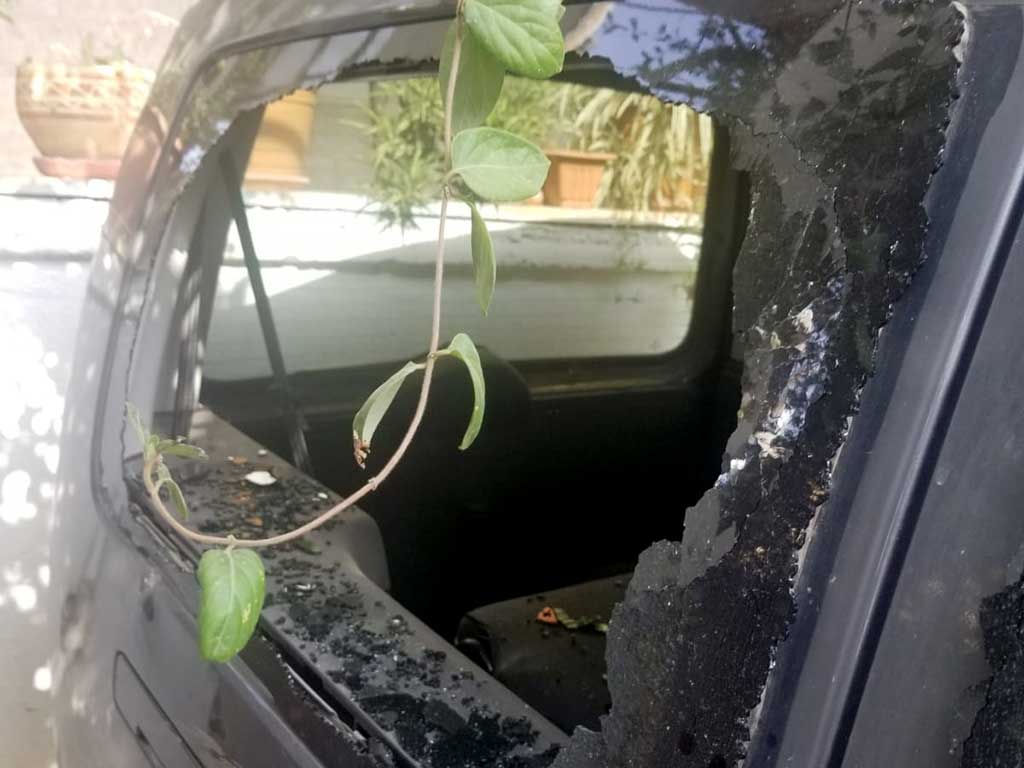 8:30 P.M.: Hamayel family car attacked and three members injured
At around 8:30 P.M., members of the Hamayel family — 'Abir Snobar (22), her husband Saleh (24), and her in-laws Musa and Intisar (both 49) — were making their way home to the village of Turmusaya in Ramallah District after visiting 'Abir's parents in the village of Yatma, near Nablus. 'Abir was nine months pregnant and it was the couple's first visit to her parents after a two-year stay in the U.S.
When the family drew near Eli, they saw two civilian vehicles blocking the highway and dozens of settlers protesting nearby. When Musa Hamayel tried to drive around them, they started throwing stones. He accelerated to try and get away but the settlers, who were spread out along some 30 meters of the road, continued to stone the car, smashing the windshield and side windows. 'Abir, who was hit in the head, started bleeding and suffering abdominal cramping. Salah and his mother, Intisar, were injured lightly by broken glass. The car frame was also damaged.
Musa drove to the clinic in Turmusaya. From there, 'Abir, Saleh and Intisar were taken to the Mujama Falastin Medical Center in Ramallah. When Musa set out to follow the ambulance, he encountered a military jeep and a security vehicle from the settlement. He reported the attack to the soldiers. Police officers later came to his village, took his testimony and photographed the car. They advised him to file a complaint at the Binyamin police station, which he did the next day.
At the hospital, 'Abir underwent tests, an X-ray and an ultrasound. The doctors sutured the wound and bandaged her head, and removed glass shards from Intisar's eye and Saleh's ear. The family returned home in the early morning.
In a testimony she gave B'Tselem field researcher Iyad Hadad on 6 September 2020, 'Abir Snobar (Hamayel) described the attack on the family's car:
'Abir Snobar's bandaged head after the incident. Photo courtesy of the family.

On Thursday night, 3 September 2020, at around 8:30 P.M., we were on the way home from my parents in the village of Yatma. As we neared the turnoff to the settlement of Eli, I saw two cars with Israeli license plates parked in the right lane, which we were driving in. We kept going until we got close to them. At first, I thought it was a car accident.

My husband Saleh and I were sitting in the backseat. I was on the left side and he was on the right. My father-in-law, Musa, who was driving, slowed down. As we got closer, we understood that the road was being intentionally blocked by about 40 settlers spread out on both sides of the road. Some of them were wearing masks and black clothes. They were holding signs, but I don't know what they were protesting about.

We were scared. My mother-in-law said to her husband, "Get out, go around them. Don't stop, they'll kill us!" As soon as my father-in-law started driving around the two cars blocking the traffic, our car was hit by a hail of stones. They hit us on all four sides. We panicked.

I'm nine months pregnant and I was terrified. I tried to duck down and hide as much as I could, but it was hard with my big belly. Within seconds, a stone came through the right window and hit me in the head. It was big, the size of an orange, and landed next to me. I screamed, "My head! My head!" My husband saw I was bleeding badly. He took his shirt off and wrapped it around my head.

They kept on throwing stones at us for about 30 meters, until we got through the stretch of road where the settlers were standing, and then it was over. It looked like every single one of them was holding stones to throw at us. As soon as we got away, my father-in-law phoned friends from the village and asked them to call an ambulance.

I was really shaken, and I think it made my blood pressure drop. I felt cramps in my stomach and was shaking all over. I burst into tears because I was afraid for my baby and started screaming for someone to call an ambulance. My husband tried to calm me down.

A few minutes later, we reached the medical clinic in Turmusaya. We waited for about 20 minutes until the ambulance came and took my husband, my mother-in-law and me to the Mujama Falastin Medical Center, where I was examined, X-rayed and given an ultrasound. There was a gash in my head about five centimeters long and it needed nine stitches.

Ever since, I've felt really bad. I'm stressed and anxious all the time. I'm really scared of leaving the village. The attack happened just after I came out of self-isolation at home after visiting America with my husband and in-laws. The visit to my parents in Yatma was our first outing. We wanted to see them after two years of being away and missing them a lot. The settlers' brutal attack destroyed our peace of mind and deprived us of our most basic right: to move around freely and travel safely.
In a testimony he gave B'Tselem field researcher Iyad Hadad on 5 September 2020, Musa Hamayel, 'Abir's father-in-law, described the consequences of the settlers' attack on his family:
Shattered glass in Hamayel family's car. Photo courtesy of the family.

The day after the attack, at around 2:00 P.M., I drove to the Binyamin police station to file a complaint. An investigator took my statement and then asked me, "If we call you in to show you pictures of suspects, could you identify the attackers?" I told him, "Let's not kid each other. If you really wanted to arrest them, you could do it without a lineup and without pretending. Honestly, I'm telling you there's no point in filing a complaint with you." The investigator asked me why I'd to file a complaint, and I answered, "Because it's my right, and I want the attack to be documented, even if nothing comes of your investigations." Then I left the station.

All of the car's windows were smashed except for the rear window. The frame was also damaged on all sides. I found eight stones inside the car, some of them as big as an orange. The repairs could cost more than 3,000 shekels (~885 USD), and the insurance doesn't cover damage from incidents like this.

But the money isn't the issue here. It's concern for my family's safety, and the fear and anguish the attack caused us. We never expected anything like this to happen. We were saved only by the grace of God. None of us were seriously injured, and most importantly, my daughter-in-law, who's about to give birth, is safe and sound.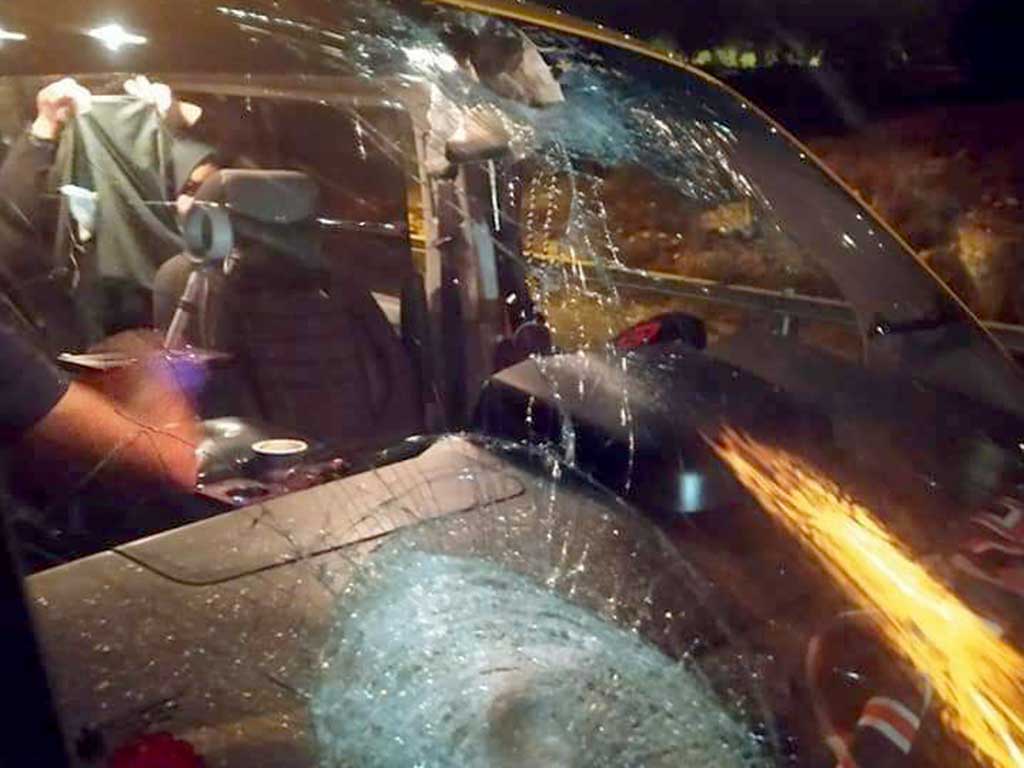 9:30 P.M: Hatem Saleh's taxi attacked
An hour after the attack on the Hamayel family, about ten settlers stoned Hatem Saleh's taxi and its passengers at the same spot. The windshield and one of the side windows were shattered but no one was injured.
In a testimony he gave B'Tselem field researcher Salma a-Deb'i on 6 September 2020, Hatem Saleh (28), a taxi driver from the village of a-Sawiyah, recounted:
At around 9:30 P.M., I was driving passengers from Nablus to Ramallah. When I was about 20 meters from the turnoff to Eli, I saw about 10 to 12 settlers, most of them young guys about 17 to 25 years old. Suddenly, they started throwing stones at my taxi.

A stone hit the windshield. It was so loud, it sounded like an explosion. The glass shattered. I didn't know what to do, so I kept driving for about 100 meters and then pulled over to check the car. There were small pieces of glass all over my hair, face and shirt. I asked the passengers if they were okay and if anybody had been hit, and they said they were fine.

I didn't know what to do. I was furious. I parked my taxi in the middle of the road, sideways, and blocked the traffic so that no one, neither Palestinian or Israeli, could get past in either direction. I didn't want any more cars to get hit. The drivers could see the stone still stuck in my windshield.

About 15 minutes later, a military jeep arrived, and soldiers got out and asked me why I was blocking traffic. I said to one of them, "Do you see what happened?" He called an ambulance and about 10 minutes later two ambulances arrived, one Israeli and the other Palestinian. Their crews didn't do anything because none of us were injured. Settlers who drove up spoke angrily with the soldiers because they didn't want to wait, so I moved the car to the side of the road. I insisted on calling the police, but they didn't show up.

About half an hour later, my passengers and I decided to leave because the police hadn't arrived and the situation was becoming dangerous. I was scared the settlers would attack me for blocking the road, and my passengers wanted to get home. So I swept the glass off the dashboard and the front seats and drove away. I took my passengers to their destination and went home.

Nobody compensates us for damage by settlers. A few years ago, settlers attacked me at the roundabout near Yitzhar. They broke my windshield and nobody compensated me, even though I have comprehensive insurance. No one compensates us for this kind of damage.