On 22 April 2017, settlers from Yizhar and its satellite outposts descended on the Palestinian village of Urif and threw stones at homes and cars. Later that day, a group of settlers also arrived at the northwestern outskirts of the town of Huwarah, which is flanked by these settlements on the west, and by the settlement of Tapuah from the south. The settlers assaulted people and homes in the area with sticks and stones.  
Badi'a 'Odeh, 68, was grazing her sheep in a plot of land near her daughter's house at around 5:00 P.M. The outpost of Mitzpeh Yitzhar was built near the home. Her son-in-law, Muhammad 'Odeh, came out of the house and started walking toward her, when suddenly, some seven settlers appeared.
In the testimony she gave to B'Tselem field researcher Salma a-Deb'i on 11 May 2017, Badi'a 'Odeh recounted:
I saw my son-in-law Muhammad approaching, and suddenly I saw seven or eight masked settlers a few meters away from me. Some of them ran toward me, and before I knew what was going on, they had surrounded me on all sides. I didn't know what to do. I covered my head with my arms and just succumbed to my fate. They picked up stones and threw them at me. I felt a hard blow next to my right ear, and then I lost consciousness.
In his own testimony, given to B'Tselem field researcher Salma a-Deb'i on 1 May 2017, Badi'a's son-in-law, Muhammad 'Odeh, said:
When the settlers caught sight of me, they started throwing stones at me, too. I shouted at them and threw stones back at them to defend myself. While this was happening, I shouted to my mother-in-law to get out of there fast. I could hear my daughters, who are 15 and 17 years old, screaming from the house and I saw settlers on the roof of the sheep pen next door. They were throwing stones. I was afraid they would go into our house… I kept throwing stones at the settlers, until they moved off and went to throw stones at the neighboring house. I went over to my mother-in-law, and then settlers suddenly showed up again, and I got hit by a stone in the right arm. In the meantime, some relatives and friends came from Huwarah. My daughters must have called them. Some soldiers came, too. When they went up to our house, the settlers backed away. 

I went over to my mother-in-law with a few guys. She was lying on the ground, unconscious. Her face was covered in blood. I called for help, and some more guys came and tried to take care of her until the ambulance came 15 minutes later.
Hadil 'Odeh, 17, spoke about the incident in a testimony she gave to B'Tselem field researcher Salma a-Deb'i on 23 April 2017:
I was doing homework in my room when I heard my father shout. I went outside and saw my dad waving a stick and about ten settlers throwing stones at him. I cried for help… In the meantime, the settlers managed to climb up onto our roof, which has a lower part in the back, and on the roof of the shed that's right next to it. I was very scared. Our neighbor came out, started throwing stones at the settlers and unleashed his guard dog to drive them off. I called people from the town to come and help. In the meantime, I saw about eight or ten settlers going up to my grandmother. They threw stones at her and the stones hit her. She fell down. I started crying and screaming: "Grandma! Grandma! Save Grandma!" I was crying. I didn't know what to do.

I went inside and found my 15-year-old sister crying with fear. I heard shouting and went outside again. There were a lot of people from the town there, standing around my uncle Ahmad, who was lying on the ground. In the meantime, some military jeeps came and the settlers backed away. 

When the ambulance came, I stood in the doorway and watched them pick up my grandmother, who was unconscious. Her clothes were bloody. In the meantime, my mother and sisters and brother came home from a wedding they'd been to in the village. The ambulance took off and my father and uncle went to the infirmary. 

Later, some relatives came over, but then they all went home and we were left on our own. We were scared, because our room and our parents' room are both on the side that faces the settlement and all the windows are low down. Any stone or flammable material could easily be thrown in. We were afraid the same thing that happened to the Dawabsheh family would happen to us, so we all stayed in the living room until 4:30 A.M. We woke up so late the next day that there was no point going to school. I also had not done my homework, which is a problem for me, because I'm in grade 12 sciences and I have exams.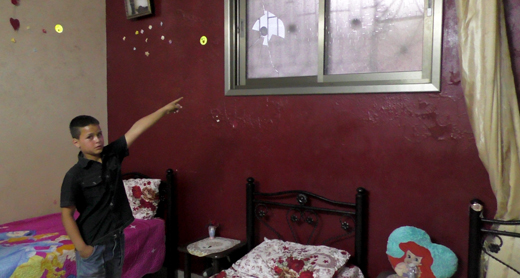 Yusef 'Odeh, Hadil's brother, showing the glass shattered in their bedroom by settlers. Photo by Salma a-Deb'i, B'Tselem, 22 April 2017 

Window shattered by settlers in neighboring house. Photo by Salma a-Deb'i, B'Tselem, 22 April 2017
Muhammad 'Odeh, who was wounded in the arm, and his brother Ahmad 'Odeh (40), who was wounded in the head by a stone, went to the village infirmary for treatment. That same evening, Israel Police officers arrived at the family's home and took a statement from the father, Muhammad. They also took photos of the house and the broken window, and collected the headscarf that Badi'a had been wearing when she was attacked.
Badi'a 'Odeh, who was taken to Rafidya Hospital in Nablus, said in her testimony: 
I woke up only the next day, at the ICU in the hospital. I had a terrible headache and I felt very dizzy. I felt like everything around me was spinning. I was kept in hospital for three days because of a concussion, and now I'm home but under monitoring because I haven't quite recovered and I get dizzy.

Badi'a 'Odeh in hospital. Photo by Salma a-Deb'i, B'Tselem, 22 April '17
The security forces that arrived on the scene did not arrest any of the settlers involved in the attack, and let them leave the area as if nothing had happened. Based on past experience, it is safe to assume that the police will not take any measures against the individuals involved in the incident, who will be able to continue their violent conduct. The inaction on the part of the Israeli authorities in this case is part of their longstanding policy throughout the West Bank of allowing settlers to harm Palestinians without then being held to account. These acts of violence and intimidation are a type of privatization of force which serves to further entrench Israel's control without official action on the part of the state. Israel allows these acts to continue almost entirely unabated because they help further its agenda in the West Bank, which includes taking over more land.