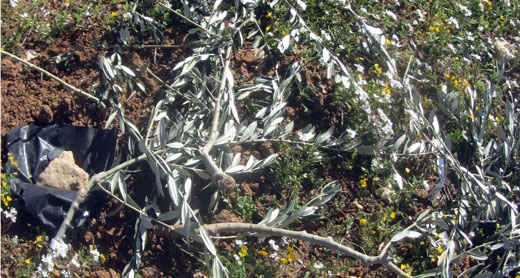 An uprooted olive seedling. Photo: Nasser Nawaj'ah, B'Tselem, 26 Feb. 2015
In the past two months vandals destroyed Palestinian olive groves in four locations in the South Hebron Hills, near the settlements Susiya and Mitzpe Yair. All incidents occurred only several hundred meters apart, under the nose of the police and military, who appear to have not lifted a finger to stop this rampage.
Some of the incidents took place right by Route 317, where military vehicles routinely patrol. Land owners all submitted police complaints. The police arrived at the scene and ostensibly launched an investigation, but to the best of B'Tselem's knowledge no suspects were detained. Investigations launched into similar incidents in the past did not lead to any meaningful law enforcement. The vandalizing of olive trees hurts Palestinian framers whose livelihood is already limited by military restrictions on access to their land on which settlements and outposts have been built in the area.
Documentation:
9 Jan. 2015: Aftermath of around 30 grown olive trees vandalized in the Qawawis area. Later that day, around 100 seedlings were discovered uprooted in a nearby plot.
20 Feb. 2015:
20.2.2015: at least 24 vandalized olive trees were discovered by Route 317, and another 12 in a nearby plot.
Today, 26 Feb. 2015: 200 seedlings planted around a month ago in a plot in Wadi Suwed, Susiya, were discovered uprooted and broken, to prevent replanting. Photos from the area: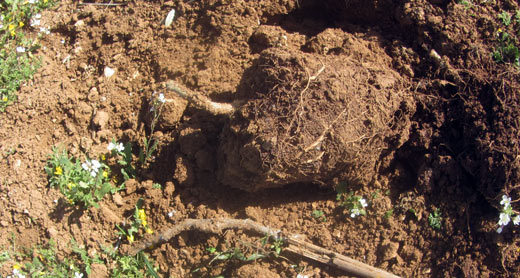 Uprooted olive seedlings. Photo: Nasser Nawaj'ah, B'Tselem, 26 Feb. 2015