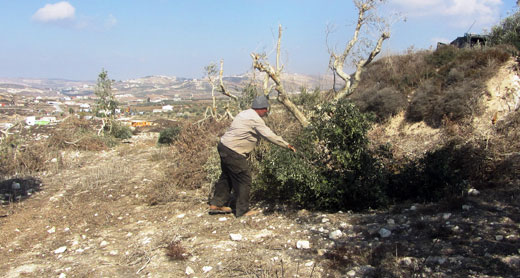 Ziad Sawan of Immatin went in coordination with the military, to harvest olives on his land located near the settlement outpost of Havat Gilad and found that the branches of seven of his trees had been broken. Photo: 'Atef Abu a-Rub, B'Tselem, 13 Oct. 2013
During the most recent olive harvest, B'Tselem's field researchers documented 27 incidents of settler violence towards Palestinians and of damage to property. In six of the incidents, settlers attacked harvesters with stones, threatening them with weapons, or physically assaulted them. The most severe instance was an attack on B'Tselem volunteer Yasser Na'asan and his uncle, Ghatib Na'asan, while they were harvesting their olives. The other 21 incidents involve property damage. Settlers chopped down, burned and poisoned olives trees; they sawed off and broke branches; and stole olives and agricultural equipment. 
The olive harvest season officially began on 10 October 2013 and lasted approximately forty days. However, as in previous years, settler vandalism of Palestinian-owned olive groves began even before the season. Consequently, this review begins on 30 September 2013. It should be noted that because most farmers may not go to their land without prior coordination with the military, which allows them access for only several days for harvest and plowing. Hence, the farmers discovered the damage to their groves only when they arrived to pick the olives, but it may have occurred earlier.
Eight of the 21 cases of vandalism to trees this harvest season took place in areas to which the military denies Palestinian access for most of the year, as the land lies near or within areas defined as part of settlements, including in Special Security Areas surrounding settlements. In order to pick their olives, the farmers must coordinate going to their groves with the military via the DCO and arrange to have a military escort for several days during the harvest. In seven of the eight cases, the owners discovered the damage only once they came to harvest them. In the eighth case, the landowner learned of the vandalism through the media. The suffering of farmers whose crops are vandalized by settlers is twofold. First, as the farmers are denied access to their land for most of the year, their neglected olive trees produce a significantly poorer yield. Second, on the few days a year on which they can enter their groves, they discover vandalized trees, sometimes so damaged that there are no olives to pick.
Ibrahim Salah of the village of Far'ata cannot access to his olive grove without prior coordination with the military. In his testimony to B'Tselem field researcher 'Atef Abu a-Rub on 13 October 2013, he described the damage caused to his trees:
I live in Far'ata and own about 19 dunams [1.9 hectares] of farmland. In 2002, settlers set up tents and trailers on some of my land and that became part of the Havat Gil'ad outpost. Over the last few years, settlers have vandalized my crops several times… For instance, on a number of separate occasions, they chopped down and vandalized about fifty trees. Because I couldn't take proper care of the trees, they don't bear fruit any more. Out of about 180 trees that I had, I now have only about 130.

From 2002 to 2008, the military did not allow me to go to my land at all. Since 2008, I've been allowed to go in only twice a year, and only if I coordinate it ahead of time with the military – during the harvest season and the plowing season. This year, I was on my land to plow it in March.

The military set the 13th and 14th of October for the farmers in my village to harvest olives. Earlier, on the 7th of October, after having coordinated my visit with the military, I toured the land as a representative of our village to check the state of the land and the trees. That day, I found out that the olives had been picked from almost all of the 130 trees on my plot. Only three trees still had olives on them. 

Today, I went with my family to our plot and we harvested olives from the three trees that the settlers hadn't already picked. We got less than one full sack of olives. Before the vandalism began, when I could go to my land and work I all year round, we used to get forty to fifty sacks of olives a year. 
In 13 cases documented this year, trees were vandalized and olives and farming equipment stolen in areas where the military does not require farmers to coordinate their arrival in advance. On 3 November 2013, Salah Radwan of 'Azzun gave the following account of what had happened to his land to B'Tselem field researcher 'Abd al-Karim a-Sa'adi: 
I make my living from farming and grazing flocks. My brothers and I have five dunams [0.5 hectares] of land east of 'Azzun, in an area called Khallet Khalil. The entrance to the settlement of Karnei Shomron is located directly across from the land. In 2008, we planted 130 olives trees there. This year we harvested them for the first time, and we produced 26 cans of olive oil. I'm the one who usually takes care of the grove, and I'm there almost every day.

On Wednesday, 30 October 2013, I was working there until late in the evening, making preparations for irrigation. The next day, Thursday, 31 October, I got there at 8:00 A.M. to watering the trees. At first, I thought the wind had broken the trees, but when I got closer, I saw that about sixty trees had been chopped down with a saw. Even though I wasn't there when the vandalism took place, I can't think of anyone would do that but the settlers, especially since we're on good terms with everyone we know. 

When I saw our strong, flowering branches chopped off and lying on the ground, I was in shock. It pained me. I know every single tree there, because I take care of them and I planted and cultivated them with my brothers. I dreamt of those trees being a source of income for me and my brothers, but that dream was shattered on Thursday morning.

An officer from the Civil Administration came to the grove and photographed the chopped-down trees.  Then, my brother Ibrahim filed a complaint with the Palestinian Police in Qalqiliya.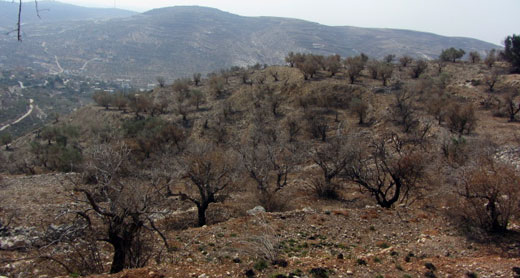 Residents of 'Einabus went in coordination with the military to harvest olives in land located near the settlement of Yitzhar and They found that approx. 300 of the grove's 500 trees had been burnt down. Photo: Salma a-Deb'i, B'Tselem, 29 Oct. 2013
On 14 August 2013, before the harvest season began, B'Tselem and other human rights organizations wrote to OC Central Command and to the legal advisor in Judea and Samaria demanding that security forces make advance arrangements in areas where recent years have seen repeated settler attacks on Palestinian farmers and their property. The organizations emphasized the importance of such deployment before the official beginning of the harvest season, as considerable damage to trees in recent years has been caused just before the season began. 
Settler violence is compounded by the loss of livelihood caused by the military's restrictions on farmers' access to their land, if their groves lie within settlements, near them, or in the special security areas surrounding them. The military cites the need to safeguard settlers as justification for these restrictions. However, the policy of broad restrictions that apply to Palestinians alone does not proportionately balance security needs with the farmers' rights. The military must provide Palestinian farmers safe access to their land year-round. It must do so in a way that will allow Palestinians to cultivate their land and make a decent living off it. The military must also offer an alternative solution to meeting security needs.