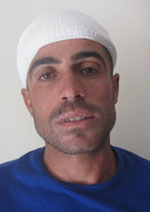 On Sunday afternoon, 14 July 2013, 'Omar Hushiyeh, a 28-year-old Palestinian from the village of Khirbet al-Markez in the South Hebron Hills, was grazing sheep on his family's land. The illegal settlement outpost of Mitzpe Yair lies about a kilometer to the west of this land.
In his testimony, given the next day to B'Tselem researcher Musa Abu Hashhash at the 'Alia governmental hospital in Hebron, Hushiyeh related how he had received a hard blow from behind that knocked him down as he was making his way back home with his flock:
At around 6:30 P.M., I was walking behind the sheep, not paying attention to anything in particular. Suddenly, someone pushed me from behind and I fell down. When I tried to get up, I saw three masked men. I could see that one of them had payot (sidecurls worn by Orthodox Jewish men). One of them stepped on my back. He pinned me down hard and wouldn't let me get up. Then he started punching me in my head and face. Another guy picked up a stone that was lying there and hit me with it in the back of my head, a few times. I tried to resist and to protect my head with my hands, but they were too strong. The third one didn't do anything. He stood nearby and looked around to make sure that no one could see what was happening.
Hushiyeh related that, after a few moments, the two men beating him noticed three soldiers approaching, at which point they let him go and ran off towards Mitzpe Yair. He said that the soldiers made no attempt to pursue the assailants or detain them, although they were no more than fifty meters away.
In his testimony, Hushiyeh said that his face and other parts of his head were bleeding from the blows he had received. He added and that the soldiers came over to him but did not offer him first aid. He continued his account:
The soldiers stood next to me. One of them was talking to someone on a two-way radio. I understood that they were waiting for a medic to come and treat me. In the meantime, my father called my cell phone. I told him that settlers had attacked me. He said he was phoning because the sheep had come back to the village without me and he was worried that something might have happened to me.
At approximately 7:30 P.M., Hushiyeh's parents arrived on the scene. According to Hushiyeh, his father rebuked the soldiers for not administering first aid to his son. They replied that they were waiting for a medic to arrive and asked him to wait patiently. Hushiyeh's parents decided not to wait any longer. They helped their son walk back to the village, a kilometer away. When they got there, one of the villagers drove Hushiyeh and his father to the nearest paved road, where an ambulance summoned by the family was already waiting.
The ambulance transported Hushiyeh to the 'Alia governmental hospital in Hebron, where he passed out. He was examined, received five stitches in his head, and was diagnosed with bruises and scratches on his face.
Three days later, Hushiyeh filed a complaint about the assault at the Israel Police station in the settlement of Kiryat Arba. In response to an inquiry by B'Tselem, the police stated that the investigation had been closed on grounds of "unknown assailant" just two weeks later. It is highly doubtful that, in an investigation closed so quickly, all the necessary action was taken in order to locate the assailants. B'Tselem wrote to the police again, requesting that the file be reopened so that all possible avenues of investigation be exhausted, including locating and questioning the soldiers who witnessed the serious attack, checking security camera footage in the area, and following up on Hushiyeh's statement that the assailants ran off to the Mitzpe Yair outpost. B'Tselem also demanded that, should the police decide not to reopen the file, it be sent all the material pertaining to the investigation so that it could decide whether to appeal the decision.
In addition, B'Tselem applied to OC Hebron Brigade, demanding that the soldiers who witnessed the incident be located so that they could testify before the police. B'Tselem also demanded that all soldiers be briefed on their legal duties, which include immediately reporting to the police any assault of Palestinians by settlers, attempting to capture the assailants, detaining them until police forces arrive, and supplying their own eyewitness accounts to the police.