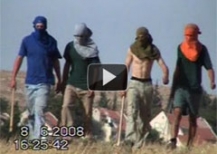 In response to media reports that the Israeli government is considering declaring extreme rightwing Israeli activists to be a terrorist organization, B'Tselem states that this is an illegitimate way to deal with the phenomenon of violence by Israeli citizens in the Occupied Territories. Instead, this phenomenon must be dealt with through the criminal justice system.
The violence toward the military, which we have witnessed in recent days, is the result of Israel's long-standing policy of lax law-enforcement toward settlers who harm Palestinians and their property. This policy is manifest at all levels – beginning with the soldiers on the ground, who do not prevent settlers from harming Palestinians and their property, and continuing with the Israel Police, who do not properly investigate such incidents. Before draconian measures are taken, soldiers should intervene to prevent attacks when they happen, detain perpetrators and give their testimony to the Police; investigators of the Shai Police Department should conduct basic investigative actions when Palestinians file complaints.
In addition, B'Tselem rejects statements heard today, calling on the military to fire live ammunition at settlers who attack soldiers. The open-fire regulations prohibit use of live ammunition except in extreme circumstances of mortal danger.