On 30 May 2021, at around 3:00 A.M., about 10 soldiers entered the home of the Muqbal family in Beit Ummar, north of Hebron. The forces woke the family up and violently searched the house. Then, they handed the parents a summons for a police interview for their 12-year-old son, Sanad, who was staying the night with his cousins at al-'Arrub Refugee Camp, and demanded he come in for questioning within several hours. Then they left the house.
At around 8:30 A.M., Muhammad Muqbal, his son Sanad and his brother-in-law 'Abd al-Hafez Abu Sham'ah went to the Etzion police station, where the father and son were interrogated separately. Sanad was interrogated alone, with no adult acting on his behalf by his side, and without even being allowed to consult a lawyer. At one point, he saw his father lying unconscious in the station's yard. When he tried to approach him, an officer hit him.
From there, Sanad was taken to a detention facility, where he was held overnight in a small, dark cell, with a mattress soaked in water that was dripping from the ceiling, without food or drink, and without being able to shower or change clothes. In the morning, after a sleepless night, he was taken in a military jeep and dropped off at Megiddo Prison several hours later. There, he ate for the first time since his arrest. While he was held at Megiddo, Sanad was beaten by prison guards, who broke his nose.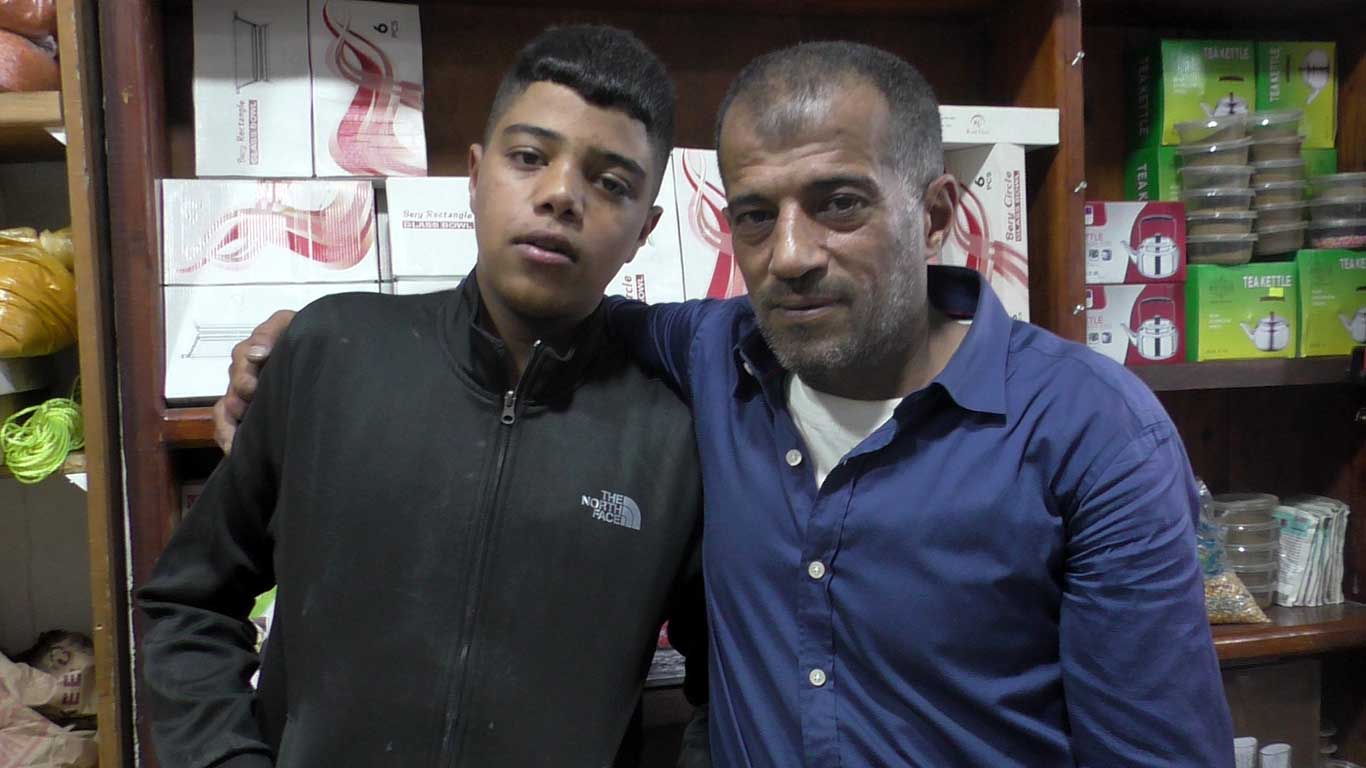 Over the following days, six court hearings were held in Sanad's case, in which he participated via Zoom. The court eventually upheld a plea bargain sentencing Sanad to 31 days in prison and a fine of NIS 2,000 (~610 USD). However, he was granted administrative release after 16 days.
Upon his release, Sanad was taken to Jalameh Checkpoint and abandoned there, alone, without any officials bothering to notify his parents. He had no choice but to turn to young strangers at the checkpoint, who helped him contact his father and get to Ramallah, where his father was waiting for him and took him home.
Sanad's case stands out only because of his young age. Yet, it is not exceptional with regards to Palestinian teens throughout the West Bank – who are subjected to a violent routine imposed by the occupation. Every year, Israel arrests and detains hundreds of Palestinian minors, while routinely and systemically violating their rights: during the arrest, under interrogation, and later in military juvenile court. Although Israel boasts of laws and procedures ostensibly put in place to protect the rights of minors, these are merely a fig leaf legitimizing grave harm to minors.
Sanad's mother, Manal Muqbal (45), a mother of 12, described what happened that night in a testimony she gave B'Tselem's field researcher in Hebron, Manal al-Ja'bari:
The soldiers locked me in the bedroom with my little son Karam. They wanted to go down to the ground floor, where my five daughters, Rawand (26), Arnas (20), Fidaa (17), Sulaf (16) and Siba (10), were sleeping. My husband tried to stop them from going there. He told the officer they were there alone and would be frightened, and the officer eventually agreed.

The soldiers spread out all over the building, some on the second floor and others on the third floor. I thanked God that Sanad wasn't home because the soldiers were so agitated. I was sure that if he'd been there, they would have attacked him. About 15 minutes later, my husband came upstairs with the soldiers. He told me the girls were terrified and that he'd got into an argument with the soldiers, including cursing. The soldiers went into Sanad's room, turned it upside down and threw everything on the floor.

At around 4:30 A.M., the soldiers left, after handing us a summons for Sanad to be interrogated at the Etzion police station. My husband immediately drove to al-'Arrub Refugee Camp to get Sanad. He came home, showered, ate breakfast and then said goodbye to his sisters and me. At around 8:00 A.M., he went with his father and my brother, 'Abd al-Hafez Abu Sham'ah, to the police station in Etzion.
In a testimony he gave B'Tselem field researcher Manal al-Ja'bari, Muhammad Muqbal (50), a grocer and Sanad's father, recounted what happened after arriving at the Etzion police station:
Muhammad Muqbal. Photo by Manal al-Ja'bari, B'Tselem, 22 June 2021

When we got to the station, three plainclothes guys took Sanad away. His uncle and I waited outside. After 10 minutes, one of them called me inside. I went ins and 'Abd al-Hafez left. I was taken into a room with a plainclothes interrogator. The interrogation lasted about an hour. He asked me questions about Sanad, about who'd incited him to throw stones and whether he had mental health issues. The interrogator showed me a video of Sanad throwing a couple of stones at a settler's car and the settler shooting in Sanad's direction. That scared me.

The interrogator stopped the video at a point where the bullet looked like it was passing too close to Sanad's head. It looked like the bullet was almost touching his hair. Then he told me, "Sanad could have become a martyr, like 'Obaydah Jawabreh." That's the guy who was killed in al-'Arrub Refugee Camp in the recent incidents. I felt dizzy and had trouble breathing.

Then I signed my statement and they brought Sanad into the room. He was frightened and looked pale. They took me to another room, where another interrogator questioned me. While I was being interrogated, I heard other interrogators shouting in nearby rooms. I don't know if they were shouting at Sanad or at other detainees.

The other interrogator didn't write down my statement. About an hour later, he took me out to the yard. I was very worried about what was going on with Sanad and how he was suffering, and felt dizzy. I had trouble breathing and fell down. But I was still conscious and understood what was happening around me. I saw Sanad running towards me, but a Border Police officer tried to block his way. Sanad pushed the officer, and he tripped and fell on another officer, and then they both fell over. Sanad managed to reach me, but then the officer who fell came over to us and hit Sanad in the back with his rifle. I was paralyzed and couldn't defend Sanad. Then I blacked out and had no idea what was going on. I woke up about 15 minutes later and saw a lot of people around me: police officers, soldiers and paramedics, who had attached electrodes to my body that were connected to some device.

Meanwhile, my brother-in-law 'Abd al-Hafez arrived. They must have called him. They also brought Sanad over to say goodbye to me and told me he was under arrest and that I could go home. 'Abd al-Hafez and I left. I felt sick and tired and my heart ached for Sanad, who was left alone at the police station.
In a testimony he gave Manal al-Ja'bari, Sanad Muqbal (12), described what happened after his father and uncle left the station:
Sanad Muqbal. Photo by Manal al-Ja'bari, B'Tselem, 22 June 2021

After they left, a soldier came and blindfolded me, and left me in the yard. It was very hot. They left me there for about half an hour, with my hands and legs tied. Then the same soldier took me to a clinic where there were two doctors in uniform. They asked me about my health and filled out a form. Then I was put in a military jeep and taken to a place I didn't recognize. They put me in a dark room, with no lighting and a water-soaked, dirty, smelly mattress. I saw water dripping from the ceiling onto the mattress. They left me there with my hands and legs tied. There were no windows in the room, except for a small opening in the door that was covered with newspaper.

After they put me in there, they brought me a dry, disgusting sausage, two slices of dry bread and a pepper . It was inedible, so I didn't eat and stayed hungry until midnight. Then they brought me two falafels and some dry pita bread, but I couldn't eat that, either. I sat until morning on the mattress, with the water dripping on it. I didn't sleep for a second.

In the morning, I was put in a military jeep. My hands and legs were tied. There were three soldiers in the jeep: one driving, another in the passenger seat, and a third next to me in the back. We drove for many hours. During the ride, the soldier sitting next to me hit me in the neck and cursed me, my mother and my sisters.

We got to a place with a sign by the entrance that said "Megiddo Prison." The soldiers took me out of the jeep, blindfolded me and led me to the yard. A police officer put me in a room and took a photo of me with a small camera that was connected to a computer. He ordered me to take all my clothes off, searched me and then told me to get dressed.

Then he took me to a room with seven detainees, all under the age of 17. The prisoners there gave me food. It was the first time I'd eaten since I was arrested the previous morning. I slept soundly until the next day and then I was transferred to another unit, where I was held for 16 days. While I was detained there, I attended six court hearings on Zoom. In the last hearing, the judge informed me I'd been sentenced to 31 days in prison and a fine of 2,000 shekels (~610 USD). That was on 8 June 2021.

On 14 June 2021, I asked to speak to my father on the phone. I told them I hadn't spoken with him for 16 days. A guard took me to the phone. It was the first time I'd talked to my family since the arrest. My dad picked up and he sounded very sad and cried. In the middle of the call, the guard hung up and I argued with him. He said some insulting things to me and I answered him the same way. Then he dragged me to some room and pushed me inside forcefully, so I fell face down to the floor. Three armed guards arrived, and the guard who'd pushed me took a weapon from one of them and hit me hard in the back with the barrel. When I tried to raise my head, he hit me hard on the head. My face hit the floor and my nose started bleeding. Two soldiers picked me up and took me back to the cell. The next day, Tuesday, 15 June 2021, they told me I was being released. At around 4:00 P.M., I was dropped off at Jalameh Checkpoint. Some young guys there let me use their phone. I called my father, who asked them to drive me to the central bus station in Ramallah. They took me there in a taxi, and my father was waiting for me there. He hugged me and cried a lot. Then he drove me home. We got there at 10:30 P.M. My mother was waiting for us, worried. She hugged me and started crying.